Nick Clegg interview: 'I've worked my socks off for Sheffield'
Donald Macintyre considers Clegg's position – fighting for his own seat and campaigning with other Lib Dem candidates while at the same time trying to convince wavering voters that he did not 'sell out' for the sake of power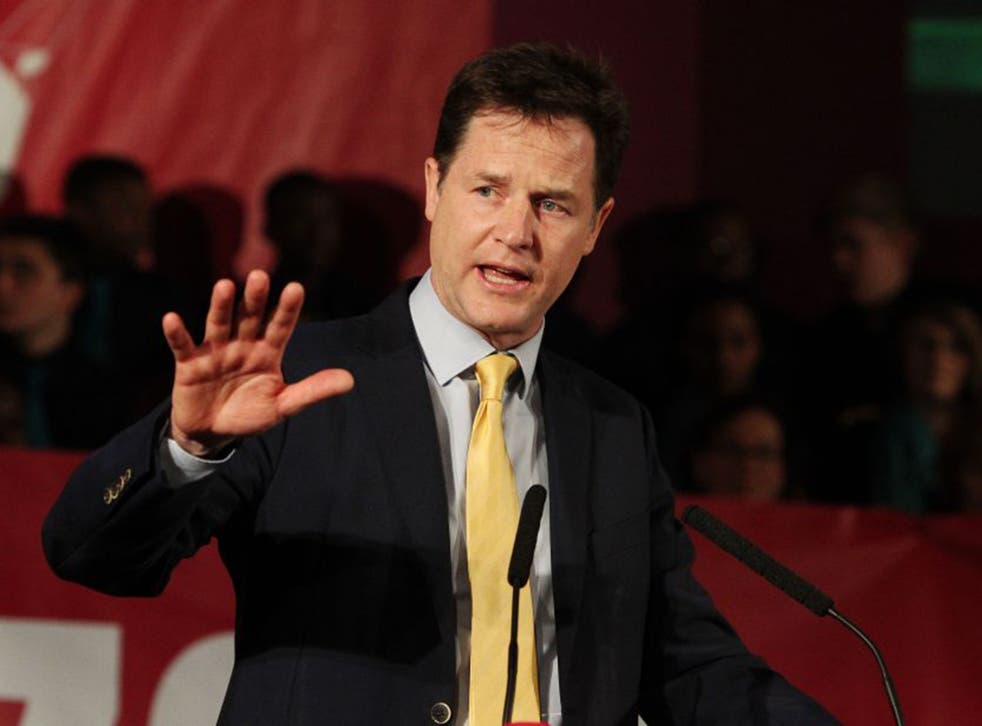 Having mixed the topping of an apple and blackberry crumble in the kitchen of Chippenham's Ivy Lane primary, the Deputy Prime Minister suddenly morphs into a Jamie Oliver manqué. "People talk as if every packed lunch is a pot of hummus, carrot sticks and muesli. Well it's not. I'm not pointing an accusatory finger at parents but I've seen kids turning up literally with a fizzy drink and a slice of white bread with chocolate paste on it. If you give that to a four- and five-year-old, don't be that surprised if they can't concentrate very well by the end of the school day."
Nick Clegg is promoting the Lib Dems' newly pledged £610m extension of its free school meals policy to all children under 11, irrespective of parents' income. The original decision to offer school meals to every pupil under seven had a bumpy start. Michael Gove's former special adviser Dominic Cummings called it a "gimmick" written "on the back of a fag packet." Some schools had to raid their maintenance budgets to provide the kitchen capacity. It seemed an odd universalisation of a benefit at a time of austerity.
But Clegg is adamant today about its worth, especially to the four in 10 pupils in poverty who don't qualify for free school meals; the 23 per cent more children eating vegetables, the 18 per cent fewer eating crisps – and the 3 to 5 per cent more children reaching target levels in maths and English.
---
Are you undecided about who to vote for on 7 May? Are you confused about what the parties stand for and what they are offering? Take this interactive quiz to help you decide who to vote for...
---
But the event itself illustrates both the madness and precision of modern campaigning. What exactly are we doing here? Reporters and TV crews packed behind a yellow "media line", straining to catch the kitchen backchat and turn banalities such as Clegg announcing: "We're ready for the great mix" into some crazy post-election coalition metaphor? Or solemnly filming the assembled – and slightly bewildered – Key Stage Ones eating their roast chicken lunch? Or asking Ceri, 11, if he has any idea who this is all in aid of. (Ceri rises fully to the occasion: "The Deputy Prime Minister." And what party does he represent? Short pause. "The Liberal… Democrats.")
Well here's what. Ivy Lane, a primary school in the constituency where the Lib Dem Duncan Hames is defending a fragile 2,400 majority, is ideal for the launch of a policy which actually means something to parents. And, above all we've got Miriam González Durántez, international lawyer, former high-flying European Commission official, and – most relevantly today – a cookery blogger. Oh, and wife of Mr Nick Clegg.
In pictures: Experts' predictions for the General Election - 03/05/15

Show all 10
In the balance of liabilities – tuition fees, poll ratings, lack of funding (if the £750 per day plus VAT the Lib Dems charge journalists to ride on their bus is anything to go by) – and assets, Ms Gonzales falls overwhelmingly into the second category. She turns up at Ivy Lane in black and white striped top and bright yellow trousers to do what she hardly did at all in 2010: campaign. This time around, she has already become increasingly public figure as a tireless promoter of the Inspiring Women campaign to get female role models into schools.
In East Dunbartonshire the previous day – when she admonished a male BBC reporter for asking a question that "was a bit sexist" – someone had gently rebuked her for not including Scottish recipes in her cooking blog. So, after a day in which she was also obliged to respond to a series of complex legal documents and take international conference calls at Glasgow airport, and before doing the school run and heading out to North Wiltshire, she has baked a large supply of Tablet – the Scottish cousin of fudge, which in sugar rush terms is the confectionary equivalent of LSD – for reporters on the bus. You can't help thinking she would be a shoo-in as Prime Minister, if she fancied a go.
But, sadly, she is not a candidate. And Chippenham is among the toughest of Tory-Lib Dem battlegrounds. Not only did David Cameron come here the evening after he had gone to the Queen to seek the dissolution of parliament but, according to Duncan Hames, "there's been a Conservative minister here pretty much every week since my son was born" (16 months ago). And, he adds, the Tories spent lavishly on local newspaper ads before the pre-election cap on spending kicked in. "Actually this has helped me with the Labour supporters who lent me their votes last time because it shows how desperate the Tories are to get me out."
Maybe – but today the signals are a bit mixed. The kitchen manageress who supervised the crumble operation says she will probably vote Lib Dem "after this visit". But dinner lady Debbie Silver says she is still leaning to the Conservatives as the best way of keeping Labour out nationally.
Yet it's clear when I sit down for a surprisingly relaxed chat in the back of the bus on our inter-marginal journey (Chippenham to Hazel Grove) that even if, as the polls suggest, his party loses up to half of its seats, Clegg expects to be a key player after Thursday. And he is trying hard to keep his options open.
First, he sheds some interesting light on what he has learnt about coalition in the past five years. Shouldn't he have taken a great Department of State rather than – or at least as well as – the nebulous job of Deputy Prime Minister? No. Indeed, his view, as we enter what could be another bout of coalition building, has "hardened considerably" that this is the only way to go.
"Particularly as leader of a smaller party … you've got to keep your hands free … to bash heads together, thump tables, stamp feet and make sure that coalition decisions are taken in a balanced way," he says. Taking on a department – which is what the larger party would prefer the leader of the smaller one to do – would be "the surest way to hobble [the smaller partner] with reams and reams of Whitehall paperwork".
What he did regret was some of the "optics" of the job. "Sitting beside David Cameron at Prime Minister's Questions, having to grit my teeth while [he] and Ed Miliband get their say and I don't, has been a pretty fruitless and frustrating experience."
Indeed he confirms that his frequent and noticeable absences from PMQs earlier this year were because "I became really fed up with this tedious 30 minutes… Cameron just gave up pretending he was speaking on behalf of the Coalition, he started speaking as a Tory, and I thought, it's not my job to sit there mutely listening to a Tory talking about Tory stuff." In the early PMQs, he said, Cameron had been much more "respectful of the fact that he was only there because it was a coalition". But as time went on, "he had to sort of burnish his credentials in the eyes of the swivel-eyed [right wing] behind him. So he just ended up talking as a Tory – and I thought, why should I sit here listening to this nonsense?"
Similarly his "great regret" is that the Conservatives refused to let the television cameras in to the Clegg/Cameron/Osborne/Alexander "quad" to see how decisions were taken. "They did it entirely for self-interested reasons – they don't want to reveal to the nation that … the Liberal Democrats punched way above their weight. Of course David Cameron and the Conservatives and the Conservative-supporting press have wanted to give this impression that it was basically a Conservative government with these slightly irritating Lib Dems tagging along on the sidelines. It wasn't like that at all. Every single line of every Budget and Autumn Statement has been agreed meticulously between Danny [Alexander] and George Osborne and myself and David Cameron."
So what next? There have been times when Clegg has sounded as if he's stating a strong preference for another coalition with the Tories, assuming they turn out to be the largest party in a hung parliament, because a Miliband-led minority government relying on SNP "life support" would lack "legitimacy". This is especially relevant given Cameron's apparent intention of claiming victory and attempting to stay in office in such circumstances.
Clegg rejects this, first pointing out that Miliband has ruled out a deal with the SNP. And "secondly, I am not saying that any government … can only ever be composed by a party with the largest number of seats." Instead he was saying just what he had in 2010, that "as a matter of legitimacy, the basic democratic principle is the party with the most wind in its sails … should be allowed to try and assemble a government. They should be given the right to make the first move. I don't think the British people would like it if the instructions that they'd given in the ballot box meant that one party had the nose above the other, and you're not even giving them the right to have first dibs. People would say, what's the point of the election then? We might as well go to whatever smorgasbord other parties have been able to assemble. Chronology is quite important."
On the one hand, for all the "red lines" he issues on education, health, fairer deficit reduction, raising the tax threshold and environmental protection, he has notably not included dropping the EU referendum. Which is just well for a Tory-led coalition, as Cameron has made keeping it his "red line".
On the other, he could face serious restiveness in his own party over a second Lib-Con coalition. Even an MP impeccably loyal to Clegg said last week that it would require "some imagination" to say what more the party could do with the Tories – as opposed to Labour.
To be player in any of this, of course, Clegg has first to be re-elected as MP for Sheffield Hallam, where, according to a recent Lord Ashcroft poll, he is trailing one point behind Labour. In 2010, the Tories came second, but the party high command does not want to see Clegg unseated because if a fresh coalition becomes necessary after Thursday, he might be replaced as Lib Dem leader by the much more Labour-friendly Vince Cable or Tim Farron.
So there can be few more thankless tasks than being the Conservative candidate in this constituency. Ian Walker, 57, has endured friendly fire: a Clegg endorsement by the 2001 Tory candidate John Hartman, and an assertion by the Tory Times commentator Tim Montgomerie that he would "definitely" vote for Clegg if he lived in Hallam.
Walker is a dogged campaigner of self-effacing charm who emphasises on each doorstep that he wants to see a Tory overall majority. "The real choice is between David Cameron and Ed Miliband, and if you prefer Miliband do vote for [Labour candidate] Oliver Coppard, who's a decent chap, but if you want Cameron vote for me," he says.
He tells me: "Last time the Lib Dems told people to vote for them if they wanted to stop us. Now they're telling people to vote for them to stop Labour." Certainly a tactical churn from the Tories to the Lib Dems is Clegg's best hope. The Lib Dems claims the Ashcroft poll under-estimates Clegg's personal support because the pollsters don't name the candidates. Either way, the poll shows 30 per cent of Lib Dems having defected to Labour, but 31 per cent of Tories switching to the Lib Dems.
Sensibly ignoring houses with Lib Dem posters, Walker finds plenty of actual and potential supporters. Pensioner John Leake says the city centre is a mess, adding: "I'll vote for anyone who make Sheffield worth going to." A retired bank executive, who declines to give his name, tells Walker: "I wish you success. We've got to take Nicola Sturgeon out of the equation."
Coppard, 33, Labour's highly energetic candidate, has – remarkably – brought the party from third place in 2010 to striking distance of winning the seat. He points out that the constituency, although one of the most affluent outside the South-east, has one of the highest proportions of students (17 per cent) and public sector employees (24 per cent) who are not "exactly predisposed" to support Clegg.
At an election stall outside Nether Green primary, with stickers and helium-filled balloons, Coppard gets a warm reception from parents collecting their children. Mark Gibson, a former civil servant, says he is anxious that Tory supporters may vote tactically to keep Coppard out, but promised the Labour candidate his support. "I did vote Lib Dem last time but gave up on them when they joined the Coalition," he says.
But there also dissenting voices. Tory-inclined Shirley Lloyd says although she likes Coppard, she may vote tactically for Clegg because of fears of Labour dependence on the SNP. "I'm not a warmonger, I'm a bit of a pacifist actually. But with Putin poking around, what's the point of getting rid of Trident?" she says – despite Labour assurances that no such thing will happen if Labour takes power.
When Coppard canvasses in one of Hallam's less well-heeled wards, Matthew Sanderson, creosoting his fence, says he hasn't decided. He voted Labour in 2010, and says he has felt the squeeze after five years of coalition. But, he adds, "maybe that's because they're paying off the debt". More cheerily for Coppard, Sanderson's son – unfortunately still half a dozen years below voting age – tells him: "I prefer you to Nick Clegg."
Whether or not a majority agree with the young Sanderson on Thursday, Coppard and Walker are strikingly united by mutual respect – even admiration – and a common argument that the incumbent has "let Sheffield down".
Clegg insists their arguments are "specious" – the only time he sounds slightly testy. "Most people in Sheffield may or may not disagree with me about this or that, but they actually recognise that I've worked my socks off in the last 10 years for Sheffield."
The last time I interviewed Clegg was in 2010, at the height of his new-found stardom. Since then, he says, he has developed "a thick hide". "Both I and my team are running this campaign with a smartness and toughness we didn't have five years ago."
He says: "Things are usually not as exuberantly good or as exuberantly bad as the hyperbole of British politics would suggest. Here's my only mini-prediction. I think people slightly misremember the 2010 general election – despite all the frothy positivity, we actually lost seats. People describe the election as if it was the high point of British liberalism, [as if we] swept the board. But we actually lost MPs. And I think the reverse is true now – that we'll do much better than the frothy negative narrative has it. I would say that – but I genuinely believe it."
Join our new commenting forum
Join thought-provoking conversations, follow other Independent readers and see their replies