Nigel Farage is odds on to be next Ukip leader
He announced his resignation on Friday - but could be back within months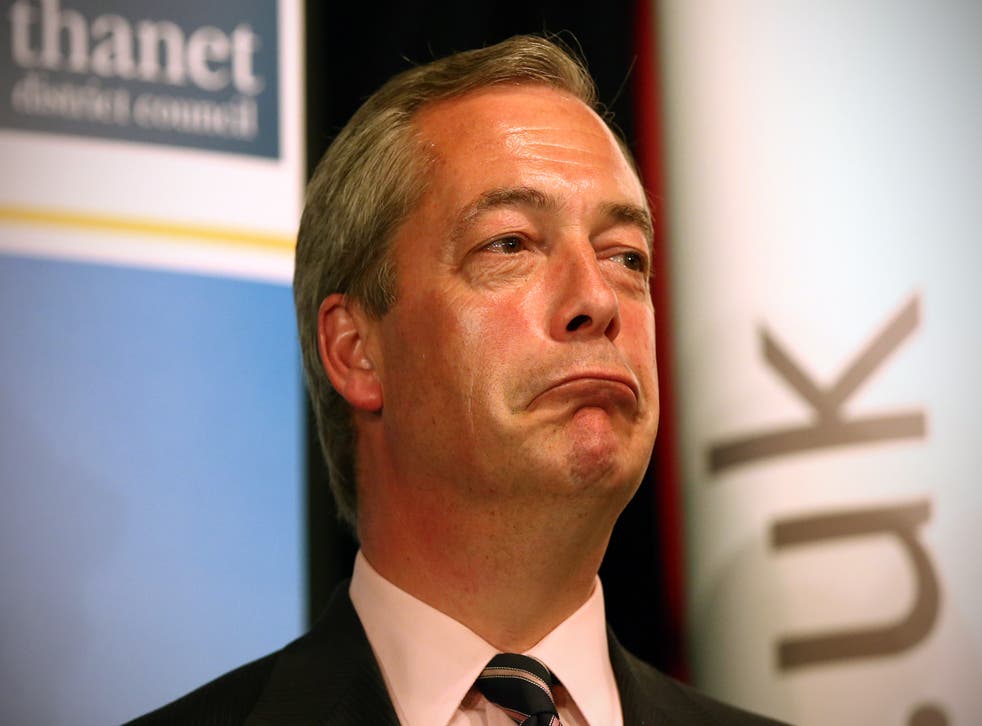 Nigel Farage's resignation was one of the big stories to emerge in the bloodbath following the general election - but we may not have seen the back of him just yet.
A leading bookmaker now has Mr Farage as the odds-on favourite to return as Ukip leader straight away when the party votes on the matter in September.
The former City trader promised he would stand down as party leader if he failed to become MP for South Thanet, and said he was being "true to his word" when he announced his resignation on Friday morning.
But after recommending Suzanne Evans as interim leader in his absence, he then quietly left the door open for his own return after a summer away from politics.
Many bookmakers have Ms Evans as favourite to take the role on permanently in September, but last night William Hill added Nigel Farage to their list of candidates - and he has already shot straight into pole position.
The bookmaker now has Mr Farage at 4/7, Ms Evans at 5/2 and Douglas Carswell, the party's only MP, at 11/2.
William Hill spokesperson Graham Sharpe told The Independent that if the Ukip leadership election "was happening tomorrow, we wouldn't have [Mr Farage] in".
The major political figures who lost out in the General Election

Show all 16
"But as its happening in September and he has said he will consider his position over the summer, we think events could unfold between now and then that make him a candidate."
Mr Sharpe said that while the results of the election were "too raw" for most punters to start looking towards September, at this stage some betters were "backing a hunch" and putting their money behind a Farage return, forcing the bookmaker to adjust odds accordingly.
A spokesperson for Mr Farage from Ukip said there had been "no developments" since his resignation speech on Friday.
Meanwhile, Ukip's Thanet branch had one thing to celebrate over the weekend as it emerged that the party has taken control of the Thanet District Council.
It was one of a number of seats conducting local elections at the same time as the general election, and saw Ukip claim 33 out of a possible 56 councillors. The Conservatives, whose Craig Mackinlay won the South Thanet parliamentary seat, have 18 seats, while Labour trail with just four.
Join our new commenting forum
Join thought-provoking conversations, follow other Independent readers and see their replies