Operation Black Vote: Homeland's David Harewood and Sol Campbell turn skin white to encourage minority voters
The campaign's leader said black and ethnic minority groups have the power to sway marginal seats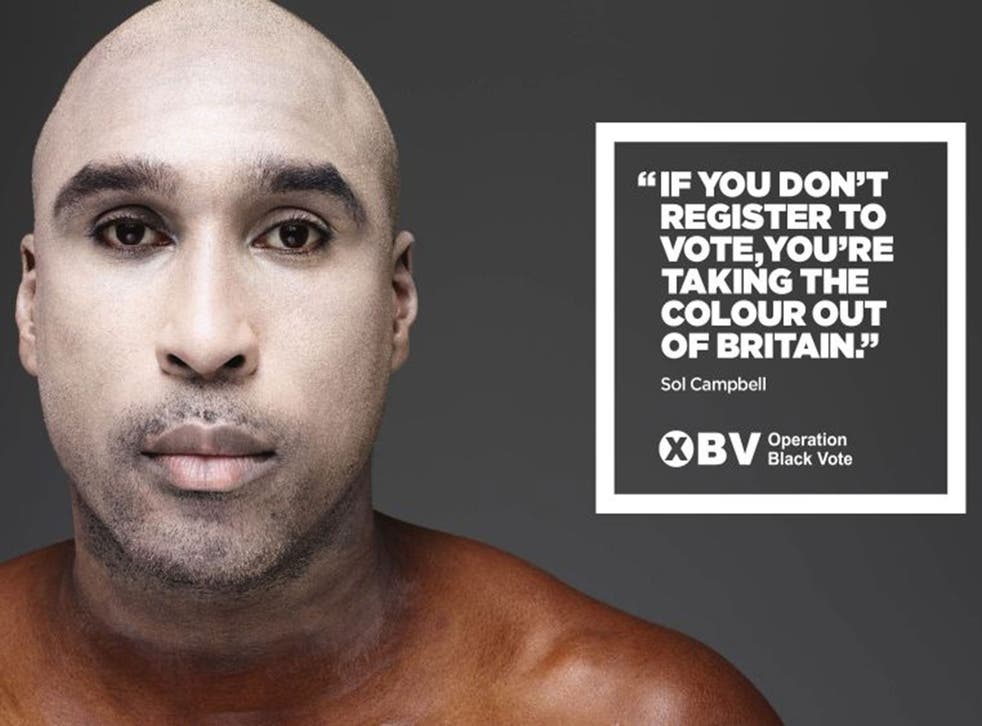 Black stars including Homeland actor David Harewood and musician Tinnie Tempah have turned their skin white for a set of hard-hitting photographs, to urge black and Asian people to vote in the general election.
Former footballer Sol Campbell and Paralympic medallist and television presenter Ade Adepitan were also snapped by the renowned photographer Rankin for the Operation Black Vote campaign.
The campaign also features a 6-second advert starring Harewood, who plays CIA chief David Estes in the American spy drama.
Launching the posters in London, Harewood, 49, argued that voting was the only way to change institutions such as Westminster and make them more representative of a multicultural Britain.
He said: "If you don't register to vote, politicians don't really care about you, politicians aren't really caring about what you have to say, what you have to do, anything."
Harewood added that he had been inspired by the queues of black people who had turned out to vote in post-apartheid South African elections, and for President Barack Obama in the US.
Operation Black Vote, which was founded in 1996, has also launched a manifesto for the general election, accusing parties of expressing an interest in the demands of black and ethnic minority (BME) groups which "soon evaporates once [a party] is in power."
Campaign director Simon Woolley said Operation Black Vote sought to "encourage and inspire a generation of black people" to register and, equally importantly, to then vote," and said the group is "not asking for change, we are demanding it."
He added that BME groups had the power to affect the outcome in 168 marginal seats across Britain, adding: "I think there is a great deal of cynicism out there amongst black and minority ethnic communities that we feel we are powerless.
Election Analysis: The Key Voters

Show all 6
"The disproportionate levels of unemployment amongst young black youths is truly shocking, criminal justice system that often sees young black men incarcerated and at a higher level, that glass ceiling where boards in this country are virtually all white.
"That all has to change. Shake up the system, unleash talent, everybody benefits."
The deadline for registering to vote in the general election is next Monday.
Additional reporting by PA
Join our new commenting forum
Join thought-provoking conversations, follow other Independent readers and see their replies