Plaid Cymru scent Lib Dem blood in Wales as general election approaches
With polls showing the party's support sinking to 6 per cent, even safe seats are targets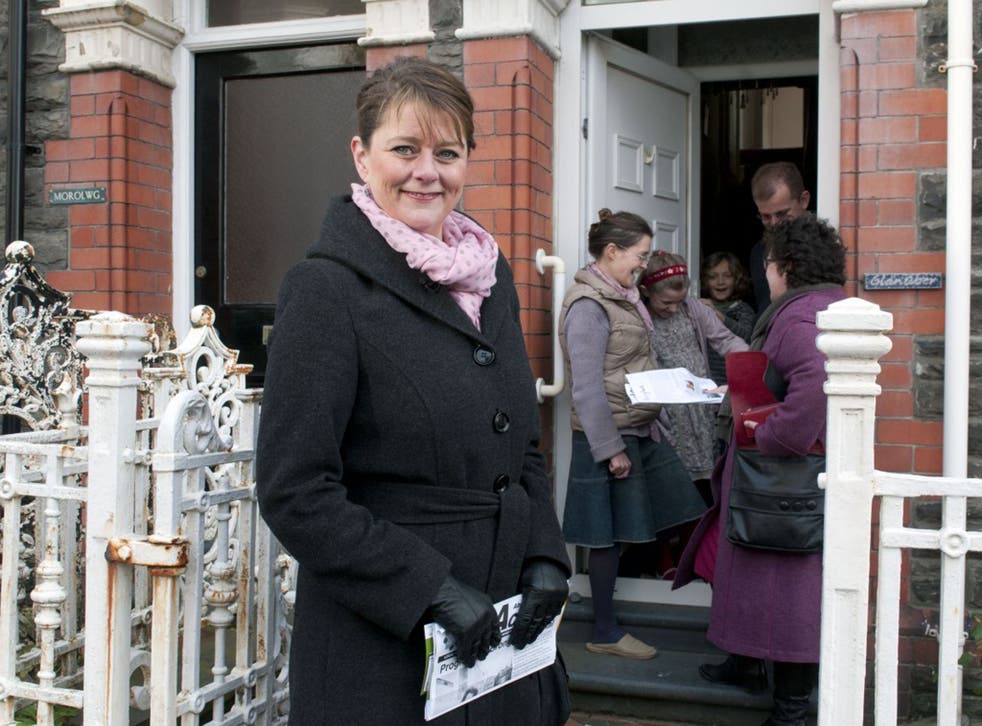 It's not often you see a party leader campaigning and dedicating valuable time to a seat held by a rival party with more than 50 per cent of the vote. But Plaid Cymru's Leanne Wood isn't your traditional party leader – and in Aberystwyth the Welsh nationalists smell blood.
The town is at the heart of the vast mid-Wales Ceredigion constituency, currently held by Liberal Democrat MP Mark Williams. But Plaid Cymru insiders say it's a top target seat and one they need to win to have their anti-austerity and devolution demands heard in the next Westminster parliament.
Yesterday, at the party conference in Caernarfon, Ms Wood went so far as to tell The Independent on Sunday that Wales "would be left behind" if her party failed to win more seats in May, and was making Ceredigion and its 8,000-vote Lib Dem majority a key battleground.
Ms Wood, who has led Plaid Cymru since 2012, was in the constituency recently to meet candidate Mike Parker. Non-conformity and fierce intellectualism run deep in the area that boasts two universities and the Library of Wales, and sent the first Green MP to Westminster in 1992 after a joint Plaid and Green campaign. It's also home to many English retirees and students. Mr Parker moved to Wales from Kidderminster before joining the party and learning Welsh (now speaking it better than his party leader).
Experts' predictions for the general election

Show all 10
"The Lib Dem majority is a mountain, but it's a soft mountain and it's crumbling in the face of austerity," said Mr Parker, visiting a local food bank with his party leader. For her part, Ms Wood agrees that "the level of disillusionment with the Lib Dems is huge", pointing to the fact the party is sitting at just 6 per cent in the polls in Wales, behind all the other major parties.
She said: "This is a town of two universities and anger here over tuition fees is still very real. It's part of an anger felt across Wales that the Lib Dems are propping up a Tory government wedded to austerity."
This message is mixed with Plaid Cymru's desire to win enough MPs to renegotiate an end to what Ms Wood describes as a "third-rate devolution settlement" and a "third-rate financial settlement".
"The key issue has been being disadvantaged in terms of our funding since 1978, when the Barnett formula was invented, so we've lost out every year in comparison with Scotland. We want to be funded in the same way, which would be an extra £1.2bn a year in public services and job creation to end Wales's dependency on Westminster," she argues.
The problem for Plaid is that there is little appetite for more devolution in Wales, with support for independence as low as 6 per cent, according to a BBC poll last week. The party has just three Westminster MPs, is no longer the official opposition in the Welsh Assembly, and is polling at around 10 per cent, behind Labour, the Conservatives, and even Ukip.
But though the electoral maths nationally seems tight, it might not matter. That's because, Plaid Cymru has already committed to working with the SNP and any Greens it finds in Westminster in May. Tantalisingly, Ms Wood says she speaks to the SNP's Nicola Sturgeon most weeks, but those talks are "private".
Join our new commenting forum
Join thought-provoking conversations, follow other Independent readers and see their replies