Question Time election debate: Watch Ed Miliband slip – on David Cameron's sweat
Labour leader had a stumble as he exited the stage
Matt Dathan Comments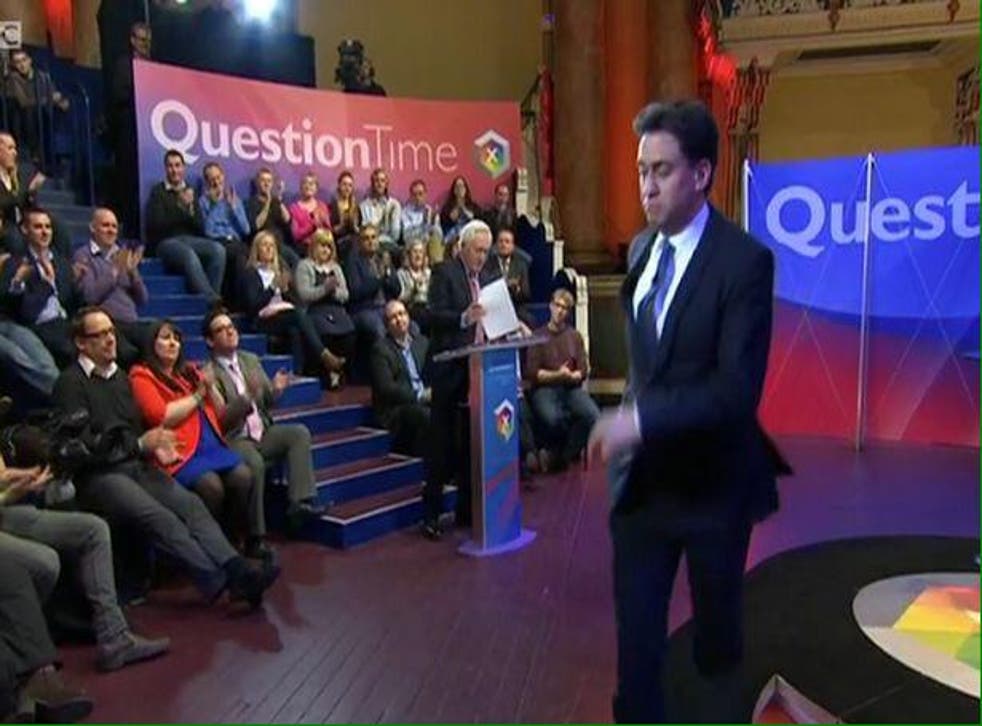 Ed Miliband was given a rough ride by the Question Time audience but his biggest stumble of the night came right at the end - when he quite literally stumbled off the stage.
You might think she was joking, but a closer look at pictures of the Prime Minister's sweaty face suggests a politician may have actually given a right answer for once.
It could have been so much worse for Mr Miliband - he could have emulate former Labour leader Neil Kinnock's famous 'beach moment':
The night started well for Mr Miliband as he walked confidently up some steps - albeit with some guidance.
It all went downhill from there. At least he didn't end up on his backside though - that would have handed the right-wing press a week's worth of front-pages.
The #Milistumble, as it was dubbed on Twitter, quickly became the most-talked about moment of his whole 30-minute interrogation and sparked a flurry of jokes on social media.
If he succeeds in his mission to become Prime Minister, they may have to build a ramp outside Number 10 Downing Street.
In pictures: Ed Miliband trying to look normal

Show all 18
---
The Independent has got together with May2015.com to produce a poll of polls that produces the most up-to-date data in as close to real time as is possible.
Click the buttons below to explore how the main parties' fortunes have changed:
All data, polls and graphics are courtesy of May2015.com. Click through for daily analysis, in-depth features and all the data you need. (All historical data used is provided by UK Polling Report)
Register for free to continue reading
Registration is a free and easy way to support our truly independent journalism
By registering, you will also enjoy limited access to Premium articles, exclusive newsletters, commenting, and virtual events with our leading journalists
Already have an account? sign in
Join our new commenting forum
Join thought-provoking conversations, follow other Independent readers and see their replies