TV debates: Ed Miliband takes most plaudits after David Cameron fails to find answers on food banks and zero-hours contracts
PM's election gets off to uncomfortable start, while Labour leader asked whether he is 'tough enough' to lead country – and whether he is a 'north London geek'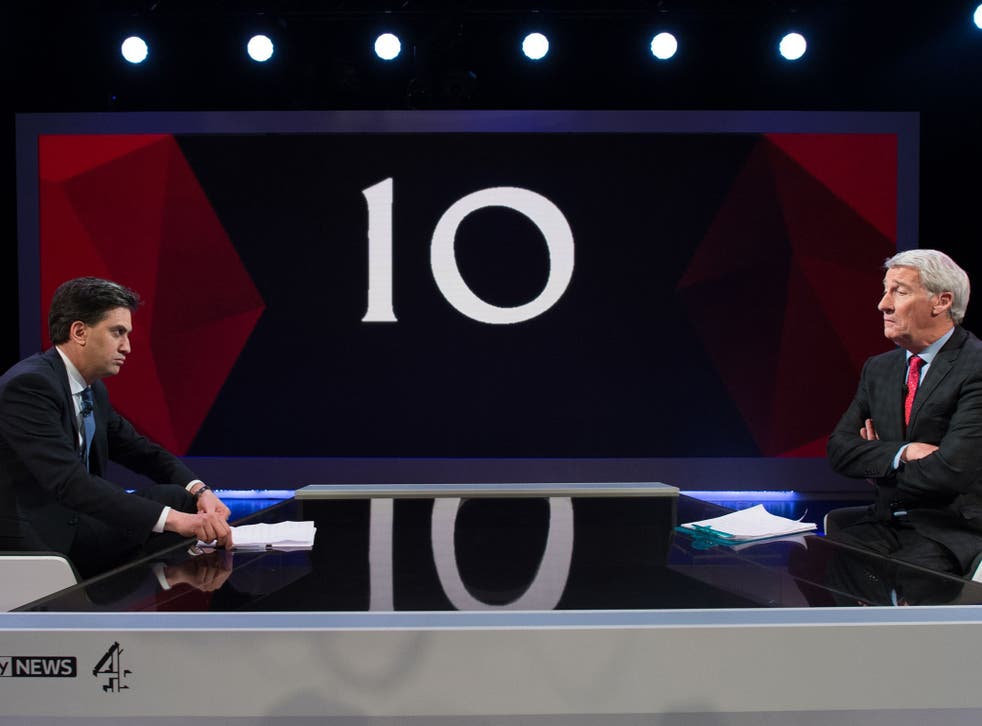 Labour claimed has victory after Ed Miliband and David Cameron both faced hostile questions tonight in the first of four live TV debates with the party leaders ahead of the May election.
The Labour leader appeared less rattled than the Prime Minister when questioned by the veteran broadcaster Jeremy Paxman, who grilled the two leaders separately for 18 minutes. The leaders also took questions from a studio audience in the 90-minute programme screened jointly by Sky News and Channel 4.
However, a snap ICM poll for The Guardian declared a narrow victory for Mr Cameron. It found 54 per cent of the public named the Prime Minister as the winner while 46 per cent opted for Mr Miliband.
Although both parties inevitably talked up their men, a Labour spokesman said: "That's why David Cameron doesn't want to go head to head [with Mr Miliband]… that's why Cameron is running from his record."
Nigel Farage, the Ukip leader, who had predicted victory for Mr Cameron before the programme, called it for Mr Miliband. He gave the Labour leader seven out of 10 and the Prime Minister four. Mr Farage said: "On personality, for me, Miliband was ahead."
He added: "The Prime Minister was deeply discomforted from the start. He didn't get into his stride until the 16th minute."
The Tories said: "Tonight was a clear illustration of the choice facing Britain at the election in six weeks' time: competence and strong leadership from David Cameron or chaos and weakness from Ed Miliband. The Prime Minister put in a strong performance under some hostile questioning."
Mr Cameron's election got off to an uncomfortable start when Paxman threw him on to the defensive. The Prime Minister eventually admitted he could not afford to live on a zero-hours contract with no guaranteed minimum hours; conceded that he had failed to keep his promise to reduce net migration to below 100,000 a year and that the use of food banks had soared since the Coalition was formed in 2010.
Mr Miliband also faced tough questions on whether he was "tough enough" to be prime minister – and whether he was a "north London geek''.
He was forced to defend his decision to fight his elder brother, David, for the Labour leadership in 2010. When an audience member asked whether David would have done a better job, he replied: "No."
But in his most candid comments on the continuing impact of the leadership battle on their relationship, he admitted some regrets. "I thought I was the best person for the job. I thought it then. I think it now. It was bruising for David, it was bruising for me. It's healed, it's healing," he said.
Paxman, the former presenter of BBC's Newsnight, told the Labour leader that people did not regard him as tough enough to cope with world leaders such as Vladimir Putin.
Mr Miliband replied that he had refused to back proposed bombing raids in Syria despite support for it from Barack Obama – the "leader of the free world" – and Mr Cameron. He added: "Am I tough? Hell, yes, I'm tough enough."
The Labour leader said: "You need a toughness in this job. I am a pretty resilient guy… I have been underestimated at every turn." Insisting he did not care about what the newspapers said about him, he added: "I care about the British people and what happens to them."
Mr Miliband admitted the previous Labour government had not always spent money wisely but insisted the deficit was caused by the global financial crisis.
Election 2015: Focus groups make unflattering comparisons

Show all 4
With net migration running at well over 200,000, Mr Miliband repeatedly refused to be drawn on what the natural limit to Britain's population should be. He said: "I'm not going to be drawn into speculation about a number … I'm not going to pluck a figure out of the year."
Earlier Mr Cameron defended his decision to appoint the former HSBC boss Lord (Stephen) Green as his trade minister, admitting he did not ask him about the tax evasion at HBSC's Swiss division. But he dismissed as "completely unjustified" Paxman's suggestion that he had surrounded himself as Prime Minister with wealthy people who got into trouble.
Paxman challenged Mr Cameron over his appointment of Lord Green and of Andy Coulson as his director of communications, as well as his support for Jeremy Clarkson, pointing out that all three are rich. Paxman asked him: "What do these people have in common?"
The Prime Minister replied: "The aspersion you are trying to cast is completely ridiculous."
Although Mr Cameron did not lose his cool, he looked uneasy at times. Paxman showed his independence after criticism from Labour that he had described himself as a "One Nation Tory."
Mr Cameron was also on the defensive over his surprise decision to say he would not serve a third term. "I will serve every day of a full second term," he said, adding that he did not want to "go on and on and on" like Chairman Mao because politicians were not "indispensable."
The election will get under way officially on Friday when Mr Miliband launches Labour's campaign. Speaking at the Olympic Park in London, he will say the election race is "neck and neck" and "will go to the wire."
Mr Cameron will make a keynote speech on Saturday before the Tory campaign begins formally next week. The party manifestos will be published after Easter.
Tonight's programme was part of a compromise agreed between the parties and broadcasters. Conservative strategists blocked plans by the TV companies for a head-to-head between Mr Cameron and Mr Miliband, fearing the Labour leader might surprise voters by performing better than his poor opinion poll ratings would suggest.
TV drama: Highs and lows
David Cameron
Worst moment
Jeremy Paxman began with a question that the PM might have expected, but could not answer: "How many food banks were there in this country when you came to power?"
"I don't know the exact figures, but I know usage of food banks has gone up," replied Mr Cameron.
Paxman provided the figures – the numbers have gone up from 66 to 421 with some 900,000 people receiving free food parcels last year. He asked was it "acceptable in a rich country like ours that there are that number of people dependent on free food aid?"
"I want fewer people to be using food banks," responded Mr Cameron meekly.
Best moment
Mr Cameron was much more relaxed on the economy.
"There are 1.89 million more people in work than when I became Prime Minister, we've got 900,000 fewer people on out-of-work benefit," he said. "We've turned the economy round and it's jobs that are the best route out of poverty..."
Funniest moment
A question from the audience. "What are Ed Miliband's best qualities?" Mr Cameron replied with apparent sincerity that his opponent was "trying to do the right thing for our country"
Ed Miliband
Worst moment
Pressed on whether he would reduce government spending, Mr Miliband said vaguely that hundreds of millions of pounds would be cut from the budgets of departments other than Education and Health. But he would only say that overall government spending was "likely to fall". As Paxman pointed out "bit of a weasel word, 'likely', isn't it?"
Best moment
Putting Paxman in his place. The presenter asked him about the deal he would have to cut with the SNP. But the Labour leader hit back: "You don't get to decide the outcome of the general election – you're important Jeremy, but not that important."
Funniest moment
Asked if he would share a pint with David Cameron, Mr Miliband reminded people of a photograph of him eating: "I don't know whether we'd have a pint… we could share a bacon sandwich or something."
Join our new commenting forum
Join thought-provoking conversations, follow other Independent readers and see their replies