Ukip leader Nigel Farage resigns after losing South Thanet seat – but promptly says he might run to be new leader
The Ukip leader failed to break through in the coastal constituency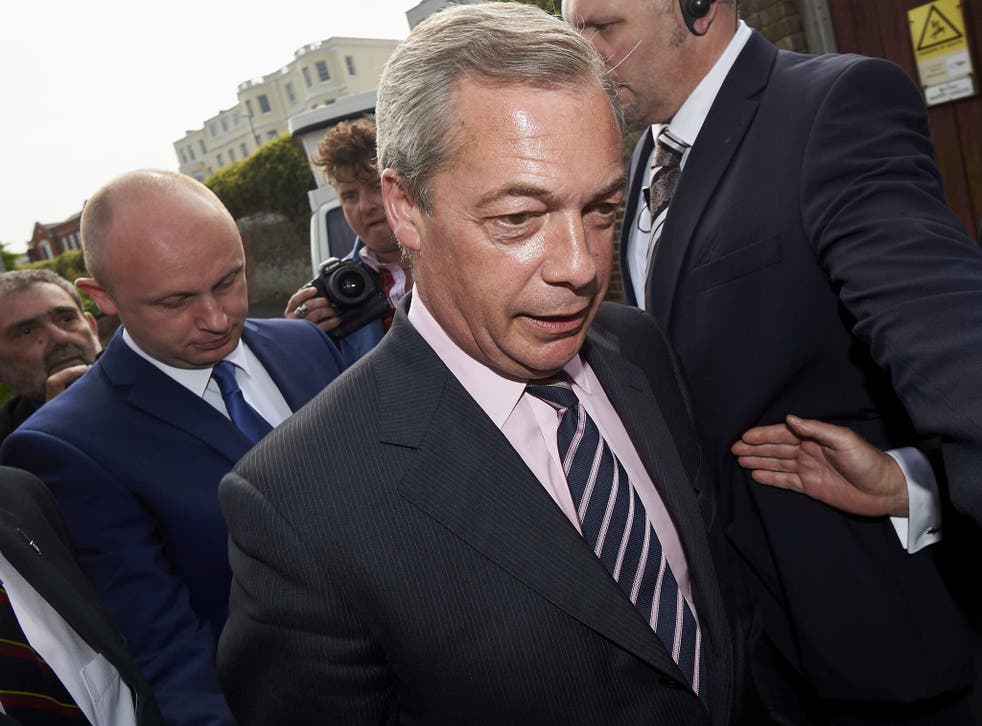 Nigel Farage has quit as leader of Ukip after failing in his attempt to win a seat in the House of Commons.
The man who has done far more anyone else to put the anti-EU party on the political map sounded almost relieved as he accepted defeat in South Thanet, which was won by the Conservative Craig Mackinlay, with a majority of 2,808.
"I feel an enormous weight lifted form my shoulders. I have never felt happier," Mr Farage announced.
He said there would be a leadership election in September and that he will "consider over the course of the summer whether to put [his] name forward" to do the job again.
Read Nigel Farage's resignation speech in full
As the votes were read after a long night's wait, Mr Farage's defeat was greeted with derisive cries of "Bye Nigel!".
Mr Farage said there would be a Ukip election in the summer, and that he would take time out from politics to consider whether or not he would put himself forward as a candidate - leaving the door open for a possible return.
Having made his speech, Mr Farage and his supporters hurried out of the hall, without waiting to hear the speeches from other defeated candidates, and gathered in a nearby hotel, where he formally announced his resignation, despite the pleas of senior colleagues who wanted him to stay.
His departure could result in another of the UK's political parties being led by a woman. Mr Farage's deputy, Suzanne Evans is seen as having had a good campaign, and is in pole position to take his place.
By then, Ukip knew that Mark Reckless, the other former Tory MP to defect to the party last year, had been defeated in Rochester and Strood, and the party had failed to win seats such as Thurrock and Castle Point, in Essex, on which they had set their sights.
But they had come second in a large number of safe Labour seats in the north and in Wales, and in several safe Conservative seats, accumulating almost four million altogether – four times their tally in the 2010 election.
The major political figures who lost out in the General Election

Show all 16
The fact that a party could win so many votes but so few seats is an illustration of the pitfalls of the 'first past the post' electoral system. Mr Farage called for "real, genuine radical political reform" to address that anomaly – suggesting that the proportional representation is likely to become a Ukip battle cry in future.
The South Thanet result came as a shock to Ukip activists who had put their faith in a Survation poll carried out in the constituency, which gave Nigel Farage a comfortable nine percentage point lead. That poll appears to have contributed to the Ukip leader's defeat, because – as one Tory campaigner put it – "it frightened the horses" and galvanised Conservative campaign headquarters into sending three experienced professionals to South Thanet to help their candidate, Craig Mackinlay.
A triumphant Mr Mackinlay said: "It was here that the political ground was supposed to shake… but the country has not experienced an earthquake or even a tremor."
Join our new commenting forum
Join thought-provoking conversations, follow other Independent readers and see their replies