Ukip MEP Janice Atkinson's staff 'tripled restaurant bill to claim more EU expenses'
The former election candidate has been suspended from the party while the allegations are investigated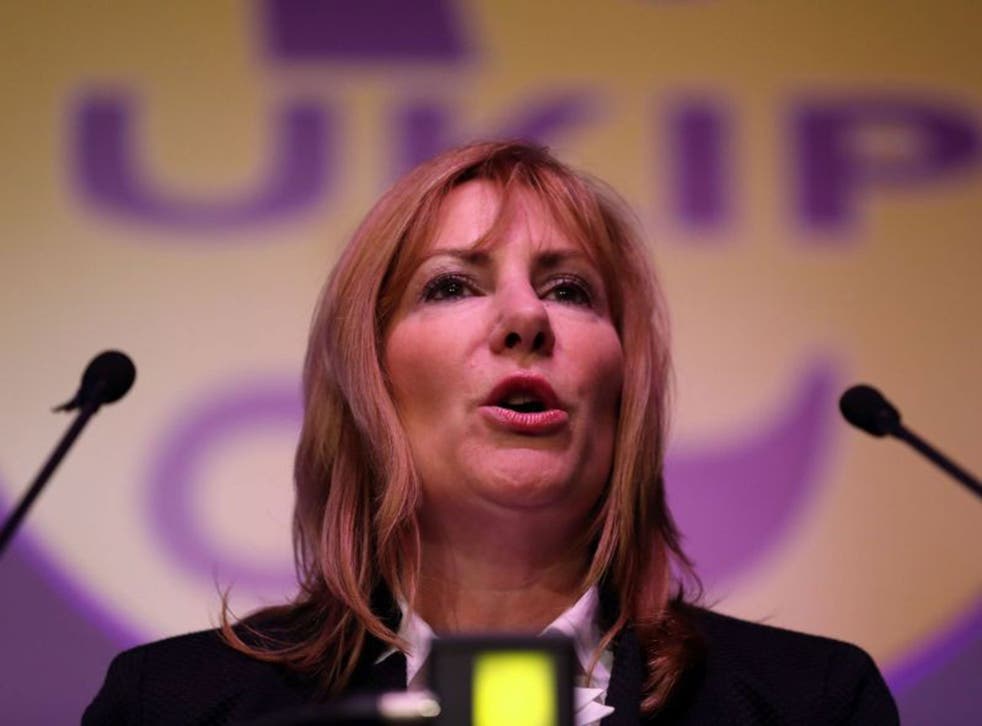 A Ukip MEP, who infamously referred to a Thai woman as a "ting tong", has been suspended from the party after "serious financial" allegations about her expenses.
Janice Atkinson, who represents the South East of England in the European Parliament, was dropped as Ukip's general election candidate for Folkestone and Hythe and also had the party whip withdrawn.
The Sun filmed Christine Hewitt, Ms Atkinson's chief of staff, asking a restaurant manager for an invoice for a party in Margate that cost £950. She asked for a higher sum and eventually was given an invoice for £3,150.
"The idea is we overcharge them slightly because that's the way of repatriating [the money]," Ms Hewitt allegedly said. The restaurant manager agreed to take part to enable video footage to be obtained, The Sun said.
Legal experts told The Sun the claim could be viewed as a criminal fraud and should prompt a police investigation. European laws on expenses and party funding may also have been broken.
The party was attended by Mr Farage's wife, Kirsten, 50, and Ukip MP Mark Reckless. A source close to the party leader Nigel Farage said they had not yet seen all the evidence of the alleged wrongdoing but were "satisfied the conditions are such that we have had to suspend her".
Asked about Ms Atkinson's reaction to the claims, he said she appeared "very, very surprised" that she was being criticised. "She doesn't see what she's done wrong. I think she's genuinely dense enough not to realise this is not the way things happen," the source said.
Writing in The Independent, Mr Farage said: "I want to be very clear that we do not condone, and never have condoned the types of actions that this individual has been accused of. And that's why we as a party acted so quickly when we heard of the incident. I want Ukip to be the party that restores decency into our political sphere, and as such, I will do my level best to uphold those principles across the entire party."
In pictures: Not-so virtuous MPs

Show all 17
A party spokesman said Ukip was "incredibly disappointed with Ms Atkinson". He said she "appears to have exercised extremely poor judgement in acting in a way that the party has never and would never condone".
"The party has acted swiftly and immediately and, just as we showed when we suspended another MEP for financial irregularities, we always maintain a zero-tolerance attitude towards acts of this nature," the spokesman added.
Ms Atkinson has been a source of controversy for Ukip. In August, she was recorded describing fellow Ukip member Fa Munday, originally from Thailand, as a "ting tong from somewhere".
In December, it emerged that Ms Atkinson had been taken to court by the Child Support Agency over missed support payments to her ex-husband, who has custody of her teenage son. A Ukip spokesperson said at the time that Ms Atkinson "disputes the claim as she was not earning for the period of the claim".
Register for free to continue reading
Registration is a free and easy way to support our truly independent journalism
By registering, you will also enjoy limited access to Premium articles, exclusive newsletters, commenting, and virtual events with our leading journalists
Already have an account? sign in