Ukip row: Nigel Farage and Douglas Carswell at loggerheads over whether to accept £650,000 in taxpayer funding
Ukip entitled to money after winning 4 million votes but row breaks out over whether the party's only MP should accept the large sum of public money
Matt Dathan
Tuesday 12 May 2015 16:53 Comments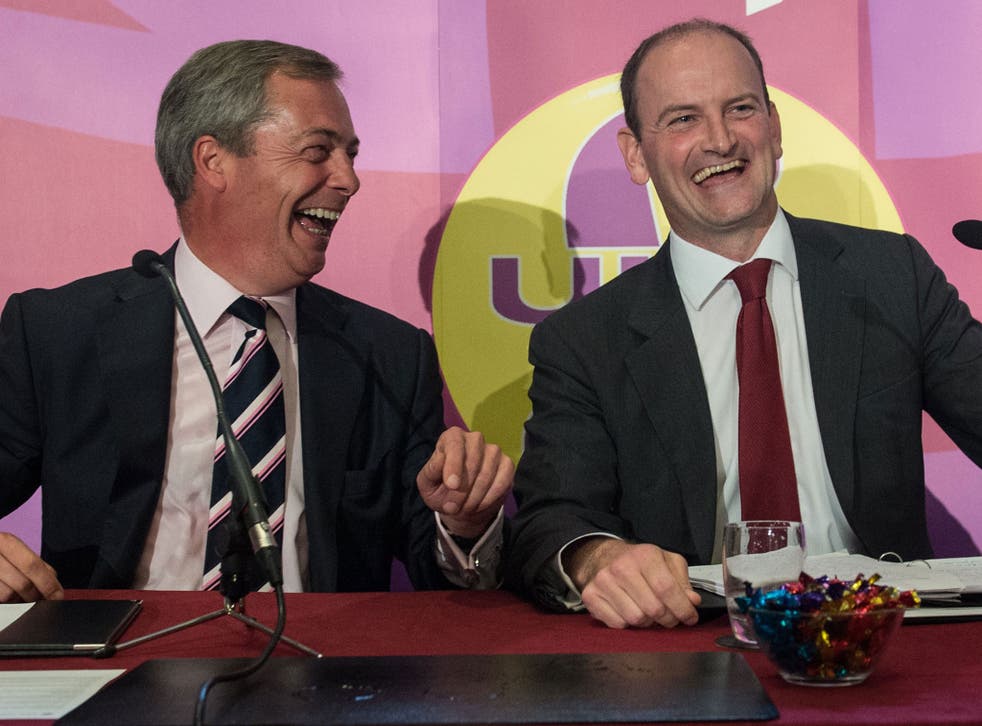 A row has broken out within Ukip over what the party should do with the £650,000 of taxpayers' money it is entitled to having won nearly 4 million votes at the general election.
Douglas Carswell, the Ukip's only MP, has said Ukip should be "prepared to reject" the "short money" – funds given to opposition parties to cover the cost of support staff, research and other costs incurred in carrying out its parliamentary business.
The libertarian politician is a strong campaigner in favour of smaller government and reducing the cost of politics – a view very much in line with Ukip's call to cut back on government bureaucracy.
However Nigel Farage wants the party to accept the money it is entitled to and use it to represent the 4 million people who voted for Ukip.
Officials from the party proposed that Mr Carswell use the £650,000 funds to hire 15 staff – a move he disagreed with – according to The Times.
He told the Guido Fawkes website that Ukip does not need £650,000 of taxpayers' money to run the office of one MP. The party should only accept £350,000, he suggested, thereby saving taxpayers' £300,000.
"I don't think we need a vast amount of taxpayers' money to do the job," said Mr Carswell, who joined Ukip after defecting from the Conservatives last summer. "We should be different, we should be prepared to reject taxpayer funding. We don't need to be on the gravy train to fund staff. UKIP should be about saying no to the political trough. Not taking our fill."
Best General Election 2015 quotes

Show all 10
Mr Farage has a very different view, however. Responding to whether Ukip should accept the full amount it is entitled to, he told Guido Fawkes: "Douglas is the MP for 4 million people and we need to represent them properly."
It comes a day after Mr Farage was re-appointed as leader of Ukip, withdrawing his resignation after "overwhelming" support from the party's members in favour of him staying.
Mr Carswell, believed to have been dismayed by the move, dismissed suggestions he would re-join the Conservatives, saying: "I'm 100% UKIP, and right now I'm 100% of Ukip in Westminster".
He was asked repeatedly if he supported the decision to keep Mr Farage as leader but declined to respond directly.
Mr Carswell was one of the panellists at a question and answer session in London organised by Conservative Home when he was asked his views after Ukip's national executive refused to accept Mr Farage's resignation.
He replied: "I heard about the unresignation on, I think Twitter, or whatever. You'll need to ask me about it later I'm not going to talk about that now."
Register for free to continue reading
Registration is a free and easy way to support our truly independent journalism
By registering, you will also enjoy limited access to Premium articles, exclusive newsletters, commenting, and virtual events with our leading journalists
Already have an account? sign in
Join our new commenting forum
Join thought-provoking conversations, follow other Independent readers and see their replies