Ukip's middle-class supporters can be Labour's 'secret weapon', report claims
The study says Ukip voters can cause more damage to the Tories
Andrew Grice
Wednesday 22 April 2015 18:07 Comments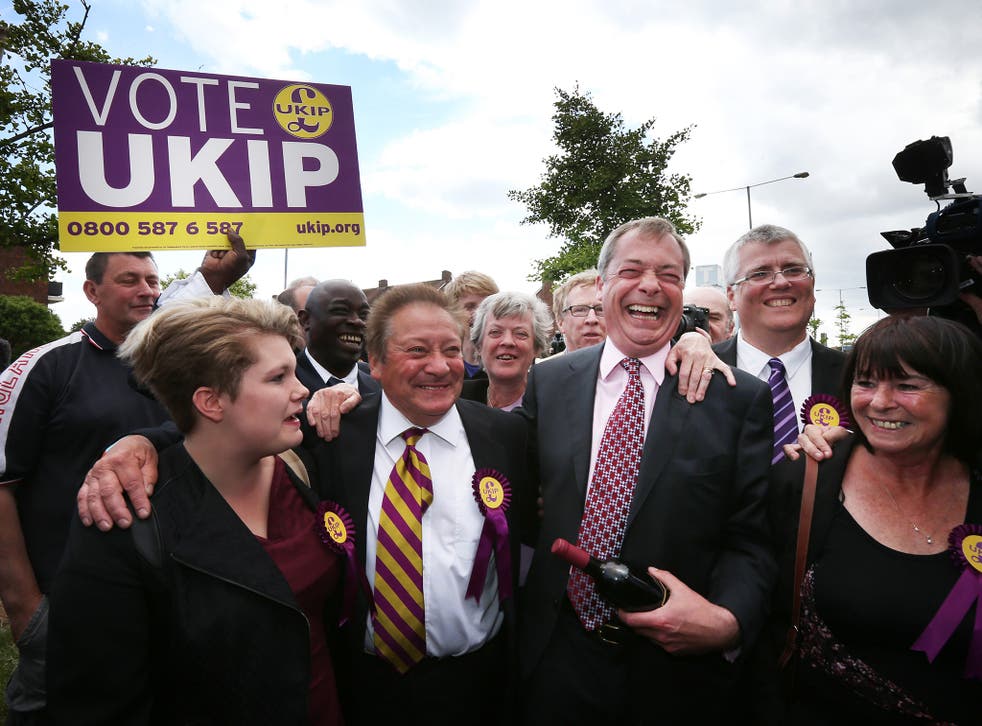 Ukip is Labour's "secret weapon" because its support comes mainly from professional and managerial middle classes rather than the working class, according to new research.
The findings by academics are a setback to the Conservatives, who had hoped that Nigel Farage's party would inflict at least some damage on Labour at next month's election.
Professor Geoffrey Evans, co-director of the British Election Study, said: "Ukip is Labour's secret weapon: it has benefitted from its presence and is likely to continue to do so. Labour will not lose substantial numbers to Ukip – because those people have long since deserted the party."
He added: "The idea that many Ukip voters are working class and that they therefore pose a threat to Labour's support in the election has gained considerable currency in recent years. But we find this is wrong; the working class basis of Ukip has been strongly overstated.
"The party's strongest supporters are often the self-employed and business owners. Even within the working class, Ukippers tend to be low level supervisors, and not the disadvantaged semi and unskilled workers often thought to provide the core of the party's support."
---
Are you undecided about who to vote for on 7 May? Are you confused about what the parties stand for and what they are offering? Take this interactive quiz to help you decide who to vote for...
Analysis of data between 2005 to 2014 shows that Ukip voters are overwhelmingly people who voted Conservative in 2010. The clear majority of 2005 Labour voters who supported Ukip in 2014 had already left the party by 2010. Some 80 per cent of 2005 Conservatives who intended to vote for Ukip in 2014 were still Conservative in 2010, whereas a mere 40 per cent of 2005 Labour voters were still Labour then.
Dr Jonathan Mellon of Nuffield College, Oxford, said: "Ukip's support is very similar in social composition to many other so called 'radical right' parties elsewhere in Europe - an alliance between the working class and the self-employed and employers – rather than a party of the 'left behind'. And significantly in electoral terms, the differences in sizes between social classes means that numerically, the bulk of Ukip's support comes from the larger professional and managerial middle classes."
---
The Independent has got together with May2015.com to produce a poll of polls that produces the most up-to-date data in as close to real time as is possible.
Click the buttons below to explore how the main parties' fortunes have changed:
All data, polls and graphics are courtesy of May2015.com. Click through for daily analysis, in-depth features and all the data you need. (All historical data used is provided by UK Polling Report)
Register for free to continue reading
Registration is a free and easy way to support our truly independent journalism
By registering, you will also enjoy limited access to Premium articles, exclusive newsletters, commenting, and virtual events with our leading journalists
Already have an account? sign in
Join our new commenting forum
Join thought-provoking conversations, follow other Independent readers and see their replies