George Osborne accuses Boris Johnson of leading group of conspiracy theorists in Brexit camp
Chancellor says: 'The next thing we know, the Leave camp will be accusing us of faking the moon landings'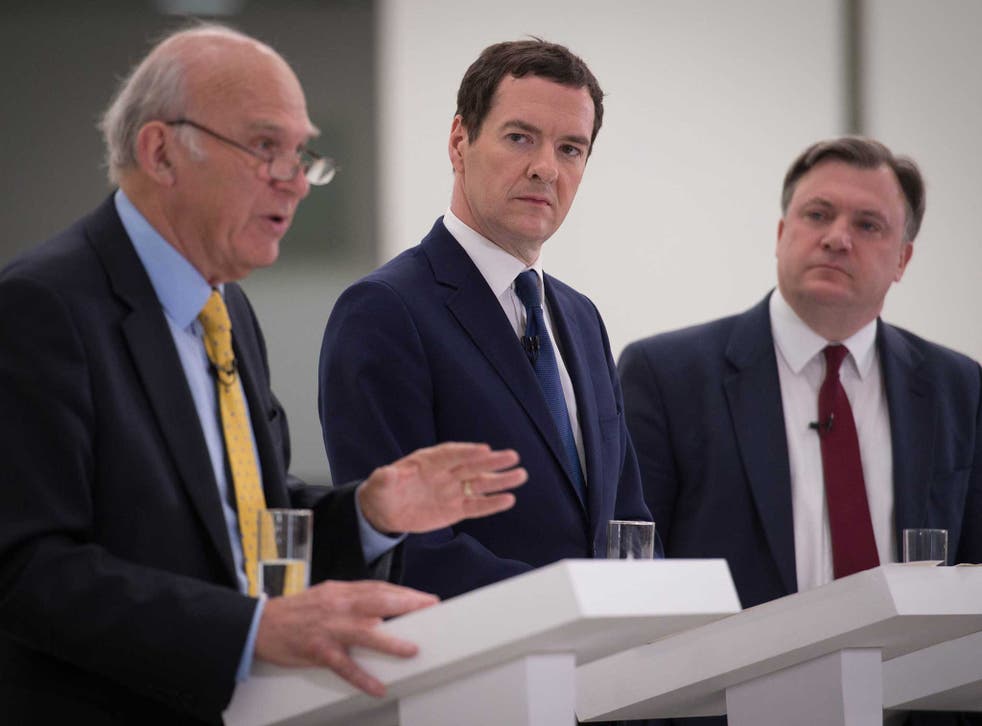 Campaigners for Brexit have sunk to the level of conspiracy theorists, George Osborne has claimed, as he was joined by former political rivals Ed Balls and Sir Vince Cable to plead for voters to heed "sober economic warnings" about the consequences of a Leave vote.
Addressing suspicions among Leave campaigners that he personally masterminded recent interventions by the Bank of England and the International Monetary Fund (IMF), the Chancellor said that there was "no conspiracy" and that the economic arguments of Boris Johnson and other Brexit supporters had "not been credible of serious".
Speaking at Stansted Airport alongside former Labour Shadow Chancellor Ed Balls, with whom Mr Osborne had a tempestuous political rivalry, and former Liberal Democrat Business Secretary Vince Cable, once dismissed by one of the Chancellor's staff as a "hairy-eared has-been", he said that the economic argument for Remain was "beyond doubt".
"It's not a conspiracy. It's called a consensus," he said.
Bank of England governor Mark Carney warned last week that Brext could lead to a recession, while IMF managing director Christine Lagarde said the effects on British incomes and productivity would likely be "negative and substantial".
Mr Osborne said the Leave camp had treated such warnings as "a massive conspiracy".
"That's everyone from Mark Carney to Christine Lagarde to Barack Obama to the entire editorial team at ITV to the staff at the IMF and OECD, to hundreds of economists, to a majority of leaders of small, medium and large firms - they think they are all part of some global stitch-up to give misinformation to the British people," he said, referring to a recent row over the ITV EU referendum debate, and previous warnings from President Obama and the Organisation for Economic Cooperation and Development.
What has the EU ever done for us?

Show all 7
"The next thing we know, the Leave camp will be accusing us of faking the moon landings, kidnapping Shergar and covering up the existence of the Loch Ness monster.
Cabinet minister and Leave campaigner Chris Grayling said the Chancellor was "not right at all" in his assessment.
"The reality is there's no conspiracy here at all," he told the BBC. "The conspiracy theories around the European Union are there in black and white, you don't need any hidden elements to it – there is a clear plan to create a federation of the Eurozone."
The Chancellor repeated the findings of a Treasury analysis last month, which suggested that by 2030 the UK would be losing out on £200bn worth of trade a year, and would have lost around £200bn worth of overseas investment.
Mr Balls said he had been willing to "put politics aside" and campaign with the Chancellor because of his fears that Brexit would "hit families really hard". Sir Vince said that the European single market, which senior Leave campaigners have said Britain would leave in the event of Brexit, had been a "a British vision of an open Europe", spearheaded by Margaret Thatcher.
The latest warnings came as Boris Johnson, the Vote Leave figurehead, dismissed criticism of his comparison of the EU project to Hitler's expansionism as "hysteria" and an "artificial media twit storm".
Former Chief of the Defence Staff Lord Bramall, who took part in the D-Day landings, called the former mayor of London's comments "simply laughable".
Mr Johnson today reiterated his claim saying there was a "very good argument against the lack of democracy in the EU".
"Over the last 2,000 years people have made repeated attempts to unify Europe by force, the EU is a very different project but it is profoundly anti-democratic and that is why we should vote Leave on June 23," he said.
Mr Osborne, responding to the furore, said that Lord Bramall had "said what needed to be said about Boris Johnson".
The Chancellor was speaking as more than 300 business leaders signed a letter urging Britain to vote to leave the EU in the June 23 referendum, arguing that the UK's competitiveness is being undermined by its membership.
In a letter to The Daily Telegraph, they argue that businesses will be "free to grow faster, expand into new markets and create more jobs" if they are unconstrained by EU rules.
But Mr Osborne said that new Treasury analysis showed that if the UK was forced to rely on World Trade Organisation rules following Brexit, it could expect to lose trade worth £200 billion a year and overseas investment worth £200 billion within 15 years.
Recent days had seen the emergence of a consensus shared by observers ranging from the Bank of England and the International Monetary Fund to the OECD and US president Barack Obama that "Britain will be poorer and British people will be poorer" if the UK votes to leave the EU, said the Chancellor.
Join our new commenting forum
Join thought-provoking conversations, follow other Independent readers and see their replies