George Osborne dodges child's question on eight times table live on TV
Seven-year-old Sam Raddings asked Osborne whether he was good at maths and if he knew what seven times eight was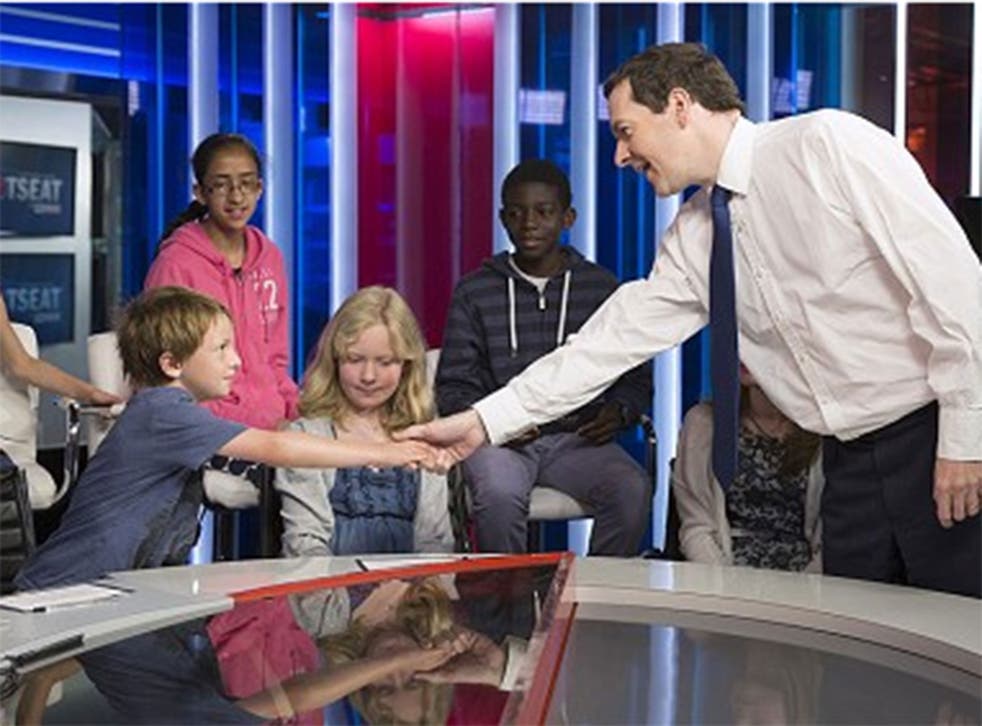 George Osborne used all the political skills at his disposal today when he dodged a question from an inquisitive seven-year-old live on TV.
Yet, on this occasion, Osborne was not being quizzed on the state of the nation's debt or whether the Coalition's austerity plan was benefiting British people, it was in fact a question asking the Chancellor of the Exchequer what he would get if he multiplied seven by eight.
In a special interview set up on Sky News between the Chancellor and First News, a weekly newspaper for young people, seven-year-old Samuel Raddings began by asking Osborne "Are you good at maths?"
Osborne replied: "I did maths A-level so I have been tested at school," adding, "Of course there is a lot of maths in my job but it is also about making judgments about where the Government should spend its money."
In the interview, in which the Chancellor was quizzed by a panel of young children, Osborne also answered questions on whether he liked how loud the House of Commons was, who he would ask for advice if the country was in debt and what he used to save up for when he was younger.
He said that he would "much rather have a House of Commons, a parliament, which is lively and people feel passionately about things," he said that David Cameron would be the person he would turn to in crisis and that Scalextrix was the thing he used to save up for when he was young.
During the interview Osborne also revealed that his knowledge on popular rappers was non-existent, that he "loved Pharrell" and "cheesy pop songs" and that while his kids did receive pocket money, they were not expected to do chores around the house to earn it.
Register for free to continue reading
Registration is a free and easy way to support our truly independent journalism
By registering, you will also enjoy limited access to Premium articles, exclusive newsletters, commenting, and virtual events with our leading journalists
Already have an account? sign in
Register for free to continue reading
Registration is a free and easy way to support our truly independent journalism
By registering, you will also enjoy limited access to Premium articles, exclusive newsletters, commenting, and virtual events with our leading journalists
Already have an account? sign in
Join our new commenting forum
Join thought-provoking conversations, follow other Independent readers and see their replies