George Osborne hints at military strikes in Syria to stem exodus of refugees
The Chancellor insists crisis must be tackled 'at source', but political consensus for action against President Assad may be hard to find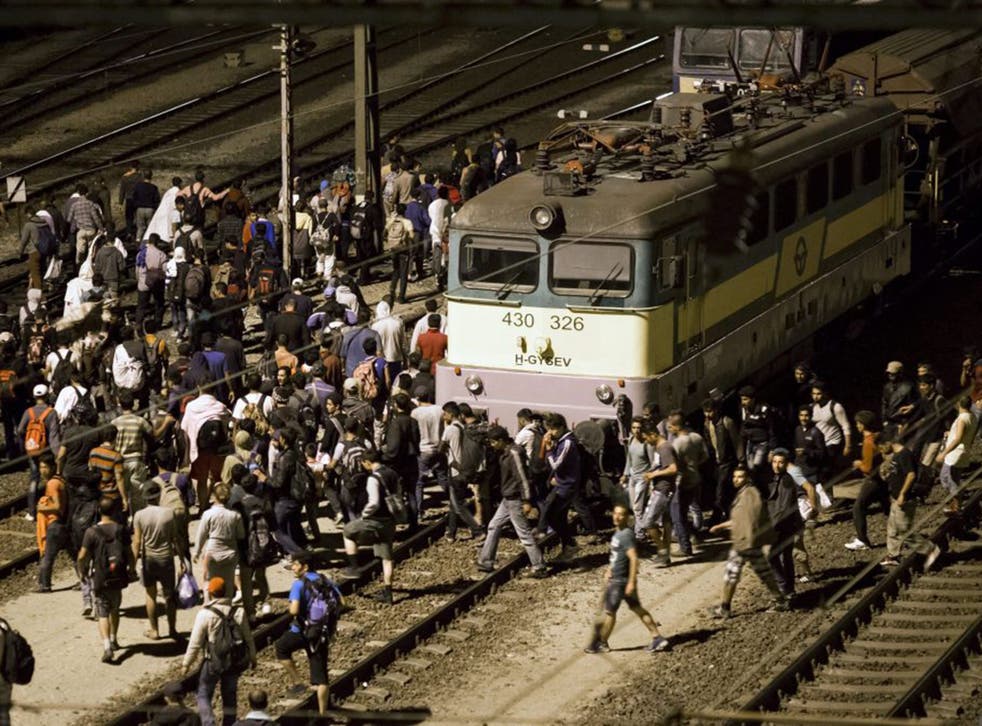 George Osborne has given a strong signal that Britain will take part in military action in Syria as he warned that dealing with the escalating refugee crisis meant tackling President Bashar al-Assad's "evil" regime.
The Chancellor's hawkish comments coincided with reports that French President François Hollande is also considering military strikes in Syria and will announce further details in Paris this week.
There was speculation mounting in Whitehall that the Prime Minister could ask MPs to back enforcing a no-fly zone over Syria, as a way to protect ordinary citizens, rather than all-out strikes against Damascus. With Jeremy Corbyn still on course to win the Labour leadership, David Cameron's search for consensus on Syria would be more successful if he made the argument about creating safe havens rather than strikes against Assad.
Speaking at a summit of finance ministers in Turkey, Mr Osborne said dealing with the crisis meant not only taking action against Islamic State (Isis) but also the Assad administration, and that Britain had got to "get engaged" with achieving stability in Syria.
Millions of Syrian refugees have fled the country since the start of the civil war four years ago. Britain came close to bombing government targets in 2013, but Mr Cameron failed to get the backing of Parliament. Since then, the rise of Isis – also known as Isil – has worsened the refugee crisis, and the drowning of the al-Kurdi brothers will have stiffened the resolve of many MPs, meaning a government motion might be easier to argue through the voting lobbies.
Yet the PM made clear on 4 September that action in Syria depended on the outcome of the Labour leadership election next weekend, insisting it was important to achieve "consensus" in the House of Commons. A victory for Jeremy Corbyn would make consensus more difficult, because the left-winger has said he cannot see the circumstances in which he would back military action.
The refugee crisis - in pictures

Show all 70
Asked about the crisis while attending the meeting of G20 finance ministers in Ankara, Mr Osborne said: "You've got to deal with the [migration] problem at source, which is this evil Assad regime and the Isil terrorists, and you need a comprehensive plan for a more stable, peaceful Syria. A huge challenge of course, but you can't just let that crisis fester. We've got to get engaged in that."
Mr Osborne said the humanitarian response also needed co-ordinating across Europe, adding: "Yes, we must offer asylum to those who are genuinely fleeing persecution. Countries like Britain always have, we are one of the founders of the asylum system. We will take, as the Prime Minister said, thousands more.
"But at the same time, you've got to make sure you've got aid going into the refugee camps on the borders .... We've got to defeat these criminal gangs who trade in human misery and risk people's lives and kill people."
On 4 September Mr Cameron hinted that a fresh vote for military action was under consideration when he was asked about a Commons motion, saying: "I will only proceed if there is genuine consensus in the UK before going back to Parliament."
On 5 September Le Monde quoted an unnamed "high level source" as saying that President Hollande is considering air strikes against Isis in Syria.
The French leader is expected to outline further details on 7 September. France has supplied arms to moderate rebels fighting the Assad regime but has resisted joining air strikes against Isis for fear of benefiting the Damascus government.
In Britain, the former Defence Secretary Liam Fox stepped up his calls for action against Syria, which he said should include enforcing a no-fly zone to create a safe haven for Syrians and to stem the numbers of refugees.
Dr Fox said the international community needed to "deal with the cause of the refugee crisis, not merely its symptoms". He added: "These poor people are caught between the barbarity of the Assad regime and the depravity of Isis. The PM has rightly identified this as a huge threat to regional, and Britain's, security, yet our response is inadequate.
"The policy of attacking Isis in Iraq but not in Syria is patently absurd, which not only makes us less effective militarily but diminishes us in the eyes of other partners in the coalition. If we have identified a threat to our national security, we have a duty to deal with it.
"Hand-wringing about the tragedy of the refugees is not enough. It is time that action was taken to deal with the root of the problem."
This newspaper has started a campaign for the UK to welcome a fair share of refugees.
Join our new commenting forum
Join thought-provoking conversations, follow other Independent readers and see their replies