George Osborne orders 40% Whitehall budget cuts with foreign aid and welfare set to be hit
The measures could also see privatisation and new charges for the public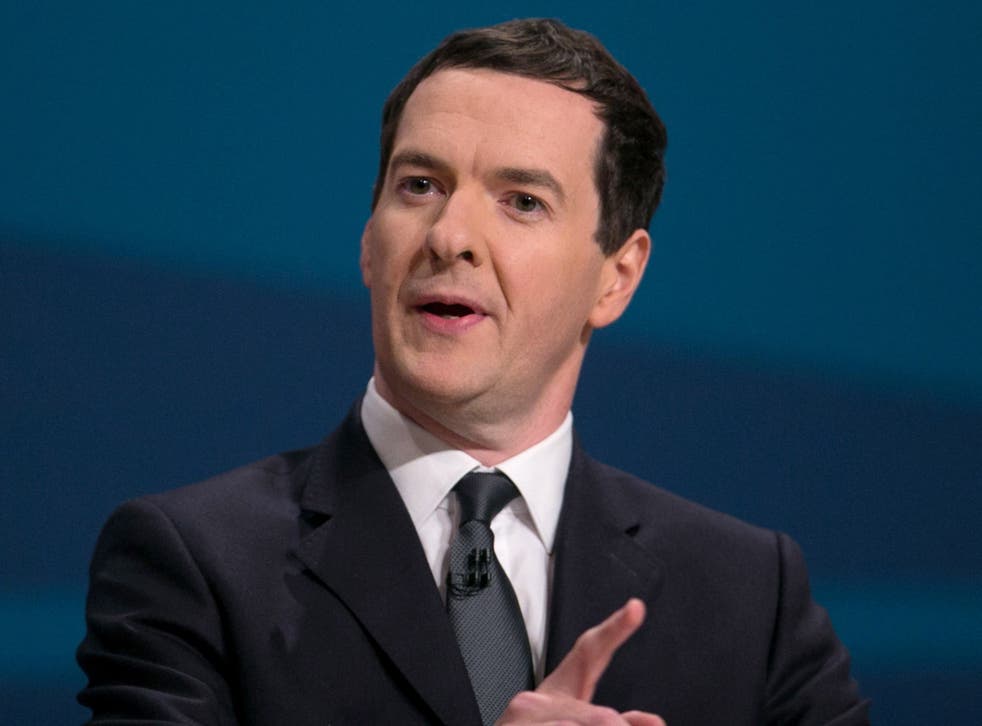 George Osborne has ordered Whitehall departments to draw up plans to cut their budgets by up to 40 per cent in a move which could see more services privatised, new charges for the public and more welfare cuts.
The Chancellor's attempt to re-shape the state will include a squeeze on Britain's spending on aid to the world's poorest countries. Although the Government will not breach its pledge to spend 0.7 per cent of Gross National Income on aid, the Treasury will pare back projects abroad by departments such as the Foreign Office and Energy and Climate Change and, which spent £343m and £225m respectively on them last year.
The £20bn of cuts over the next four years will be revealed in a government-wide spending review to be published on November 25, Mr Osborne announced today. He said it would "finish the job" of clearing the nation's deficit.
Mr Osborne's determination to recast the state was set out in a Treasury document pledging to achieve more with less. Surprisingly, it raised the prospect of further cuts to welfare on top of the £12bn approved in principle by MPs on Monday. "The Government will continue to consider further sensible welfare reforms that strengthen work incentives and make the welfare system fairer and more affordable," it said.
Automatic annual pay rises for civil servants, designed to retain staff, will be scrapped. They can be worth between 2 and 5 per cent.
The Treasury report hinted that more user charges could be introduced for state-run services while regulatory rules which protect the public are relaxed and more services are delivered by private firms. "Modernising regulatory requirement for delivering services or the approach to payments for services can allow more providers to enter the market, increasing competition and innovation, resulting in increased efficiency and reduced costs," it said.
Cabinet ministers who propose radical reforms which save money by the Treasury's September deadline will be rewarded by Mr Osborne. He wants them to avoid "salami-slicing" by following the lead of Michael Gove, the Justice Secretary, who has vowed to tackle bureaucracy and inefficiency in the courts system.
The first ministers to strike a deal with the Chancellor could also win a place on the Cabinet's "star chamber", which will have the final say on where the cuts fall.
But Philip Hammond, the Foreign Secretary, played down the demands, saying: "Past experience would suggest that initial pitching by the Treasury should be regarded as aspirational and a ranging shot."
In the Commons, Mr Osborne admitted the cuts would mean "difficult choices" but hinted that the overstretched social care system could receive more money.
Ministers were ordered to sell-off publicly-owned land to provide at least 150,000 homes by 2020. The state owns more than £300bn of land and buildings. The Ministry of Defence owns about 1 per cent of all UK land and spends £115m a year on vehicle hire, including travel between different sites.
The Department of International Development (DFID) which spends about £10bn of Britain's £11.7bn aid budget, has already introduced value-for-money measures. Conservative MPs have criticised lax controls on some projects run by other parts of Whitehall and they will now come under close scrutiny as the Treasury runs a bidding process.
Justine Greening, the International Development Secretary, said: "The Chancellor's initiative is excellent – it's building on the relentless drive for value for money that I have pursued in DFID, and ensuring that happens right across government. We're making sure every pound is being spent as efficiently and effectively as possible. Our foreign aid budget needs to deliver results on the ground, and this will help us do that."
Julian McCrae, deputy director of the Institute for Government, warned: "The challenges in the 2015 spending review will be far greater than before. The low-hanging fruit has been picked, so cuts will be harder to find. Public services are already much more stretched than they were in 2010."
Latest cuts: Winners and losers
• To eliminate the deficit there must be £3bn of cuts by 2016-17 financial year; £11bn by 2017-18; £18bn by 2018-19, £20bn by 2019-20.
• Squeeze likely to hit Home Office, including police and immigration officers; early years education; sixth form colleges; local government; support for business; and the criminal justice system.
• Public service reform: more state-funded services to be delivered by private firms; more user charges for the general public.
• Welfare: Government to consider "further sensible reforms" to make system more affordable on top of the £12bn cuts already imposed.
• Overseas aid: Commitment to spend 0.7 per cent of Gross National Income retained. But squeeze on projects funded by departments outside of Department for International Development.
• An end to automatic annual pay increases for civil servants based on their length of service.
• Departments, including Ministry of Defence, to be charged fees for using the electromagnetic spectrum for communication.
Join our new commenting forum
Join thought-provoking conversations, follow other Independent readers and see their replies