Government accused of closing door on Eritrean refugees in attempt to hit immigration target
This year the UN warned of killings, sexual slavery and forced labour in Eritrea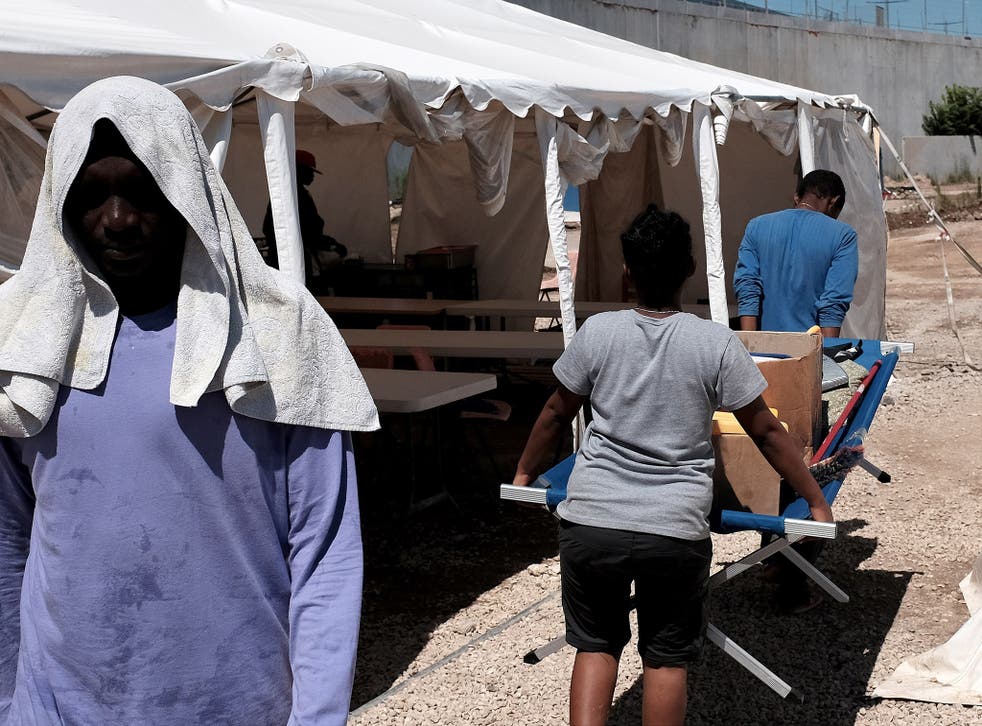 The Government has been accused of closing the door to thousands of asylum-seekers from Eritrea, where the authorities have been accused of crimes against humanity, in a desperate attempt to hit its discredited immigration target.
Official figures published showed that net migration has risen to a record 330,000 a year – way above David Cameron's target of under 100,000. They revealed that most claims for asylum in Britain in the 12 months to June were by Eritrean nationals (3,568) – more than from Syria (2,204), from where 4m people have fled the civil war. But the small print disclosed a big drop in the proportion of Eritreans being granted refugee status in the UK – down from 73 per cent in the first three months of this year to 34 per cent.
In June, the United Nations warned that people were fleeing Eritrea in their thousands to escape killings, sexual slavery, forced labour and indefinite national service at the age of 17. The Eritrean Government insists the leavers are economic migrants. But those who return risk being arrested as "traitors" and mistreated "to the point of torture," the UN said.
The Refugee Council accused the Home Office of basing its policy on outdated information from the Danish Government suggesting that Eritreans who fled could return safely.
Maurice Wren, chief executive of the Refugee Council, said: "The cynicism of the Home Office in denying protection to Eritreans fleeing a regime accused by the UN only two months ago of systematic, widespread and gross human rights violations is truly shameful. The number seeking safety in Britain is small and entirely manageable, yet we slam the door in their faces by basing life and death decisions on dodgy, discredited reports which fly in the face of all credible evidence."
He added: "If the Government is serious about protecting refugees, it must urgently change its guidelines to reflect the UN's findings, and review immediately the cases of Eritreans who have been refused asylum since March on the basis of deeply flawed guidelines."
A Home Office spokesman insisted its guidance on Eritrea was based on a careful and objective assessment of evidence from a range of sources and is being updated to take account of the UN inquiry. "While this guidance helps inform decisions, every application for asylum is considered on its individual merits," he said. "The UK has a proud history of offering asylum to those who need it."
Net migration in the 12 months to March rose to 330,000 – up 94,000 on the previous year and exceeding the 320,000 high point in 2005 after the Blair Government allowed people from Poland and seven other new EU member states to come to Britain.
Yvette Cooper, the shadow Home Secretary, said: "Most troubling of all, the net migration target treats immigration and asylum as the same. That is morally wrong and is preventing Britain playing its part in responding to the terrible refugee crisis that stems from Syria and has spread across Europe. We have a long tradition of providing sanctuary for those fleeing conflict and persecution abroad - yet we are completely failing to live up to that tradition now. Other countries round the world are doing their bit. It is time Britain did too."
The Government dismissed claims by the European Commission that it is ready to join an EU-wide scheme to share the burden of refugees among member states. After talks in Austria, Johannes Hahn, the EU's Enlargement Commissioner, said: "We're going to have a quota settlement approach, and in light of recent developments, I believe all 28 member states are now ready to accept and approve that."
But the Home Office made clear Britain would not participate in any compulsory EU resettlement scheme or be bound by targets as part of a voluntary scheme. A spokesman said: " The UK is playing a leading role in pushing for action through the EU and the UN to tackle the causes of illegal immigration and the organised trafficking gangs behind it."
The figures were a huge setback to Mr Cameron, who restated the Conservatives' ambition to reduce annual net migration to "tens of thousands" at the May election.
In pictures: Calais crisis intensifies

Show all 20
The Office for National Statistics said immigration rose by 84,000 to 636,000 in the year to March, while there was a 9,000 fall in the number of people emigrating. There was a 56,000 rise in the numbers coming to live in Britain from other EU nations and a 39,000 increase from outside the EU. The number of Romanians and Bulgarians coming to Britain almost doubled from 28,000 to 53,000.
People coming to work in Britain made 65,000 of the increase and almost two-thirds of them already had a job to take up.
James Brokenshire, the Immigration Minister, admitted: "These stark figures are deeply disappointing. While these figures underline the challenges we need to meet to reduce net migration, they should also act as a further wake-up call for the EU. Current flows of people across Europe are on a scale we haven't seen since the end of the Second World War." He sought to blame the Liberal Democrats for blocking measures to control immigration, saying the Tories could now act "without the constraints and fetters of coalition."
Timeline: Immigration crackdown
20 May
After official figures show net annual migration at a record 318,000 last year, David Cameron tries to blame the former Liberal Democrat Business Secretary Vince Cable for blocking measures to control immigration during the coalition government.
27 May
The new Government's Queen's Speech includes an Immigration Bill which gives police the power to seize the wages paid to illegal workers as the "proceeds of crime". All foreign criminals awaiting deportation are to be fitted with satellite tracking tags. It will become an offence for businesses and recruitment agencies to hire abroad without first advertising in the UK.
10 June
David Cameron announces plans to reduce migration by skilled workers from outside the EU – raising minimum-salary thresholds, limiting the number of work permits and bringing in new levies for firms employing migrants.
30 July
David Cameron is accused of "dehumanising" migrants after speaking about a "swarm of people" gathering in Calais seeking a better life in Britain.
2 August
The Home Office confirms it plans to strip families with children of the automatic right to claim benefits if their asylum applications are rejected.
3 August
The Government announces that landlords will face up to five years in prison for renting property to illegal immigrants. It emerges that a pilot scheme in the West Midlands to fine landlords has caught only seven people.
10 August
Ministers warn that rogue employers who give jobs to illegal immigrants will be hit with the "full force" of the government machine.
25 August
The Home Office wants that illegal immigrants will face six months in jail if they come to work in the UK.
Join our new commenting forum
Join thought-provoking conversations, follow other Independent readers and see their replies