Government asked: Why are you allowing 'tainted' G4S to handle Olympic security?
Donald Macintyre reveals the growing row about a company which also works in the West Bank's 'illegal' Jewish settlements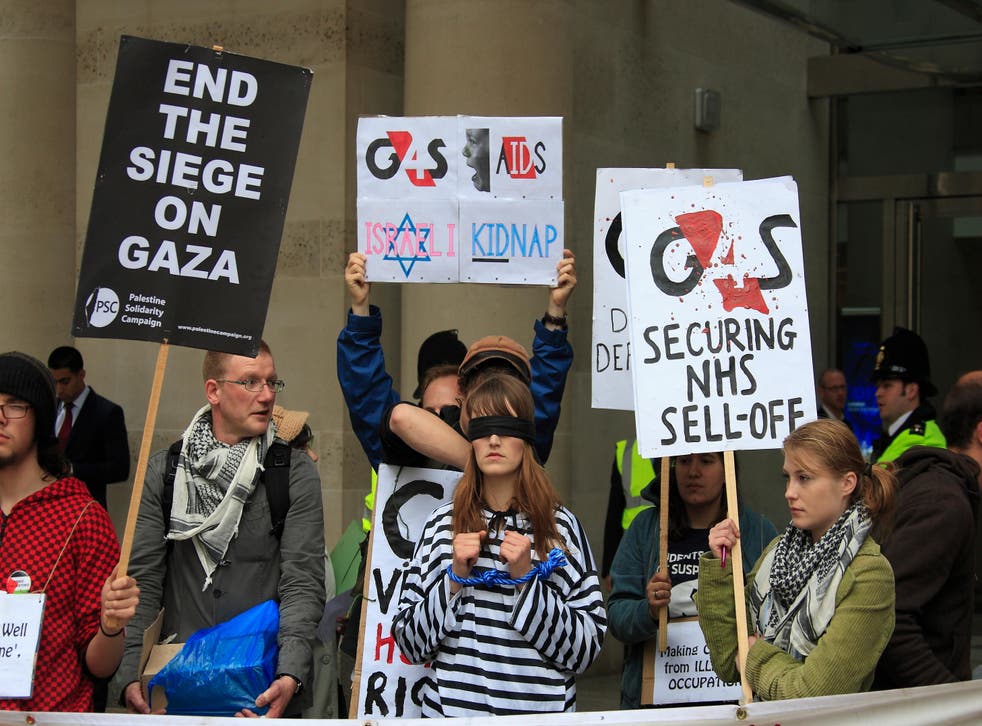 The government will be challenged in parliament next week over the services provided in Israeli settlements within occupied Palestinian territory by the company chosen to run security for London 2012.
G4S, designated as "official provider of security and cash services for the Olympics," also operates in Jewish settlements in the West Bank and East Jerusalem, seen by the UK – and nearly all other countries represented at the Games – as illegal in international law.
The prominent businessman and Labour peer Lord Hollick will table a written question on Monday asking ministers what steps they have taken to ensure that the UK-based company does not provide security services in illegal settlements in the West Bank. G4S, which bills itself the "world's leading international security solutions group" has already taken on 10,400 new employees for the Olympics.
The move follows fresh international condemnation of Israel's settlement expansion, which the Prime Minister, Benjamin Netanyahu, is determined to continue. This week he announced plans – swiftly denounced by the US – to build another 850 Jewish homes in the West Bank to compensate for the evacuation ordered by the Supreme Court of an outpost housing 30 families.
William Hague has repeatedly condemned the settlements, saying in April that "systematic, illegal Israeli settlement activity poses the most significant and live threat to the viability of the two-state solution... the Israeli government's policy is illegal under international law, counter-productive, destabilising and provocative."
G4S has already been criticised for providing and maintaining screening equipment for several West Bank military checkpoints. It also provides security systems at the Ofer complex near Ramallah – which houses a jail and military court at which Palestinian detainees, including children, are held and tried – and at the West Bank police headquarters in the E1 corridor linking the large settlement of Maale Adumim with Jerusalem. The construction of the latter was strongly opposed by the international community, including the Bush administration in the US.
In response to pressure the company has decided to "exit" the contracts covering Ofer, the checkpoints and the West Bank police HQ, though it says it will not be able to complete that process before 2015. However, it says that contracts with Israeli retailers and with banks operating in the settlements will remain intact, as will some for home security systems. G4S installs and maintains alarm systems in retail and other commercial outlets in the West Bank and provides a "small number" of security officers to "prevent theft of items in transit or within retail stores".
In the ultra-orthodox settlement of Modiin Illit this week, a uniformed security guard, wearing the company's insignia, was working in the local branch of the Zol Veshefa, a nationwide Israeli supermarket chain; its logo was also displayed at the Yesh Hakol Vebezol store. The two stores serve the settlement's 46,000 Jewish residents. The company, which could not say what proportion of its Israeli subsidiary's £120m revenue last year was taken in the West Bank, also took part last year in a career day at Ariel College, in the settlement of Ariel.
Nor has it withdrawn from contracts to provide and service perimeter security systems and control rooms in jails inside Israel, including ones housing inmates among the 1,500 who took part in the recent mass hunger strike against conditions and administrative detention without trial.
Some Israeli NGOs point out that the incarceration of Palestinian prisoners in Israel is a breach of the Fourth Geneva Convention's prohibition on the transfer of prisoners from occupied territory. Israel's Supreme Court has long maintained that national law — the emergency regulations governing detention — overrides international law on such transfers.
The detention of prisoners, along with the checkpoints, was highlighted in a 2010 report by the Co-operative's asset management arm, which said G4S had fallen foul of the "proximity to human rights abuses" criterion of those of its funds that are ethically screened.
G4S said: "Our policy is always to comply with national law in any jurisdiction in which we operate. We take our ethical responsibilities very seriously and operate to high standards around the world." In March 2011 it had engaged a Danish international law professor, Hjalte Rasmussen, who examined its West Bank operations and concluded that G4S "did not violate any national or international law".
A subsequent management review found that "a number of our contracts with private enterprises for traditional security and alarm monitoring services were not discriminatory or controversial and... helped to provide safety and security for the general public no matter what their background".
In fact Palestinians are barred by the military from entering Israeli settlements without permits. Emily Schaeffer, an Israeli human rights attorney, said yesterday that the company's non-discrimination claim was a "red herring", adding: "Even if it were true that businesses in settlements were equally accessible to Palestinians... the mere presence of Israeli civilian settlement, residential and commercial, in occupied territory is unequivocally a violation of international law."
The Foreign Office itself signed a three-year £27m contract in March 2010 with G4S to provide security services in the UK and Afghanistan. The FCO said yesterday that G4S provided a "valuable service" protecting its staff. But it added: "We have made clear our position on settlements to G4S and other private companies who operate in Israel and the Occupied Territories."
Christian Aid said that "international companies such as GS4 should not be [doing anything] that contributes to human rights violations in occupied Palestinian territory, including working with businesses in illegal settlements... Working inside them only perpetuates their existence, entrenches occupation, obstructs Palestinian economic development and thus puts peace even further out of reach."
Around 70 protesters demonstrated outside the company's annual general meeting yesterday against what its "horrendous human rights record" in various locations, including Israeli prisons.
Join our new commenting forum
Join thought-provoking conversations, follow other Independent readers and see their replies