Government faces fracking setback as MPs call for total ban
Cross-party committee says that fracking for gas should be suspended in the UK because it poses significant health risks to locals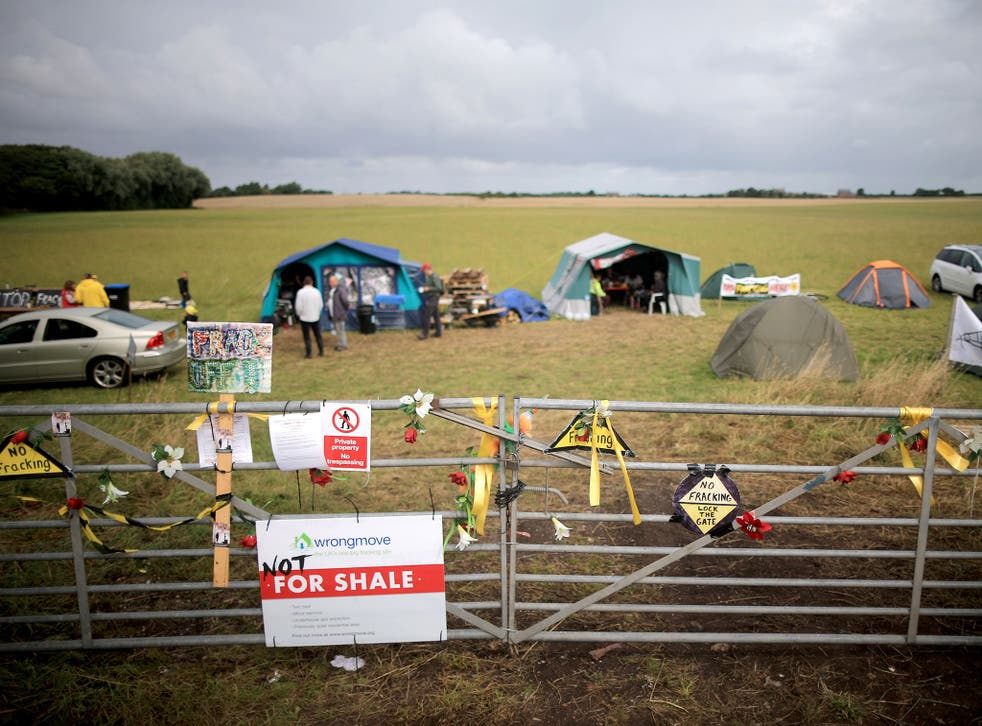 The Government is today facing a backbench rebellion over legislation to make it easier for energy companies to frack for shale gas, as an influential committee of MPs demands a total fracking ban.
A number of Conservatives and Liberal Democrats are preparing to defy a three-line whip and vote in favour of amendments to the Government's Infrastructure Bill that would effectively impose a moratorium on fracking in the UK.
The rebels include the former Cabinet minister Caroline Spelman and Home Office minister Norman Baker as well as a significant number of other MPs with constituencies in potential fracking zones who are worried the issue could cost them their seats in May.
The backlash comes as a report from the cross-party Environmental Audit Committee concludes that fracking for gas should be suspended in the UK because it poses significant health risks to locals and makes it virtually impossible for the country to meets its carbon reduction targets.
Labour has also tabled an amendment to the Bill being debated today that would make it far harder for companies to obtain fracking licences. The SNP has pledged to back the rebels in a move that could potentially inflict a defeat on the Government.
To head off a rebellion, the Government is understood to be prepared to make several concessions to the current Bill – including giving powers to the Climate Change Committee to ensure that gas extraction from shale does not produce more carbon emissions than importing gas from overseas. Protection from exploration is also likely to be extended to sites of scientific interest.
A Government source described the current situation with the Bill as "messy".
Environmental Audit Committee chair, Joan Walley, said: "Ultimately fracking cannot be compatible with our long-term commitments to cut climate-changing emissions unless full-scale carbon capture and storage technology is rolled out rapidly, which currently looks unlikely. There are also huge uncertainties around the impact that fracking could have on water supplies, air quality and public health."
The report calls for "a moratorium on the extraction of unconventional gas through fracking to avoid the UK's carbon budgets being breached in the 2020s and beyond… The [forthcoming] infrastructure Bill should be amended to explicitly bar fracking of shale gas," it says.
But the fracking industry's representative body, UKOOG, dismissed the committee's report: "This rushed report ignores the fact that gas is not just a source of electricity but has a major impact on everyday life with respect to the projects we use to heat our homes, the cooking we do and the jobs it sustains in our industry," said UKOOG chief executive, Ken Cronin. "Calling for a moratorium achieves only one thing – increasing the levels of gas coming from outside the UK at a substantially higher environmental cost," he added.
The fracking industry has yet to produce hydrocarbons on a commercial scale, but the Government is championing it as a major potential source of income and energy security.
Last Wednesday Cuadrilla received a blow to its plans to carry out the first fracking since the moratorium on it was lifted in 2012, when Lancashire planning officials recommended their councillors block the plan. The councillors are due to vote this week.
The Government has said it is going "all out" for developing a shale industry in the UK – claiming it would create jobs and growth, reduce energy prices and cut the country's reliance on gas imports.
The Infrastructure Bill includes measures to make it easier for energy companies to drill under people's homes without their permission and allows them to leave "any substance" deep underground.
The committee criticised the changes to trespass laws to allow fracking without residents' permission as having serious implications for citizens' rights, with Ms Walley calling on Parliament to throw out the "profoundly undemocratic" proposals.
A spokesman for the Department of Energy and Climate Change said: "We disagree with the conclusion of this report. We have one of the most robust regulatory regimes for shale gas.
"UK shale development is compatible with our goal to cut greenhouse gas emissions and does not detract from our support for renewables; in fact it could support development of intermittent renewables. To meet our challenging climate targets we will need significant quantities of renewables, nuclear and gas in our energy mix. Shale gas has huge potential to create jobs and make us less reliant on imports."
Join our new commenting forum
Join thought-provoking conversations, follow other Independent readers and see their replies