Grant Shapps resigns: 'You have left a legacy to be proud of ' - David Cameron's letter in full
He has left his post as international development minister following the apparent suicide of a young party activist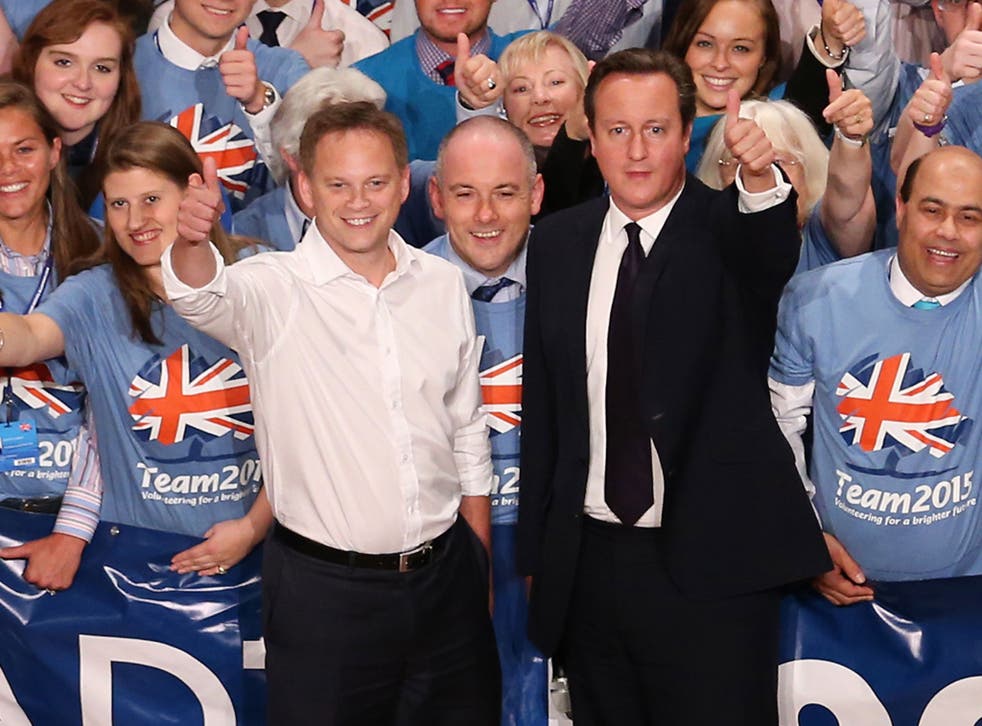 David Cameron has written to Grant Shapps calling him a "faithful servant of the Conservative Party…with much more to give" following his resignation.
Mr Shapps stepped down from his post as international development minister today after allegations he "failed to act" on bullying allegations during his time as Tory chairman.
He was under mounting pressure to go after the parents of Elliott Johnson, the young Tory activist believed to have killed himself in September, demanded his resignation and an inquiry, which is now underway.
Mr Shapps, who remains the MP for Welwyn Hatfield, wrote in his resignation letter that he could find no record of written allegations to his former office but agreed that the "buck should stop with me".
Here is the full letter the Prime Minister sent in reply:
Dear Grant,
Thank you for your letter today, offering your resignation from the Government.
I know that this will have been a very difficult decision for you to make, and something you will have given a great deal of thought to over recent days. I understand your reasons for stepping down and accept your decision.
You are right to pay tribute to Elliot Johnson and his family in your letter and our thoughts and prayers remain with them all at this incredibly difficult time. As you say, their pain and grief are simply unimaginable and there are no words - no matter how well meaning - that can possibly bring them comfort after the tragedy of the death of their son. It is entirely understandable that they want answers, and it is very important that the inquiry underway establishes the facts.
You have served on the Conservative Front Bench continuously for eight years, in both Opposition and Government. Always committed to the brief you held and with a seemingly unremitting amount of energy to bring to your work, you have made a big contribution.
As Shadow Housing Minister and then Minister of State for Housing and Local Government at the Department for Communities and Local Government, you have left a legacy to be proud of. By chairing the Cross-Ministerial Working Group on Homelessness, you helped introduce the 'No Second Night Out' policy, to prevent rough sleeping across the country.
I know that this is a policy you personally championed and took great pride in. You also introduced the New Homes Bonus, which paved the way for subsequent housing policy, rewarding local authorities for local housebuilding.
More recently, I know how much you have put into your role at the Department for International Development. I am extremely grateful to you for covering duties at the Foreign and Commonwealth Office too. This has been a brief you personally care a great deal about, and you have worked with typical enthusiasm helping to deliver on our aid commitments.
However, you have been a dedicated member of the Party for much longer, holding leadership positions for almost a decade before your election to Parliament. As Party Chairman, you were able to apply your previous business experience to our campaigning and worked night and day to help deliver this year's election victory - the first Conservative majority since 1992.
Above all, you have been a loyal and trusted supporter of mine from the very beginning. I will always remember that. You have made a lasting contribution to the work of the Government, but you have also been a faithful servant of our party, and I know you have much more to give in the years ahead.
With best wishes,
David
Join our new commenting forum
Join thought-provoking conversations, follow other Independent readers and see their replies