Half of British people say Theresa May should pursue close friendship with Donald Trump
Exclusive poll for The Independent finds 49 per cent of voters support the Prime Minister in pursuing 'a close relationship with Donald Trump because it is in Britain's best interests' – 31 per cent disagree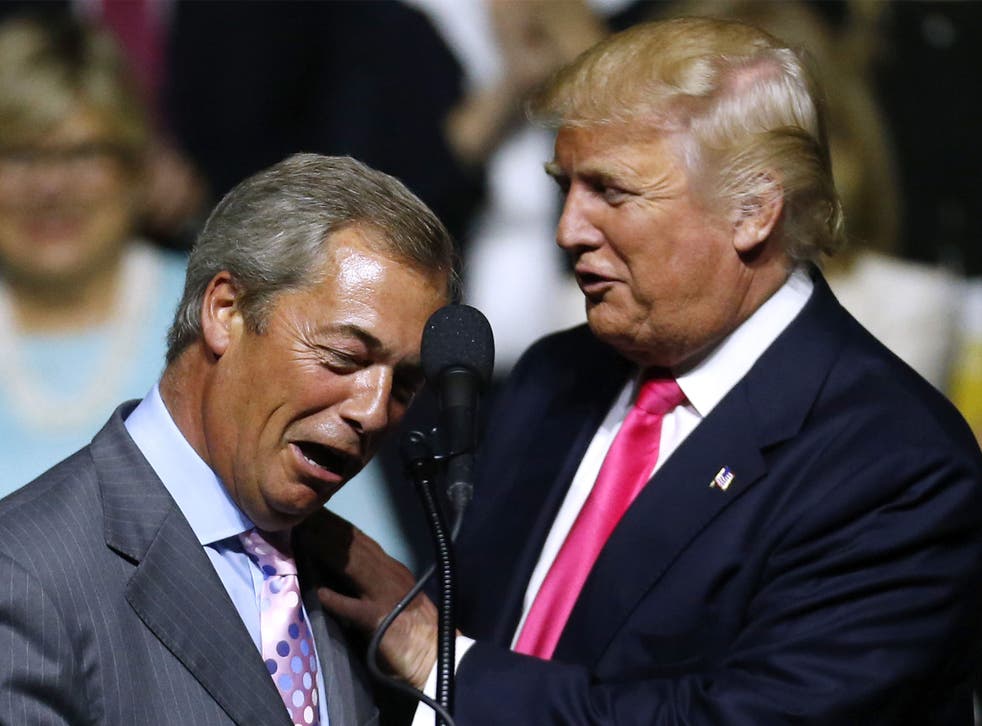 Half of the British population think that Theresa May should pursue a close relationship with the incoming President Donald Trump because it is in Britain's best interests, according to a new poll.
Taken by ComRes for The Independent, the findings come as the man tipped to be Mr Trump's ambassador to the EU suggested in an interview that he would advise the President to offer Britain a "game-changing" trade deal with the US after Brexit.
Sir Kim Darroch, the British ambassador to the US, has previously suggested the so-called special relationship will continue and that the two leaders will "build on the legacy" of Ronald Reagan and Margaret Thatcher.
Respondents were asked whether they agreed that "Theresa May should pursue a close relationship with Donald Trump because it is in Britain's best interests" or "should not pursue a close relationship with Trump even if Britain's interests would be harmed".
The poll found that 49 per cent supported a close relationship, while 31 per cent thought it would be better for Downing Street to turn its back on the new American administration. The other 20 per cent said they didn't know.
Labour voters were split when it comes to deciding whether the Prime Minister should cosy up to the US President-elect, with 37 per cent saying that she should while 46 per cent thought she shouldn't pander to Mr Trump who will be confirmed as the next President of the United States at his inauguration on Friday.
Among those who voted Conservative at the 2015 general election, there is a clear majority with 63 per cent believing Ms May should continue to foster the so-called special relationship.
In late 2016, two of Ms May's most senior aides, Nick Timothy and Fiona Hill, travelled to Washington to meet some of Mr Trump's closest aides.
When the secret mission by Ms May's joint chiefs-of-staff was announced earlier this month, a Government source said it was part of the process leading towards the Prime Minister's first visit in the spring.
UK news in pictures

Show all 50
"During the second phone call with President-elect Trump, the Prime Minister suggested it would be a good idea for key staff from both teams to meet. President-elect Trump agreed this would be useful," they added.
"We are pleased to have been able to make that happen and the Prime Minister looks forward to visiting the new president in the spring." Despite having criticised Mr Trump during the presidential campaign, Ms May has recently said he is "very easy to talk to".
On Twitter, Mr Trump added: "I look forward to meeting Prime Minister Theresa May in Washington in the Spring. Britain, a longtime US ally, is very special!"
ComRes interviewed 2,038 GB adults online between 11 and 13 January. Full details on ComRes website.
Join our new commenting forum
Join thought-provoking conversations, follow other Independent readers and see their replies