Fight against hard Brexit or be a 'disappointment' to your children, says Lib Dem leader Tim Farron
'Our children and our grandchildren will ask each of us what did we do to stop this senseless lurch into division, hardship and intolerance'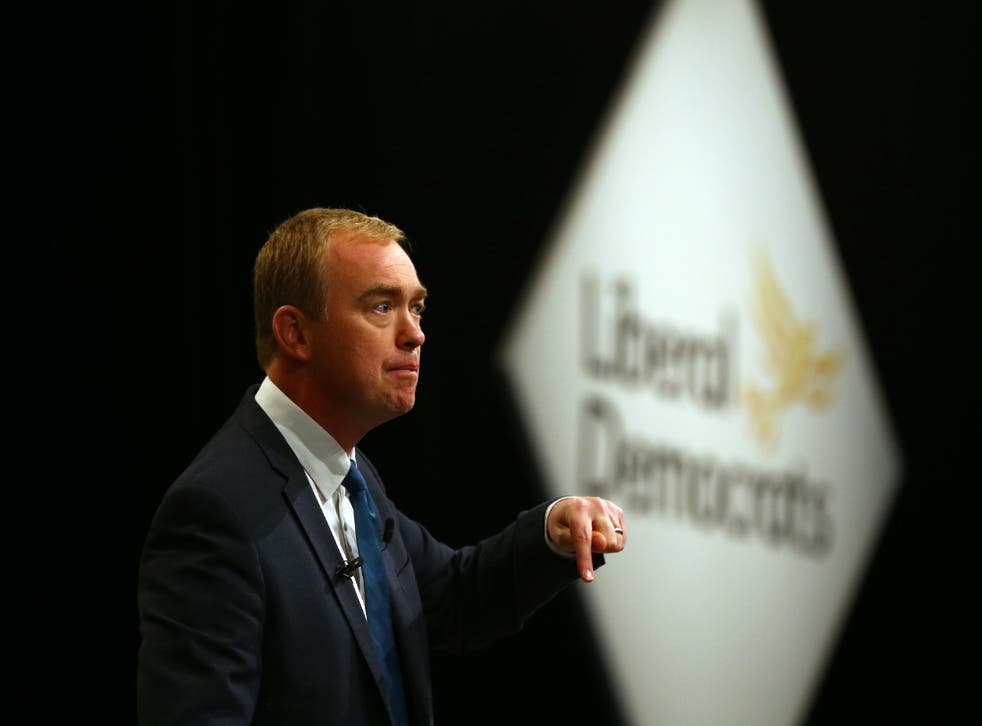 People who fail to fight against a hard Brexit will be a "disappointment" to their children, Liberal Democrat leader Tim Farron will say at the Lib Dem spring conference on Friday.
Mr Farron will urge pro-Europeans not to be cowed by criticism and abuse but to "stand up and fight" to prevent Theresa May's extreme plans for EU withdrawal.
The Lib Dem leader will rejoice in his Brexiteer nickname of "Remoaner in chief", saying: "Obviously I'm speechless, incredibly proud."
And he will tell a rally at the conference: "Now is not the time to sit down and shut up. Now is the time to stand up and fight.
"There is only one thing worse than being a disappointment to your parents, and that is being a disappointment to your children.
"In ten, 20, 30 years from now, our children and our grandchildren will ask each of us what did we do to stop this senseless lurch into division, hardship and intolerance?
"And while others will have to look away in numbing shame, we will look our children in the eye and say we did everything, we did everything."
Mr Farron will refuse to concede defeat on Brexit, adding: "I am determined that I will be able to look them in the eye and say that we did everything – and that we won."
What experts have said about Brexit

Show all 11
The York conference takes place against the backdrop of an apparent Lib Dem revival, with a string of by-election victories built on the party's opposition to Brexit.
In an interview on Thursday, Mr Farron said party membership had doubled since the general election, reaching 82,500 – describing that success as "the wind in our sails".
Appealing to corporate Britain, he argued that business pressure on the Government represented the best chance of softening the Prime Minister's approach to Brexit.
"If you are giving the Tories so much as a penny you are funding your own funeral," Mr Farron said.
The Lib Dems received more in donations than Labour in the final three months of 2016 and Mr Farron is now aiming at the Tories – arguing that supporters should switch now, before Brexit talks get under way.
Tim Farron and Jeremy Corbyn react to Theresa May's Brexit proposals
Mr Farron told the Press Association: "Everybody in business knows that leaving the single market will be massively damaging to our economy, to individual firms, to families and to the Chancellor's own revenues.
"So what can we do to prevent a hard Brexit, to keep us in the single market?
"You need to persuade Theresa May and Philip Hammond they need to listen to business voices rather than to those extreme pro-hard Brexit voices that are currently within the Tory party.
"How would you do that? If you are in business, you should drop the Tory party today like a hot brick."
Mr Farron also claimed that Brexit – and the passage of time – has led the public to change its mind about Nick Clegg, after his vilification over his student fees U-turn.
"I often said this during the height of the opposition we received during our time in Coalition, that Nick Clegg would be very, very well regarded by history; history would be kind to him and unkind to David Cameron.
"I think I am already proven right on both counts."
Join our new commenting forum
Join thought-provoking conversations, follow other Independent readers and see their replies