Has Ukip finally gone too far? 'Bongo bongo land' remarks by MEP Godfrey Bloom could prove a crucial tipping-point for the party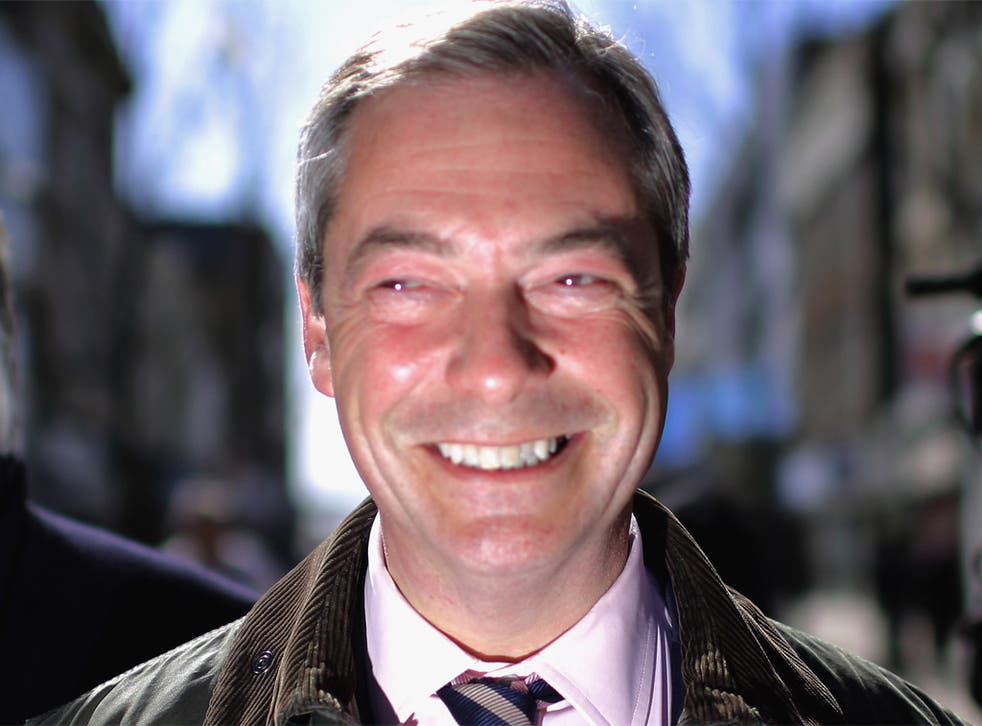 After causing waves of offence and being gently rebuked by his party leadership, Ukip MEP Godfrey Bloom has belatedly apologised and promised not to use the term "bongo bongo land" again.
The controversial politician had been recorded using the phrase while explaining why he opposed sending aid money to the developing world, saying it would be spent on Ray-Ban sunglasses and fighter jets.
His apology was qualified, however, as he made it clear that he was backing down only because Ukip's most senior figures had told him to.
"At a public speech in the West Midlands in early July, I used a term which I subsequently gather under certain circumstances could be interpreted as pejorative to individuals and possibly cause offence," he said in a statement issued through the Ukip press office. "Although quite clearly no such personal usage was intended, I understand from Ukip party chairman Steve Crowther and leader Nigel Farage that I must not use the terminology in the future, nor will I, and sincerely regret any genuine offence which might have been caused or embarrassment to my colleagues."
He went on to claim proudly that he had succeeded in drawing public attention to what he called the "immorality" of spending "£1bn per month" on overseas aid at a time of austerity.
"My aim, successful as it appears, was to demonstrate the immorality of sending £1bn per month abroad when we are desperately short of money here. Ring-fenced overseas aid at nearly 70 per cent of estimated GDP growth next year, some to buy arms. Mirage fighters in Argentina is just one example. My constituents come first and always will," he said.
In fact, total spending on aid by the Department for International Development, the Foreign Office and UK Border Agency totalled £8.57bn in 2012, or just over £700m a month, though spending was projected to rise to £12bn in the current year.
The biggest recipients of British aid are Somalia, Nigeria and Pakistan. It was reported in February 2012 that £452m of British aid was going to Argentina. More recently, there have been reports that Argentina wants to buy Mirage fighters from Spain.
Mr Bloom had been filmed at a public meeting last month saying: "How we can possibly be giving a billion pounds a month when we're in this sort of debt to bongo bongo land is completely beyond me, to buy Ray-Ban sunglasses, apartments in Paris, Ferraris and all the rest of it that goes with most of the foreign aid."
He was notably unapologetic about these comments when questioned about them on BBC Radio 4's Today programme this morning. "I'm standing up for ordinary people at the pub, the cricket club, the rugby club, the sort of people who remain completely unrepresented under the political system that we have," he said. "My job is to upset The Guardian and the BBC. I love it. I love it."
Asked how he would respond if the Ukip leadership told him to apologise, he replied: "I'd say right-o, sorry. If I have offended anybody in bongo bongo land, I will write to their ambassador at the court of St James."
But his language alarmed Ukip's most senior figures, who have been trying to project Ukip as a serious new political party rather than a fringe group full of what David Cameron once described as "fruitcakes, loonies and closet racists".
In a gentle rebuke, the party chairman issued a statement this morning saying: "We are asking Godfrey not to use this phrase again as it might be considered disparaging by members from other countries. However, foreign aid is an extremely important debate that needs wider discussion."
Since the 63-year-old was first elected as a Ukip MEP for Yorkshire and Humberside in 2004, he has made many remarks that appear to many to come from a bygone era. Soon after being appointed to the European Parliament's women's rights committee, he told journalists: "No self-respecting small businessman with a brain in the right place would ever employ a lady of child-bearing age."
He explained that he wanted to focus on women's issues because "I just don't think they clean behind the fridge enough". He added: "I am here to represent Yorkshire women who always have dinner on the table when you get home. I am going to promote men's rights." During the resulting outcry, he sought to make amends by inviting a group of female students to Brussels, but was overheard saying of one of them: "Isn't she the most delicious bimbette? Absolutely thick, but good tits."
He has argued that man-made global warming is a myth, and praised the 1985 sinking of Greenpeace's Rainbow Warrior, in which a man died. In November 2010, he was ejected from the Europe Parliament after taunting a German MEP with the Nazi slogan "Ein Volk, ein Reich, ein Führer".
Roll of dishonour?: How Ukip makes the headlines
It has been a good year for UKIP, as the party tapped into the general anti-politics mood in the country, picking up support principally but not exclusively from Tories disillusioned with David Cameron's government. As well as attracting defectors from the Conservative Party, including a substantial number of councillors who were elected Tories but have switched parties, in May's local council elections they put up the best performance by a fourth party for a generation. They gained an extra 139 seats, bringing the total won through elections to 147, and are now the second largest party on Lincolnshire and Kent county councils. Nigel Farage claims that the majority of his councillors are ordinary people fed up with the mainstream parties, not the "loonies fruitcakes and closet racists" that Mr Cameron once claimed they were. Yet a disproportionate number of their councillors have been in the news for the wrong reasons. Here are some examples:
Chris Pain (above)
The leader of Ukip on Lincolnshire county council, where they are now the main opposition party, is facing a police investigation over racist rants on his Facebook page. He has consistently denied their authorship, saying he was hacked. Ukip's leadership regards the comments as serious, but is awaiting the outcome of the police inquiry.
Matthew Smith (above)
The Norfolk councillor aiming to be Ukip MP for Great Yarmouth was Ukip agent in the May elections. Police are investigating a claim that signatures on the nomination form for successful Ukip candidate, Jonathan Childs, were forged. Last month, they seized a computer at his Mr Smith's home. He vigorously denies any electoral malpractice. The computer has since been returned as police found no evidence of wrongdoing.
Eric Kitson (above)
Mr Kitson lasted just 12 days as a Ukip member of Worcestershire county council. He resigned when it emerged he had used Facebook to share offensive cartoons about Muslims.. Ukip chairman Steve Crowther described him as "an honest man who has made, by his own admission, some serious mistakes. Ukip lost the resulting by-election.
Dean Perks (above)
Ukip's prospective parliamentary candidate in the marginal West Midlands seat of Halesowen and Rowley Regis told a rally that "sharia law works as a prevention – and prevention is better than cure". He added: "If you think you are going to get your hand chopped off for pinching something, you won't pinch it." Nigel Farage defended him.
Elizabeth Ransome
After her election to Lincolnshire county council, the 26-year-old hurriedly cleaned up her Facebook page which contained swear words, and entries such as ""I no (sic) this is probably a stupid question but is tuna a real fish likes ones that swim in water?"
Caven Vines (above)
Rotherham's only Ukip councillor has denied that he ever supported the far right British National Party, but has admitted he was at a BNP meeting in a pub years ago, and once worked in a group called Council Watch alongside Marlene Guest, now a BNP organiser. The BNP has claimed Ukip's decision to stand by Mr Vines is intended as a message to other BNP voters in Rotherham to encourage to them to switch support.
Brian Silvester (above)
The former deputy leader of Cheshire East council was fined £45,000 last October for "very serious" breaches of fire regulations at a house he rented to multiple tenants. Silvester was a Conservative councillor at the time. He joined Ukip in June.
Peter Georgiou
He won a Norfolk county council seat in May, but resigned in June when it emerged he was banned by Poundstretcher for shoplifting.
Laurence Keeley (above)
The East Sussex county councillor, a former butcher, was jailed for 31 days in 2003 for taking pigs' heads, cows' lungs and spinal cords to a nearby wood to dispose of them by burning them.
Alan Preest
The former Tory councillor left the Conservative Party in 2008 after admitting stealing from Tesco. He is now a Gloucestershire county councillor for Ukip.
Join our new commenting forum
Join thought-provoking conversations, follow other Independent readers and see their replies