Government drops threat to abolish House of Lords if it holds up Brexit bill
'The Lords has a constitutional duty to perform and it's right that it does that...I think we have seen a very healthy and vigorous debate,' a No.10 spokesman said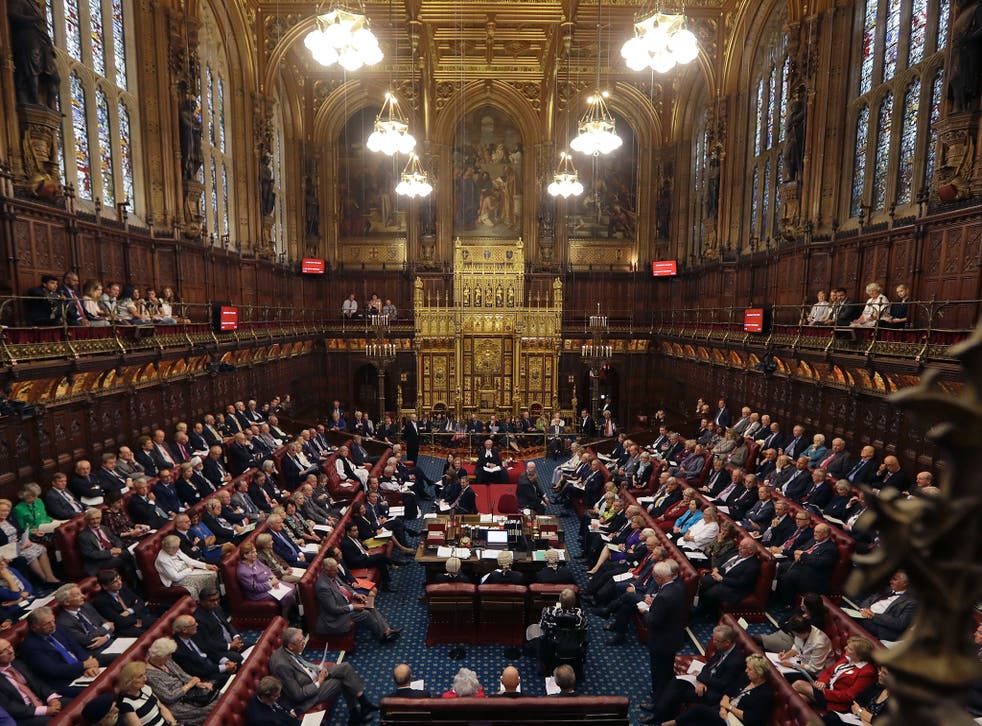 Draconian Government threats to abolish the House of Lords if it held up Brexit have been dropped – despite peers' defiance over EU citizens' rights.
Instead, Downing Street praised the upper chamber for a "healthy and vigorous debate" after it inflicted Theresa May's first defeat on the Article 50 Bill.
Last month, Government sources warned the Lords would be abolished if it attempted to "frustrate" the Bill, which the Commons had passed overwhelmingly.
House of Lords defies Theresa May over EU nationals' right to stay in UK
One un-named Cabinet minister said peers would bring "an existential crisis upon themselves" and sign their own death warrants.
The Prime Minister was said to be "sympathetic" to the idea of, at the very least, a dramatic punishment of the unelected Lords.
Peers have now held up the Brexit Bill, delaying the triggering of the EU exit clause by at least one week until the middle of this month.
But, asked if that defiance strengthened the case to finally reform the Lords, a Number 10 spokesman said: "The Lords has a constitutional duty to perform and it's right that it does that.
"It's right that they scrutinise the legislation that is passed up to them. I think we have seen a very healthy and vigorous debate in the Lords."
The climbdown came as the spokesman insisted the Lords' defeat would not prevent Article 50 being triggered by the end of March – Ms May's deadline.
"We are committed to meeting the timetable that has been set out and believe this will have no impact on that," he said.
The spokesman added: "Our message to MPs is that we expect this Bill to go through unamended. MPs voted it through unamended and we expect that to be the case.
"It is a Bill with a very simple purpose, as we have set out before – to enact the referendum result and allow the Government to get on with the negotiations."
Just three Tory MPs broke ranks when, last month, the Government blocked a bid to unilaterally protect EU nationals' rights with a comfortable majority of 42
That suggests around 25 rebels will be needed when the Commons votes again, probably the week after next – and some Remain-supporting Conservatives have already said they will not step out of line.
Many trust the Prime Minister after she vowed to ensure the issue is top of her wish-list when the two-year Brexit negotiations get underway, after Article 50 is triggered.
Ms May will not act until she receives "the same reassurance for UK citizens living in the EU" – with German Chancellor Angela Merkel blamed for refusing to start early talks.
But Baroness Molly Meacher, an independent crossbencher, said: "We understand there are 30 Tories who are saying they will vote to support this amendment.
And Labour's Shadow Chancellor John McDonnell said: "We urge the Government now to immediately bring forward the guarantee to protect the rights of EU nationals resident here and we are working now with our European colleagues to protect the rights of EU citizens here, but also UK citizens in the EU."
Join our new commenting forum
Join thought-provoking conversations, follow other Independent readers and see their replies