House of Lords is no longer a place for fine dining, peers gripe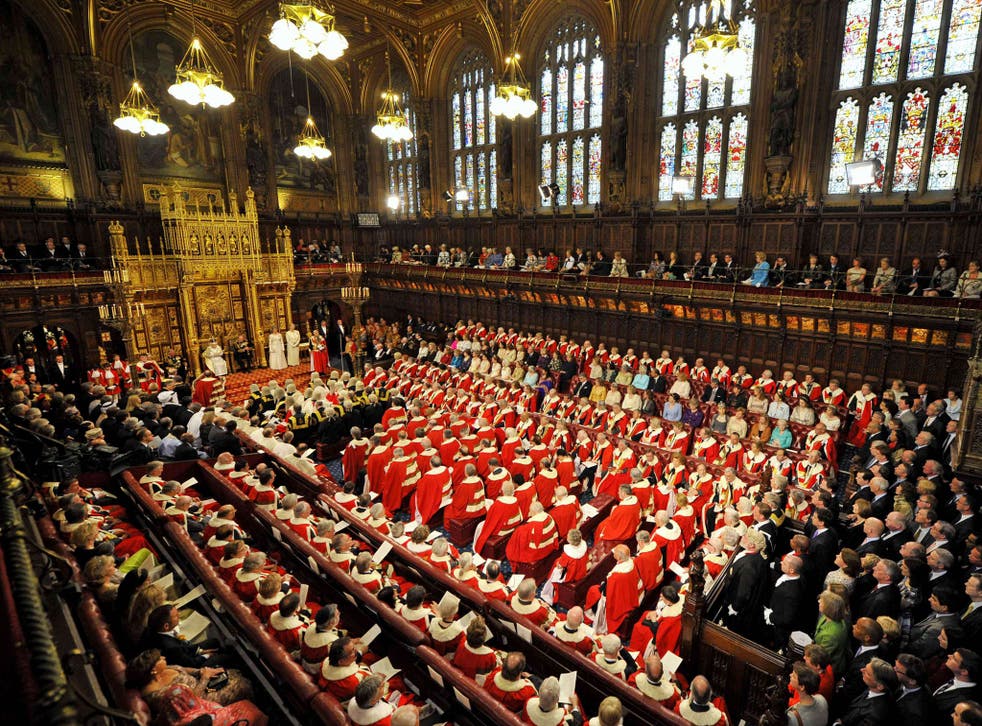 Members of the House of Lords have lodged a series of extravagant complaints about their taxpayer-subsidised restaurants, expressing their anger about the size of menus, "chaotic" table layouts and "inferior cappuccinos".
Peers can enjoy seared scallops, foie gras and champagne risotto at the Barry Room private restaurant, part of a group of facilities catering to them and their guests which are subsidised by the taxpayer at a cost of £1.3m a year. A full roast dinner costs £9.50. Peers also receive a £300-a-day expenses allowance for attending the House of Lords.
But this has not stopped a steady stream of complaints being sent to Lord John Sewel, the Chairman of Committees, which were released in redacted form to The Independent following a Freedom of Information request.
One impassioned Lord complained of a 15-minute wait to be seated, which they said lost "some of the finesse of the afternoon" and left their guests unable to "eat the beautiful cake selection" in time. Another member decried the "chaotic litter of small tables" in the Lords' tea room after its rearrangement over Easter.
One peer even appealed for the return of "menus printed on light card" for guests to take home as souvenirs, while another said he had been left "scarred" after his dinner booking was cancelled suddenly. He complained that his wife was "unable to lunch elsewhere" because she was wearing a tiara. The Lord recalled: "We were only saved by the kindness of [a fellow peer] who offered us the use of his nearby home to change in and took us out to lunch."
The installation of a controversial new coffee machine also attracted a series of complaints, which the Lords said was "inferior" and left them "nowhere to go" for a decent cappuccino in the House.
One member complained that the arrival of the new machine was "insulting" and "staggering", because peers hadn't been consulted about the change. In his letter to Lord Sewel, the Lord added: "Even by parliamentary standards, that's an impressive manoeuvre. You could not have calculated a move more likely to spread ill will." Another handwritten note called for staff at the canteen to "stop asking whether we want butter on jacket potatoes when what they mean is marge."
Labour's Maria Eagle said: "These complaints are completely out of touch at a time when so many families are struggling to make ends meet, thanks to the Government's cost-of-living crisis. They should be grateful not to be one of the half a million people forced to rely on help from food banks since April, despite Britain being the seventh richest country on the planet."
In last year's list of complaints, which were also unearthed through Freedom of Information laws, Lords complained about the quality of their subsidised smoked salmon, scallops and the lack of Chilean wine for a distinguished guest. One peer even suggested they host the director of a Chilean wine association for a tasting to improve the situation.
Last month, an angry Lord accused catering heads at Parliament's subsidised restaurants of serving food like that produced by high-street chains such as Prezzo and ASK, which he described as "downmarket".
The peer, who was not named by officials, said the menu was "flimsy", there was no melba toast, no rice pudding and that the menu at Christmas did not offer turkey. Writing about an experience with his wife in the Barry Room, he added: "There were two adequate pasta dishes which we ordered but I could have had these in a downmarket establishment eg Prezzo, ASK... With fare like this the place will soon be deserted."
Lord Sewell declined to comment.
Join our new commenting forum
Join thought-provoking conversations, follow other Independent readers and see their replies