House of Lords under fire as peers who didn't speak once claim almost half a million in expenses
'The problems of Britain's broken upper house continue to fester,' says Electoral Reform Society
Jon Sharman
Wednesday 15 November 2017 02:08 Comments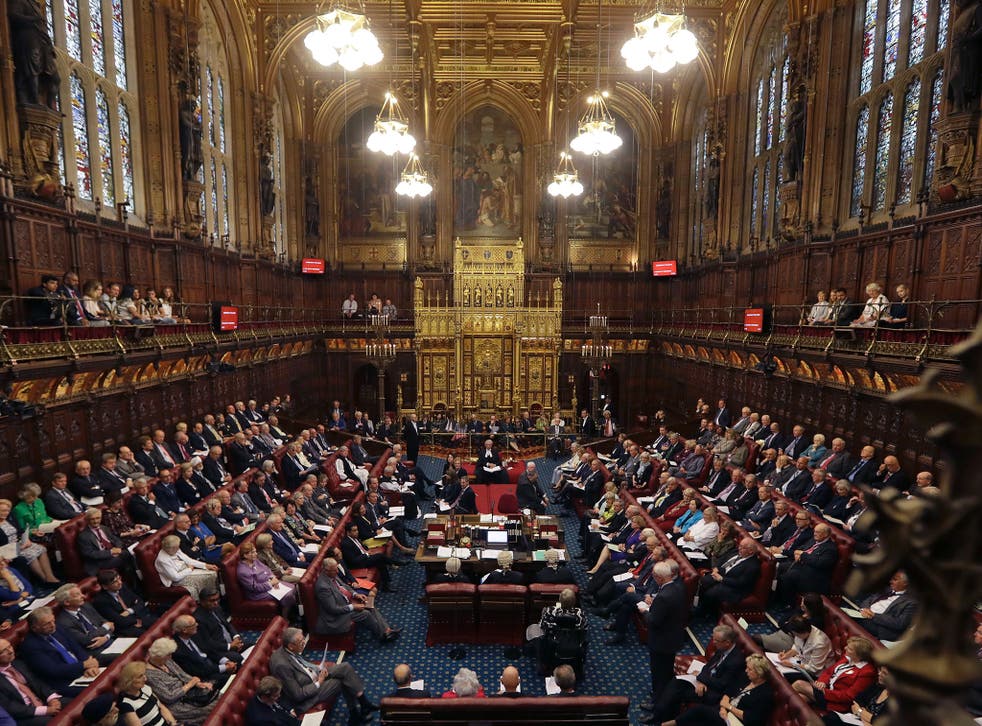 Campaigners have criticised "couch-potato peers" in the House of Lords who took part in less than a quarter of votes and did not speak at all in 2016-17, but still claimed a total of £462,510 in tax-free expenses.
The 33 peers also did not table a written question or sit on a committee though claimed an average £14,015 each, or £746 per vote, the Electoral Reform Society (ERS) said in a new report.
The top eight "claimed more than UK average take-home pay", the ERS asserted. In total 455 peers claimed at this level during the 141-day session, with daily allowance and travel costs coming to more than £19m for the whole chamber, it added.
Darren Hughes, the ERS's chief executive, said: "Despite some minor reforms, the problems of Britain's broken upper house continue to fester. With nearly one in 10 unelected peers failing to contribute in key ways – despite many of them picking up large sums – we have a democratic crisis in our second chamber.
"The vast majority of party-affiliated peers toe the line, while many crossbench peers simply don't turn up. The so-called 'independent' chamber is packed full of party loyalists.
"Politicians must now meet the challenge before this crumbling, crony-stuffed house declines even further. Voters want real change. It's time for both MPs and peers to embrace it."
Calling for reform, the report said the top 300 voting peers accounted for two-thirds of all votes while "lobby-fodder lords" largely stuck to party lines, with 78 per cent of Conservatives failing to rebel and the average Labour peer opposing the Government in 90 per cent of votes last year.
A significant proportion of non-aligned crossbench peers – 41 per cent – voted fewer than 10 times in 2016-17, compared with 7 per cent for Tories and 14 per cent for Labour.
The chamber is also crammed with former MPs, MEPs and council leaders, the ERS said.
UK news in pictures

Show all 50
A House of Lords spokeswoman said: "The Electoral Reform Society's supposedly 'devastating analysis of the state of the House of Lords' is a rehash of publicly available parliamentary data that they have published previously.
"Their comparison of members' claims to average take home pay is undermined by their inclusion of members' travel costs, which are receipted and are not in any way comparable to a salary.
"It is reasonable that peers can claim allowances to cover the costs they incur when they contribute to the work of Parliament. Members can claim £300 or £150 for every day they attend the House and undertake parliamentary work.
"They are expected to pay for any costs associated with attending the House such as their London accommodation and staff costs from this allowance."
The Lords should be restricted to 300 "fairly elected" members, ERS said. It added: "We must see parties commit to a far smaller, proportionally elected upper house.
"At a time of significant constitutional, economic and political change, the need for an effective House of Peers or Senate is overwhelming."
Register for free to continue reading
Registration is a free and easy way to support our truly independent journalism
By registering, you will also enjoy limited access to Premium articles, exclusive newsletters, commenting, and virtual events with our leading journalists
Already have an account? sign in
Join our new commenting forum
Join thought-provoking conversations, follow other Independent readers and see their replies