Housing Bill: Thousands protest in London against 'attack on council housing'
Campaigners say the Government's policies will make it harder to get affordable housing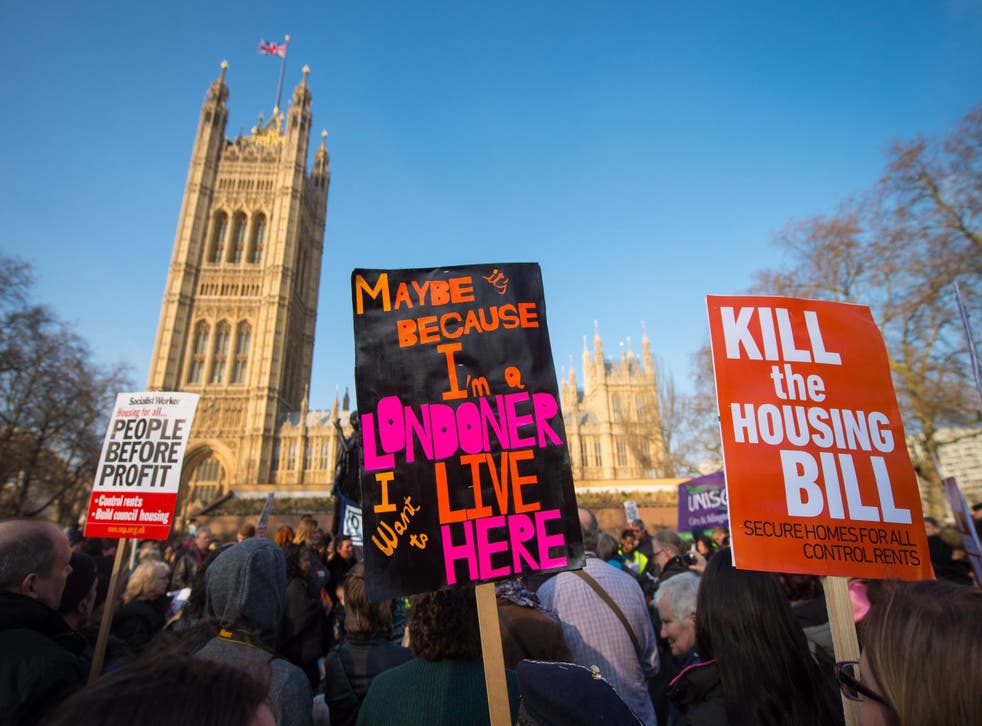 Thousands of people marched through central London on Sunday to protest against the Government's proposed new Housing Bill.
The Bill contains a number of highly controversial provisions that campaigners say amount to an "all-out attack on council housing".
Among changes in the Bill are an end to secure tenancy agreements for new social renters, higher rents for council tenants who earn upper-middle incomes, and a requirement for landlords to check a tenant's immigration status.
The Bill will also force the sell-off of valuable inner-city council homes in order to fund the extension of the controversial Right To Buy policy to housing associations.
The Government says the proposals will "turn Generation Rent into General Buy" but campaigners warn they will make it more difficult for people to get genuinely affordable housing.
Protesters carried banners reading "Kill the Housing Bill", "People Before Profit", and "You're Heartless, We're Homeless".
James Murray, the Labour councillor in charge of housing in the London Borough of Islington, told Sky News the combination of laws would "hollow out" inner London.
"It's an all-out attack on council housing. We can't underestimate the effect this is going to have," he said.
"This is going to mean that places like inner London are going to be hollowed out because homes which are considered to be high value by the Government will be forcibly sold off on the open market, meaning that the amount of homes we have to let to people on low or middle incomes will be dramatically reduced."
At the start of this year figures from the Local Government Association suggested 88,000 homes would be lost from the social housing sector by the end of the decade as a result of the Government's Right To Buy policy.
The number of council homes has already dropped from 5 million in 1981 to 1.7 million in 2014. Liberal Democrat leader Tim Farron said such genuinely affordable housing faced a "slow death".
Research carried out by Inside Housing magazine last year found that around 40 per cent of council flats sold off under the scheme are not being let out private landlords rather than lived in by owner occupiers.
Figures from the Department for Communities and Local Government (DCLG) showed that only one in ten council homes being sold off between April and June last year is being replaced.
A spokesperson for the campaign group Focus E15, which campaigns for "social housing, not social cleansing", said:
"We will be demonstrating against the Housing Bill this Sunday because this Bill is the worst attack on social housing we've seen.
In pictures: Tiny London flats to rent

Show all 6
"It will result in the private sale of up to 100 per cent of council houses, and raise rents through 'pay to stay', forcing thousands from their homes and out of London."
A spokesman for DCLG said: "More council housing has been built since 2010 than in the previous 13 years.
"The Housing Bill makes sure we make the best use of social housing based on need and income, while reinvesting in building new homes.
"Furthermore we have set out the biggest, boldest and most ambitious plan for housing in a generation, including £8 billion to deliver over 400,000 affordable homes."
Join our new commenting forum
Join thought-provoking conversations, follow other Independent readers and see their replies