How GPs are set to make a killing out of NHS reform
One in three who publicly supports change may have conflicts of interest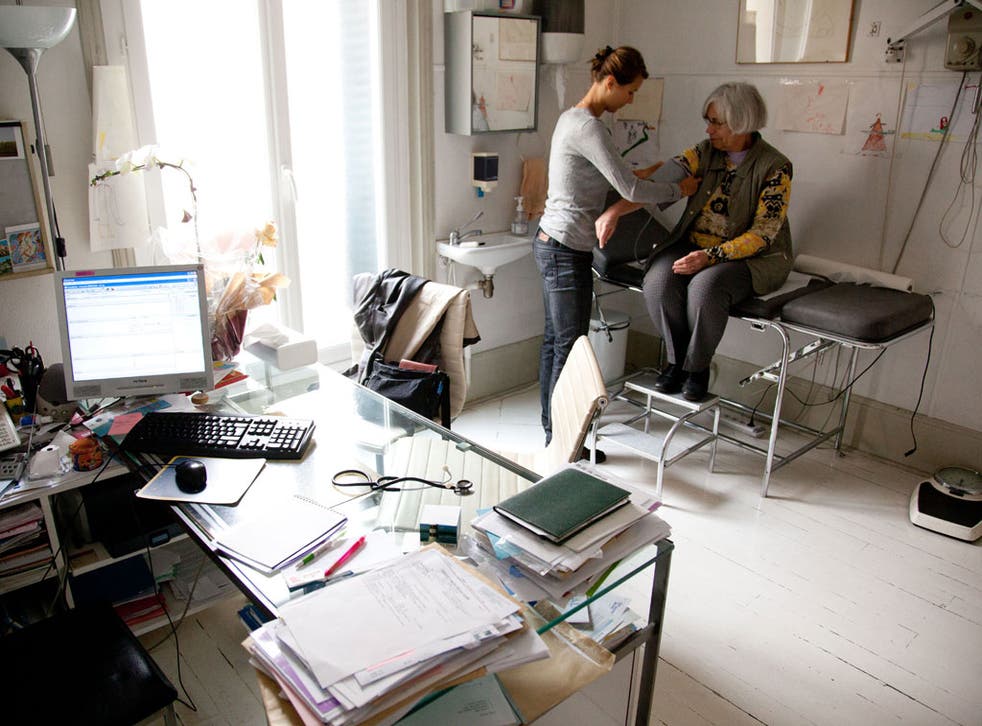 He is arguably the medical profession's highest-profile cheerleader for the most radical reorganisation of the NHS the UK has seen. And, as one of Britain's most senior GPs, he holds our trust. But Dr Shane Gordon is also one of a number of GPs backing Andrew Lansley's reforms who stand to profit personally. And that, critics claim, is the embodiment of a fundamental flaw in the new Bill which could dangerously erode public trust in the NHS – the potentially volatile mix of money and medicine.
"Traditionally, the GP is the patient's champion and will fight for them in the health system. If decisions that GPs make could bring about a [personal] financial advantage, people will become suspicious," the Labour peer Lord Hunt insists. He wants explicit safeguards against decisions based on profit over clinical need. There is nothing in the Health and Social Care Bill that explicitly addresses how this web of potential conflict will be untangled.
Dr Gordon, a Colchester GP and chief executive of the North East Essex GP Commissioning Group, the consortium of local doctors who will take over responsibility for commissioning and paying for their patients' treatment, championed the Bill before the Public Accounts Committee last year. He was also the lead author of a letter in support of the Bill this January, signed by more than 50 GPs. His leadership has been gratefully acknowledged by Mr Lansley in Parliament.
The GP, who sees patients just one day a week, openly declares he is a director and shareholder in the Tollgate Clinic, a private health company. It is likely to benefit from the reforms, according to research by the TUC-backed campaign group False Economy.
Critics say the new Bill will lead to a massive expansion of NHS services provided by private companies. Under Mr Lansley's reforms, GPs formed into clinical commissioning groups (CCGs) such as Dr Gordon's will control up to £65bn of NHS funding a year and will be responsible for deciding what care to commission for their patients.
Dr Gordon's company – which already provides minor surgery in the area, including 95 per cent of all vasectomies – expects to double the number of operations it carries out annually and potentially expand the number of services it offers tenfold. Its co-founder Richard Spooner admits it is in a "good position" to take on new contracts.
Dr Gordon also has shares in a second Colchester-based private company, Anglian Urology, which diagnoses and treats sexual and urological conditions.
Dr Gordon told The IoS that he has not declared his interest in the second company because he is a "minority shareholder". He said that while "there are potential conflicts of interest where clinicians involved in commissioning healthcare are also associated with healthcare providers", he insists he "adheres to local policies" to guard against them. "I declare my interests and exempt myself from any commissioning decisions where there are potential conflicts of interest; and I advise patients of any interests when making referrals," he said.
For Clare Gerada, chair of the Royal College of General Practitioners, things are not so simple. "It is not about excluding yourself from the room whenever there is a discussion; it is about how it will drive your decision-making processes overall," she said. "Our NHS works and is cheap, effective, safe and kind because you trust the GP to do the right thing for you, and not make money. Anything that undermines that trust will be a big problem."
Another reform champion is Dr Ian Goodman. Dr Goodman chairs the Hillingdon CCG and is also a board director of Harmoni, the largest UK provider of primary care services, specialising in out-of-hours services. Andrew Gardner, chief executive of Harmoni, said the company expected a "big chunk" of the estimated £150m 111 service – a new 24-hour-a-day non-emergency phone line for patients. He estimated increased earnings for the company of £13m as a result.
Dr Goodman holds shares in Harmoni, but insists he had declared his interests and would "quite rightly be excluded from any decision-making process where Harmoni was bidding".
Dr Gerada estimates as many as one-third of public advocates of the reforms may have similar potential conflicts of interest.
They include Jan Randall, commissioning manager at NHS Kirklees. Her husband, David Randall, founded T19 Associates, a management consultancy created to assist health commissioning and provider groups. Mrs Randall, who has shares in the company, denies there is any personal conflict of interest.
Johnny Marshall, a Buckinghamshire-based GP and chair of United CCG, another pathway consortium, also publicly supports Mr Lansley's reforms. Together with five of the nine CCG board members, he is also a shareholder in Vale Health Ltd, which provides services to the NHS. Dr Marshall acknowledged that he "buys into the moral hazard". "If our actions are in any way perceived as being based on something other than the patient's interest, this would be a big concern. There must be a built-in system to protect against that," he said.
James Kingsland, a Wallasey GP, is paid a yearly retainer of £12,000 by Scott McKenzie, a private company providing consultancy services within the NHS – something expected to increase under the reforms. Dr Kingsland said the company was too small to take on any of the major contracts up for tender, but he said he would "step down immediately" if he thought a potential conflict of interest arose.
Andy Burnham, Labour's health spokesman, said relying on doctors' good faith was not enough. "Patients will be very concerned to know that certain GPs stand to personally gain substantial financial amounts from the new NHS structure."
A Department of Health spokesperson insisted that there will be a requirement for doctors to declare potential conflicts of interest and "for CCGs to ensure transparency and integrity of decision-making".
Join our new commenting forum
Join thought-provoking conversations, follow other Independent readers and see their replies