Decision to sit Queen Elizabeth next to King of Bahrain criticised by Human Rights Watch
'King Hamad presumably enjoyed his ringside seat at the Queen's birthday bash, but the disturbing reality for people back in Bahrain is a never-ending cycle of arrests'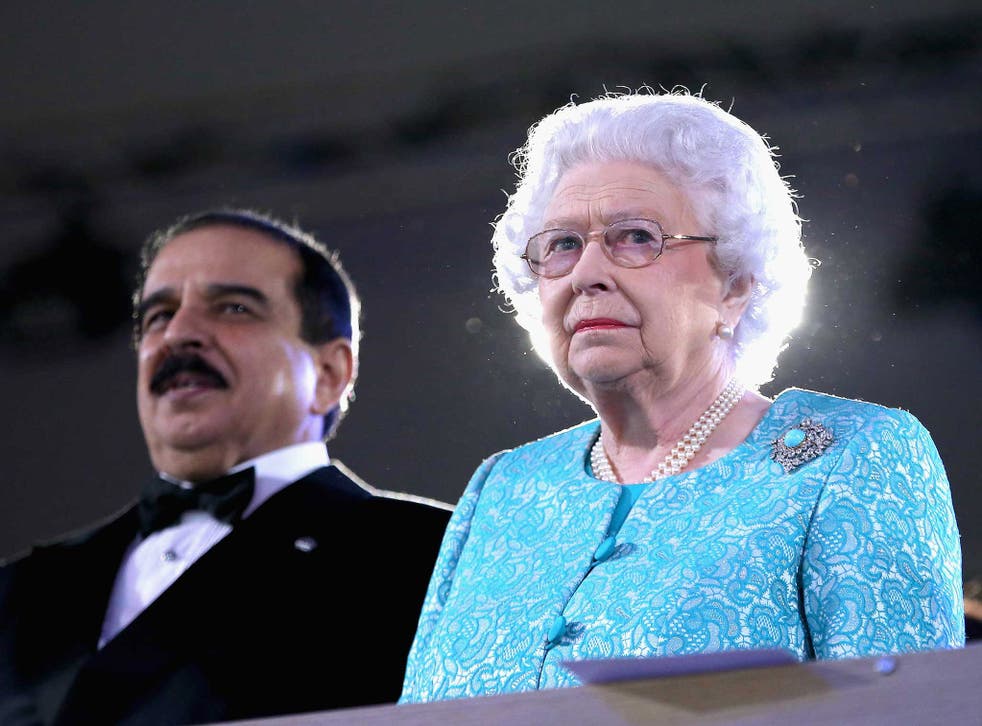 Queen Elizabeth and organisers of her 90th birthday extravaganza have been criticised by a leading human rights organisation for the decision to seat her next to the King of Bahrain.
The Queen's birthday bash on Sunday evening – hosted by comedy duo Ant and Dec at Windsor Castle – featured 900 horses as part of the annual Royal Windsor Horse show.
She watched the performance with the King of Bahrain, who was sitting on her right, alongside the Duke of Edinburgh, the Prince of Wales, the Duchess of Cornwall, the Duke and Duchess of Cambridge and Prince Harry.
Human Rights Watch said the decision to place the Queen next Bahrain's head of state was an "error of judgement".
Nicholas McGeehan, a gulf researcher at HRW, told The Independent: "In isolation it looks like an injudicious decision to seat King Hamad next to the Queen, but the reality is that the British monarchy have maintained close ties with the Al-Khalifas in even bloodier times and more repressive times in Bahrain.
"It will no doubt be hugely pleasing to the current British government who have been over backwards to demonstrate their friendship to Bahrain's rulers and been shamefully silent over their human rights abuses."
Amnesty International UK's head of policy and government affairs Allan Hogarth told The Independent: "King Hamad presumably enjoyed his ringside seat at the Queen's birthday bash, but the disturbing reality for people back in Bahrain is a never-ending cycle of arrests, tear-gas raids, torture in detention and long prison sentences for peaceful protesters."
According to a report by Amnesty the government of Bahrain in the past year has "continued to curtail freedoms of expression, association and assembly and cracked down further on online and other dissent".
It adds: "Opposition leaders remained imprisoned; some were prisoners of conscience. Torture and other ill-treatment remained common. Scores were sentenced to long prison terms after unfair trials. Authorities stripped at least 208 people of their Bahraini nationality. Eight people were sentenced to death; there were no executions."
Referring to the organisers of the Royal Windsor Horse show, a Buckingham Palace source told The Independent the King of Bahrain was there "at their behest".
H Power, a privately owned events management company responsible for the smooth delivery of the annual horse show, said "he was there because he supports the horse show" but refused to elaborate further.
Following initial publication of this article The Independent was contacted by representatives of HM the King of Bahrain and we are glad to publish their statement: "In 2011, His Majesty King Hamad set up an independent inquiry of international experts to investigate human rights abuses in Bahrain. His Majesty accepted its findings in full and has since implemented significant human rights and socio-economic reforms in Bahrain. As part of his reform programme, His Majesty established the office of the Ombudsman at the Ministry of the Interior which is an independent body aimed at ensuring compliance with professional standards of policing and investigating complaints. A number of members of the security services have been brought to justice as a result of the Ombudsman's work and in 2014 it was awarded the prestigious European Union Chaillot Prize for the Promotion of Human Rights in the GCC Region." 10/6/16
Join our new commenting forum
Join thought-provoking conversations, follow other Independent readers and see their replies