Humanist weddings could stay illegal following Coalition row between Tories and Liberal Democrats
In Scotland, where humanist weddings are legal, there has been an increase in the number of people getting married, against a general decline in the UK as a whole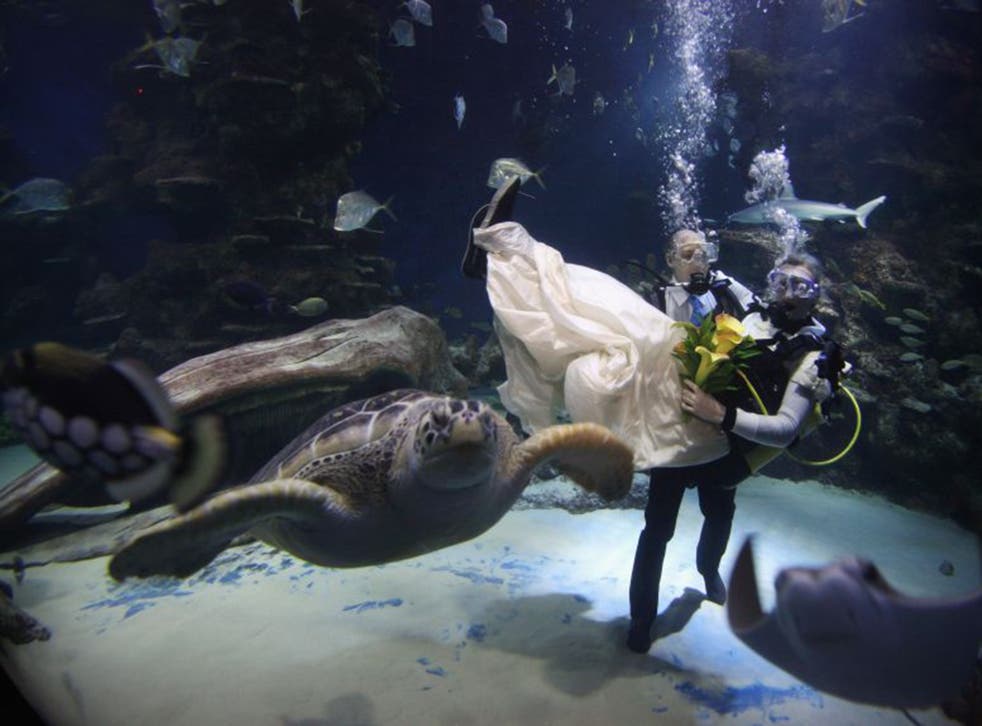 Thousands of couples planning non-religious humanist weddings could have their hopes dashed after a row between the Tories and Liberal Democrats saw Number 10 veto proposals to give such marriages legal status.
The Lib Dems want people who are agnostic, atheist or simply do not want a religious ceremony to be able to have a secular wedding, outside of a register office. Couples could tailor their own ceremonies, and select venues that are not licensed for civil weddings.
But it was reported on Sunday that Downing Street is now blocking the idea because Lynton Crosby, David Cameron's election strategist, sees it as a "fringe" issue that could muddy the Government's key messages ahead of May's general election.
The British Humanist Association (BHA) reacted furiously to the news, saying it was "shameful" that non-religious couples could not marry in ceremonies with the same legal status as believers.
Under current English law, weddings can take place in any registered religious building including churches, mosques and even premises belonging to the Scientologists, Spiritualists and the Aetherius Society – whose members believe in aliens and that the Earth is a goddess.
A historical exemption allows Jewish and Quaker ceremonies to be conducted anywhere – a legal provision that could be extended to allow humanist weddings. A government consultation, launched after the legalisation of gay marriage, found considerable public backing for the reform.
In Scotland, where humanist weddings have been legal since 2005, there has been an increase in the number of people getting married, against a general decline in the UK as a whole. Humanist weddings now account for 10 per cent of all Scottish marriages, making it the third most popular form of marriage in Scotland.
Ministers are due to announce their response to the consultation next month but the Conservatives are believed to be blocking any change.
Andrew Copson, the chief executive of the BHA, described Number 10's intervention as "astonishing", saying it would be a "huge shock" for thousands of couples.
He said: "It is shameful that Number 10 would block the wish of thousands of couples to start their married life in a way that is personal and meaningful to them. Giving legal recognition to humanist marriages is a simple measure which adversely affects no one, has huge popular and political support, and would increase the number of people getting married each year.
"Under this government, Scientologists have been added to the list of religions that can perform legal marriages… To describe the legal recognition of humanist marriages as a "fringe" issue insults the many non-religious couples – much larger in number than these many small religious groups - whose planned marriages next year will not be able to go ahead if Number 10 blocks this change."
Despite assurances from ministers last year that a decision would be swiftly taken following a public consultation, the Government has been accused of dragging its heels and halting the wedding plans of hundreds of couples.
This is in spite of the Government having introduced what is known as the Families Test earlier this year, a pledge to ensure that all new policies support strong and stable families. Campaigners say few policies meet this test as well as humanist marriage.
Currently couples who have a humanist wedding must also have a separate register office ceremony to make the marriage legal.
Join our new commenting forum
Join thought-provoking conversations, follow other Independent readers and see their replies