Hungry in Cameron's Cotswolds: Beyond the 4x4s and classy shops of the PM's own constituency, a food bank is alarmingly busy
In affluent Witney, volunteers are busy preparing Christmas parcels to combat the town's 'grinding poverty'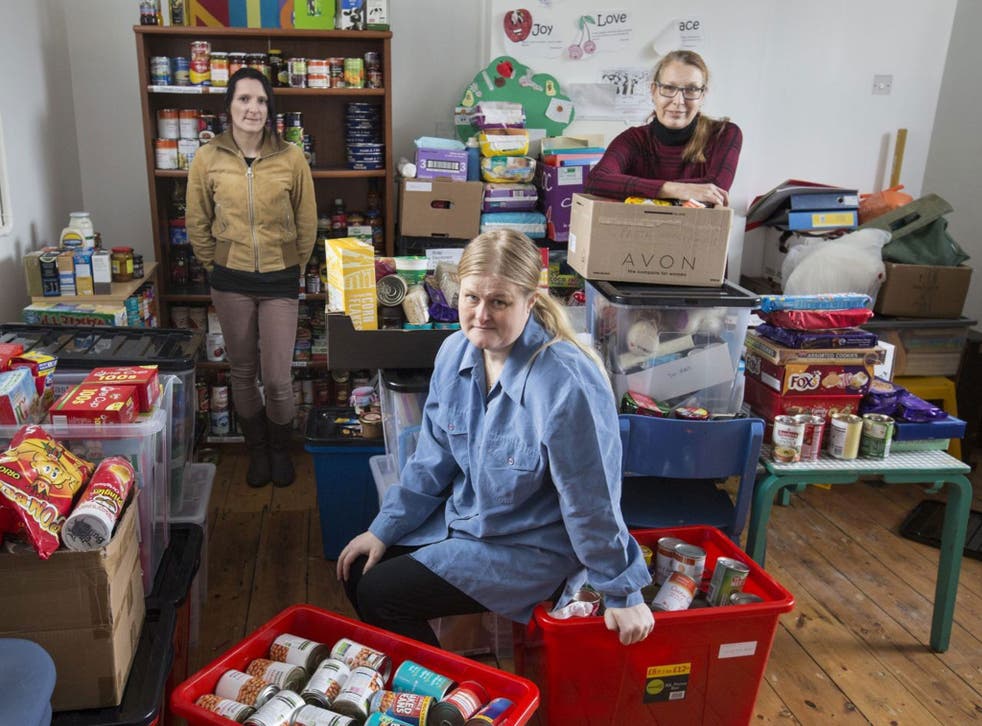 Witney isn't the sort of place you associate with poverty, homelessness and hunger. That's because it's an affluent market town in the heart of the Cotswolds.
The high street smacks of well-heeled middle England, with high-end boutiques and estate agents offering "substantial" farmhouses in the nearby countryside. There's even a sign outside the butcher advertising "plucked and whole pheasants".
Just five minutes away from this scene of shiny Range Rovers and rural affluence, though, is something that many Witney residents might have hoped was consigned to an earlier age or an area of inner-city deprivation – a busy food bank.
Jo Cypher, a local mother, set up Oxfordshire West Food Bank last April. She is used to visitors remarking on the juxtaposition of Witney's wealth and the "grinding poverty" of the people the food bank supports, especially because the town's Member of Parliament is Prime Minister David Cameron.
Last week, the rise in food bank use was noisily debated in Parliament, but at Elim Church in Witney, where Ms Cypher and her volunteers borrow a room for their supplies, they were busy preparing Christmas parcels with festive treats. "You'd be surprised at how much poverty there is here," she said. "People from outside the area are always shocked, but the poverty here is hidden by the wealth that surrounds it."
The food bank provides dozens of parcels each week after formal referrals from organisations such as the Citizens Advice Bureau and the Job Centre. Ms Cypher said: "In 2013, we shouldn't have to be here, but life is harder. Bills are going up; food is more expensive and it's easier than ever before to get into debt."
According to Ms Cypher, who says she set the bank up after struggling herself in the last recession, Oxfordshire West Food Bank relies entirely on donations and counts the local Women's Institute, the town's Freemasons, local firms and a nearby Waitrose store among its biggest and most generous donors.
This town's refined tastes can cause problems, though, explained volunteer Celia Angel as she unpacked a pack of Moroccan preserved lemons donated by one kindly benefactor. "We do get some odd donations of rather luxurious foods," said the former council housing officer. "We've had everything from pitted olives and vichyssoise to German bread from Waitrose."
David Cameron visited the site earlier this year, but to the dismay of campaigners didn't meet any of its users. Ms Cypher doesn't want to discuss the Prime Minister's visit, but she clearly isn't a fan. "I'm not very impressed with what he said when he visited or what he does," she said, shaking her head as she moved hefty boxes of baked beans.
Ms Angel, who gave up her job with the council to look after her disabled son and now volunteers one day a week, is more damming. "We are a rich nation and I don't understand how we've got to this situation where people rely on food banks," she said. "You can see the impact of the cuts in welfare here and the lack of employment. And once you have been marginalised by losing your job or your home, it's very hard to get back to normality. Most of our users are having problems with their benefits."
That was the case for Louise Andrews, 26, who used the bank when she had problems with her Jobseeker's Allowance and is now a volunteer. "Jo was so kind-hearted to start this food bank," she said. "I had nowhere else to turn when I was referred here by the Citizens Advice Bureau in town."
None of Witney's Conservative councillors would be interviewed for this story, but Duncan Enright, a Labour councillor from Witney who is standing against David Cameron in the next election, said there is "real poverty" in the town and accused the local authority of taking a "very minimal view of its responsibilities".
Ms Cypher and her volunteers aren't alone in Witney. Next month, another food bank is set to open six miles away in Carterton. Lynn Little is the town's mayor and a local Conservative councillor. She told the Oxford Mail that she took the decision to open one in the town because so many people use the facility in Witney. She declined to discuss it with The Independent on Sunday.
Back in Witney, the Rev Gavin Woan at Elim Christian Fellowship, will run a free meal service when the food bank moves to a new home in the town in the new year. It is to feed those who "in need, homeless, and desperately lonely".
That desperation is national, according to Chris Mould, the executive chairman of the Trussell Trust, a charity that has 30,000 volunteers working across its national network of 400 banks.
"It's vital that the stories of individuals using food banks are listened to by politicians, because they give us a picture of the increasingly precarious nature of life for a growing number of people," he said. "This isn't a mystery. We know what has happened to medium incomes – they've stagnated – and we know how much the cost of living has soared. It stands to reason that there are going to be very large numbers of people who can't make ends meet."
The demand for food aid is growing rapidly, according to the organisation, and so far this year the trust has helped 500,000 people with food parcels, compared with 346,992 last year. Church Action Against Poverty has launched a national Britain Isn't Eating campaign after its research found that half a million people were reliant on food aid. Meanwhile, the charity Barnardo's has reported a 94 per cent increase in the demand for food aid from the people it helps.
The situation is so grave that some doctors have called it "a public health emergency", and earlier this month – for the first time since the Second World War – the Red Cross assisted in the gathering and distributing of food parcels in the UK.
Mr Mould says the Trussell Trust isn't a political organisation, but he hears that many of its volunteers see the welfare system as "increasingly appearing inhuman" and are "distressed and puzzled" by number of people "who are clearly unwell and have been deemed fit for work".
He said: "I'm glad David Cameron visited his local food bank in Witney, but that's just one independent location and he's declined the invitation to visit one of our 400 food banks. That invitation is still open."
A spokesman for No 10 declined to comment on Mr Mould's repeated invitation but said: "The Prime Minister has praised the food bank movement for their excellent work and visited one in his constituency earlier this year... The Prime Minister believes it's better to do the right thing rather than something that looks good."
For Jack Monroe, an anti-poverty campaigner and food writer, that's not good enough. "Some of his MPs are perfectly happy to pose cutting ribbons at new food banks," said Ms Monroe, who blogged about her experience using a food bank before forging a career as a food blogger and campaigner.
Speaking after the parliamentary debate on the rise of food banks, which in part came about after she gained more than 140,000 signatures to a Change.org petition, she added: "By avoiding hearing the harrowing stories from food bank users, the Government can continue to talk about words like deficit reduction and doesn't have to talk about words like, pain, hunger and starving parents."
Retail to the rescue?
Sainsbury's
Sainsbury's is perhaps the most established food bank supporter. It has supported the FoodCycle scheme since its inception in 2009, and in 1994 helped to found FareShare, one of the biggest providers of donations to food bank charities.
Tesco
Tesco worked with the Trussell Trust on a nationwide food collection drive to which it made an additional corporate donation. Some of its stores have donation boxes.
Asda
Asda works with a number of food banks, including the Trussell Trust, as well FareShare. It says it also lets local charities use its stores as donation collection points.
Morrisons
Morrison's in-store Community Champions work with FoodCycle to distribute food at a local level. Works with charities FareShare, His Church, and Company Shop which help to distribute unsold food.
Marks & Spencer
Marks & Spencer donates food at a company-wide level to FareShare, but doesn't work with food banks.
The Co-Op
Many Co-Op stores support local food banks on an ad hoc basis, while the head office has donated 113 tons of food to FareShare this year.
Waitrose
Another FareShare partner, which was also the first to join "Feed the 5,000" to support food banks. Last month, all Waitrose stores invited a local food bank to carry out collections in-store.
Harry Davies
Join our new commenting forum
Join thought-provoking conversations, follow other Independent readers and see their replies