Hunt paves way for U-turn on casualty unit closures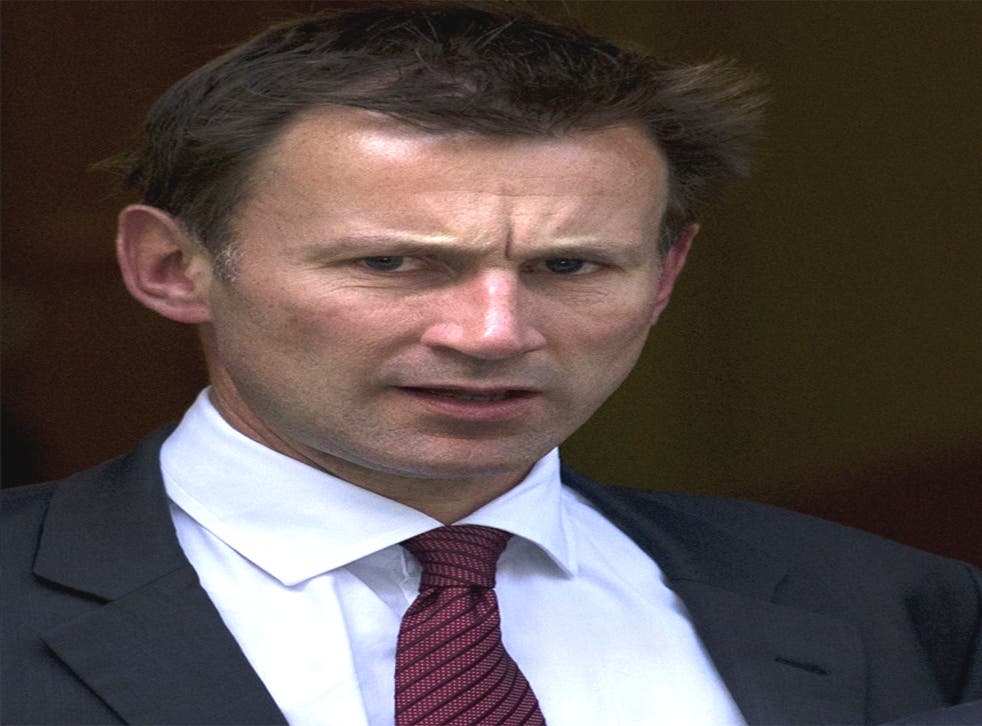 Jeremy Hunt has ordered a fresh political assessment of controversial plans to shut hospital casualty units as one of his first acts as Health Secretary.
His move will raise hopes of a reprieve for a number of accident and emergency departments threatened with closure as NHS Trusts cast around for savings.
But it will alarm many doctors and hospital managers who argue that merging A&E units into larger, better staffed departments saves lives and frees up money to improve patient care in other areas.
Some in the service have privately accused Mr Hunt of preparing to "play politics" without fully understanding the complexities of his new job - which could ultimately harm patients.
The issue is coming to a head in London where seven units are at risk, including four in the north-west of the capital, while A&E departments in Manchester, Stafford and Worcestershire are also under threat.
Mr Hunt, who has been charged by the Prime Minister with drawing some of the political sting from the National Health Service, has told Tory colleagues he wants a new examination of all the proposals, which he would ultimately have to approve. A source close to him said: "There will be a new approach to this issue. Trusts still need to cut costs, but it doesn't have to be through closures."
Ministers have been struck by the strength of opposition to plans, notably in north-west London, and fear they could ultimately pay a political price for decisions taken by hospital chiefs.
He is staying out of the controversies for the moment but an ally of Mr Hunt said intervening to save an A and E unit supported by local people would be an instance of the Government putting its commitment to localism into practice.
Under the plans for north-west London, the number of casualty departments would be reduced from nine to five. Thousands of protesters have marched against move to shut Ealing Hospital's A&E unit, warning the move would have a "catastrophic effect on patients". Emergency departments at Hammersmith, Central Middlesex and Charing Cross hospitals have also been earmarked for closure.
Elsewhere in the capital, units at Chase Farm in Enfield, King George in Ilford and St Helier in Sutton are under threat. The former health minister Paul Burstow, who lost his job in this month's Government reshuffle, has described the plans to close the unit at St Helier, which is in his constituency, as "dangerous". The King George closure has also been attacked by the Work and Pensions Secretary Iain Duncan Smith.
A source in the Department of Health said they were not aware of any political review taking place. However they confirmed that the ultimate decision for A&E closures would be taken by Mr Hunt after taking advice from an independent Reconfiguration Panel.
"You can assume that he will set the bar pretty high for approving closures," said one source.
"But he will have to take into account not just the view of the community but also local medical professionals."
Mr Hunt's dilemma is that while he was brought into the department by David Cameron to neutralize health as an election issue any decision to abandon A&E closures will make it much more difficult to achieve the necessary saving across the health service over the next three years.
This was underlined yesterday by a new report by the Audit Commission which showed an increasing number of NHS organisations are struggling with their finances with the number of trusts running a deficit more than doubling in a year.
The number of trusts which are running a deficit rose from 13 in 2010/11 to 31 in 2011/12. Thirty-nine NHS trusts reported a poorer financial position in 2011/12 than in the previous year and 18 NHS trusts and foundation trusts received financial support from the Department of Health.
Tellingly the greatest number of hospital trusts in financial difficulty were in outer London - the area where most of the A&E reconfigurations are due to take place.
Last night a Department of Health spokesperson said: "Changes to local health services are decided and led locally.
"Local healthcare organisations, doctors, nurses and other health professionals, with their knowledge of the patients they serve, are best placed to decide what services they need for patients in their area."
Mike Farrar, chief executive of NHS Confederation, urged Mr Hunt not to intervene for political purposes.
"There are a number of proposed changes to NHS services that have proved controversial in recent years," he said.
"The fact is changes to many local services are necessary, not only to allow the NHS to remain financially sustainable, but to improve the care patients receive.
"We understand the political sensitivities around change but we have to put the needs of patients first. We urge political courage in support of clinical decisions."
Join our new commenting forum
Join thought-provoking conversations, follow other Independent readers and see their replies