'I'll see you in court': Works and Pensions Secretary Iain Duncan Smith vows Britain will fight Europe over welfare benefits for immigrants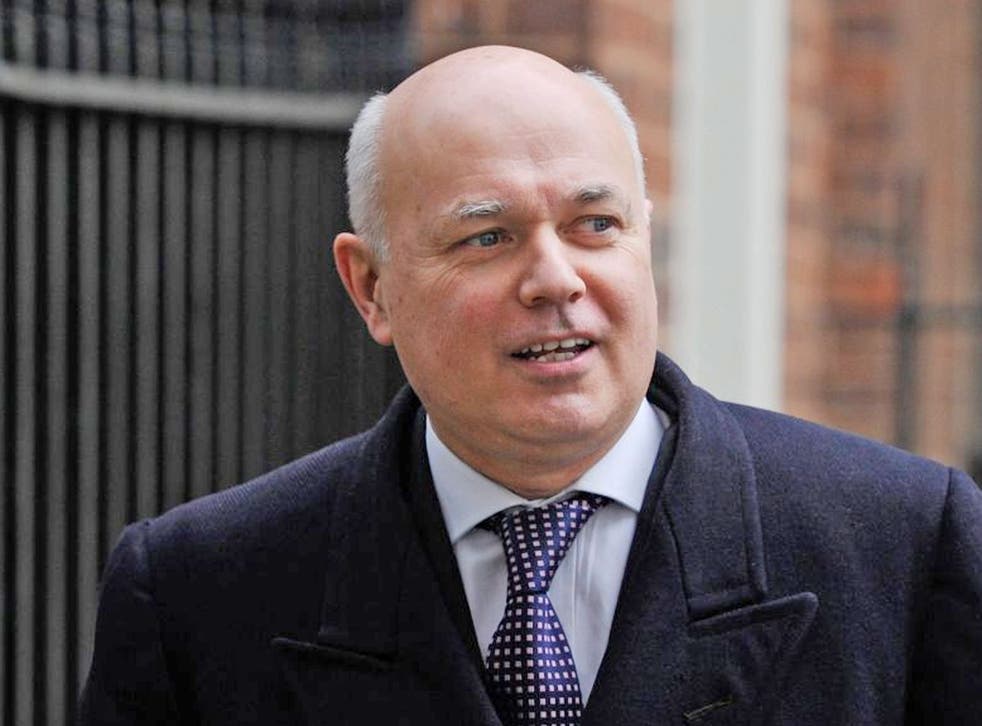 The European Commission has signalled an imminent legal war with the UK government over the rights of EU migrants to welfare benefits in Britain.
Describing two years of negotiations with Britain as a 'dialogue with the deaf', the Commission claims there are potentially "tens of thousands" of EU nationals living legally in the UK who are being refused benefits they are entitled to.
It says the UK's "right-to-reside" test, where migrants have to prove they are employed or actively looking for work before receiving welfare payments, is an illegal form of "discrimination" under EU rules and should be scrapped.
The opening shot in this new battle with Brussels was fired by the Works and Pensions Secretary Iain Duncan Smith who told the European Commission he will "see them in court".
The attempt to outlaw the right-to-reside test is being seen by the Department of Works and Pensions as a threat to the way the UK has tried to combat "benefit tourism". The government is adamant that the test is a "vital and fair tool" to aid decisions that ensure benefits are paid only to people legally allowed to live in the UK.
Mr Duncan Smith forcefully indicated that he intended to fight the Commission "every step of the way" and accused Brussels of engaging in a "blatant land grab" against a national government.
He told the BBC: "The Commission are trying to use freedom of movement as a way to start controlling what national governments [within the EU] do about those who are not in work in their countries."
He said he would not stand by while the EU tried to "water down the valuable protections we have put in place".
Labour, who introduced the residence test, and who are wary of being out-manoeuvred by the government on immigration issues, backed the hard-line stance of the works and pensions secretary.
Yvette Cooper, the Shadow Home Secretary, said UK courts had consistently upheld the attempts to prevent abuse in the benefits system. She said: "Labour has called on the government to strengthen the residence test, not weaken it."
She said the EU were "wrong" in trying to prevent a member state keeping a "sensible test" and the legal action could "increase public concerns about migration".
Brussels however appear clear in their desire to outlaw the test. If the Commission is successful in court, the UK welfare bill is likely to rise by around £155m a year.
Jonathan Todd, the Commission's spokesman for employment, social affairs and inclusion, denied there was an link between the payment and "benefits tourism".
He said: "Potentially tens of thousands of EU nationals living legally in the UK have been refused access to social security payments to which they are entitled. We cannot apply different rules to the UK that we apply to 26 other member states."
Still facing significant back-bench revolt over Britain's relationship with the European Union, a lengthy and drawn out legal battle with Brussels over rules governing immigrants and welfare entitlement is the last thing David Cameron needs at the moment.
Peter Lilley, the former social security minister, and currently a member of Mr Cameron's policy board, said the threat from the Commission – which he said flew in the face of its own rules – would "strengthen the case for David Cameron seeking to get power back to this country to make our own laws rather than allowing this creeping competence of law-making being extended to Brussels."
Tory backbenchers, still unhappy about Downing Street failure to include the promised In-Out referendum on EU membership in the Queen's Speech, rounded on the legal intervention by Brussels.
Sarah Wollaston, the Conservative MP for Totnes, said: "Eurocracy has lost touch with reality. We cannot and must not pay benefits to all EU citizens who set foot in the UK."
Ukip's leader Nigel Farage, described Mr Duncan Smith's promise not to cave-in as "bold" but said it would be "in vain" because "there is already a very long and expensive trail of clear evidence that in a Britain versus EU fight, we just don't win."
The legal battle
Brussels are essentially unhappy about the way Britain treats EU nationals who are neither in work or looking for work. If someone from an EU member state comes to the United Kingdom to find a job, or already have a job, they satisfy the right-to-reside element of the habitual residence test and are therefore entitled to benefits such as Jobseekers Allowance, Housing Benefit and Child Benefit.
What they not entitled to is 'inactive benefits'. These are benefits for people who are not looking for work, which includes sickness benefits (now called Employment and Support Allowance) and Income Support.
If an EU migrant is not looking for work, they will not satisfy key elements of the residence test. Brussels maintains that as this test specifically applies only to EU foreign nationals, Britain is not abiding by one of the fundamental rules of the EU governing equality in labour markets.
Britain sees this in different terms, believing that migrants should not come to the UK just to claim benefits without looking for a job.
Join our new commenting forum
Join thought-provoking conversations, follow other Independent readers and see their replies