Iain Duncan Smith accused of misleading the public with fake quotes promoting the Government's benefit sanctions system
Department for Work and Pensions admitted fabricating comments from supposed 'benefit claimants' that appeared in leaflets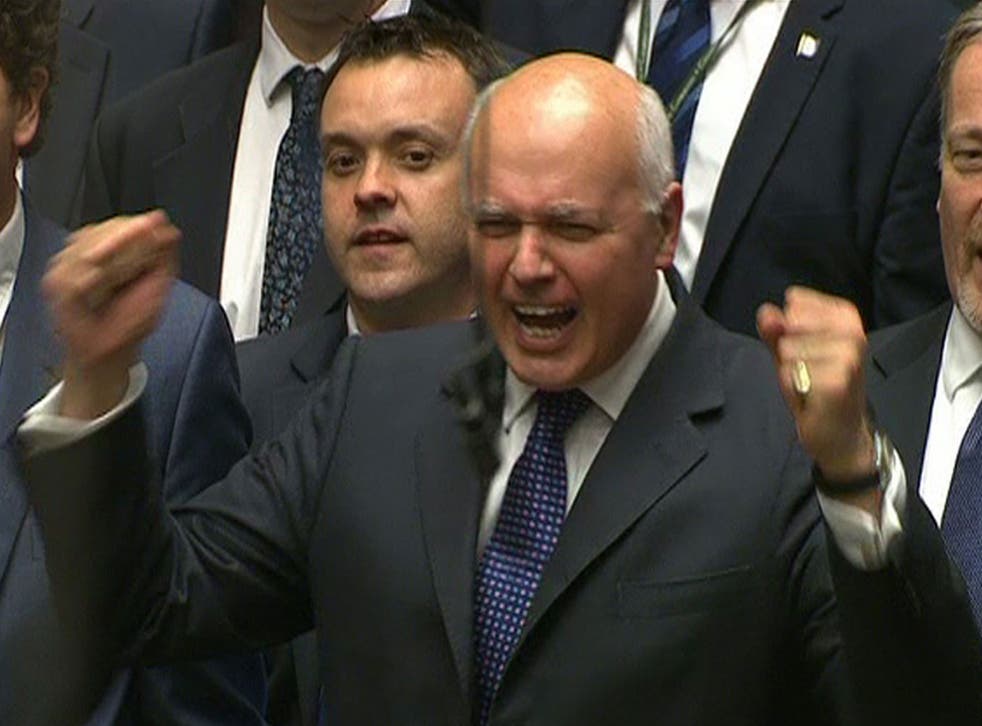 The Government has been accused of misleading the public over its benefit sanctions programme after it admitted using fake quotes in a bid to promote its sanctions regime.
Learning disability charity Mencap said it was "unacceptable" that the Department for Work and Pensions to make up comments on leaflets that supported a sanctions system that has been criticised for causing extreme hardship.
Government officials had presented an "unrepresentative" view of benefit sanctions and their impact on disabled people, the charity added, and said the actions from DWP staff had led to Jobcentre staff failing to understand the needs of disabled people and placing "unrealistic demands on them".
The leaflet, which has now been withdrawn, included positive example stories from people who claimed to have interacted with the sanctions system.
In one example, titled "Sarah's story", a jobseeker is quoted as being "really pleased" after a cut to her benefits supposedly encouraged her to re-draft her CV.
"It's going to help me when I'm ready to go back to work," the fabricated quote reads.
Another, by a benefit claimant supposedly called "Zac", details the sanctions system working well.
But in response to a freedom of information request by the Welfare Weekly website the DWP said the quotes were not actually real cases and that the photos were not of real claimants.
The controversial sanctions regime, introduced by Work and Pensions Secretary Iain Duncan Smith in the last Government, has also been criticised for operating in an unfair and arbitrary way and has been the subject of legal challenges.
Responding to the admission from the DWP that officials made up quotes about sanctions, Dan Scorer, head of policy at Mencap said: "DWP's made up case studies present an unrepresentative view of the sanctions regime and its impact on disabled people.
"Benefits are a lifeline to many people with a learning disability who rely on them to make ends meet. We know many people have been sanctioned because Jobcentre staff don't understand their needs and place unrealistic demands on them while not providing support they need. To mislead the public on the effects of benefit sanctions in this way is unacceptable."
The benefit sanctions system punishes benefit claimants for failing to meet a strict checklist for jobseekers.
Claimants can lose their benefits for up to three years in some circumstances and even tougher requirements will be introduced in 18 months that will see jobless 18 to 21-year-olds being sent on a three-week "bootcamp" or face losing their benefits.
Stephen Timms, Labour's shadow work and pensions secretary, said the admission that officials fabricated quotes should lead to sanctions targets for Jobcentre staff to be scrapped.
"You couldn't make it up – but it seems Iain Duncan Smith can," Mr Timms quipped. "The only way he can find backers for his sanctions regime is by inventing them.
"Instead of fabricating quotes pretending the system is working, he should scrap unfair sanctions targets for jobcentre staff and do more to protect vulnerable people from facing benefit sanctions."
A Department for Work and Pensions spokesman told The Independent: "The case studies were used for illustrative purposes to help people understand how the benefit system works. They're based on conversations our staff have had with claimants. They have now been removed to avoid confusion".
What does five more years of the Tories mean for Britain?

Show all 8
Join our new commenting forum
Join thought-provoking conversations, follow other Independent readers and see their replies