Iain Duncan Smith defends £500-a-week benefits cap being rolled out across Britain on Monday
Mr Duncan Smith said the cap will change culture of families 'finding it easy to stay out of work on taxpayers benefits'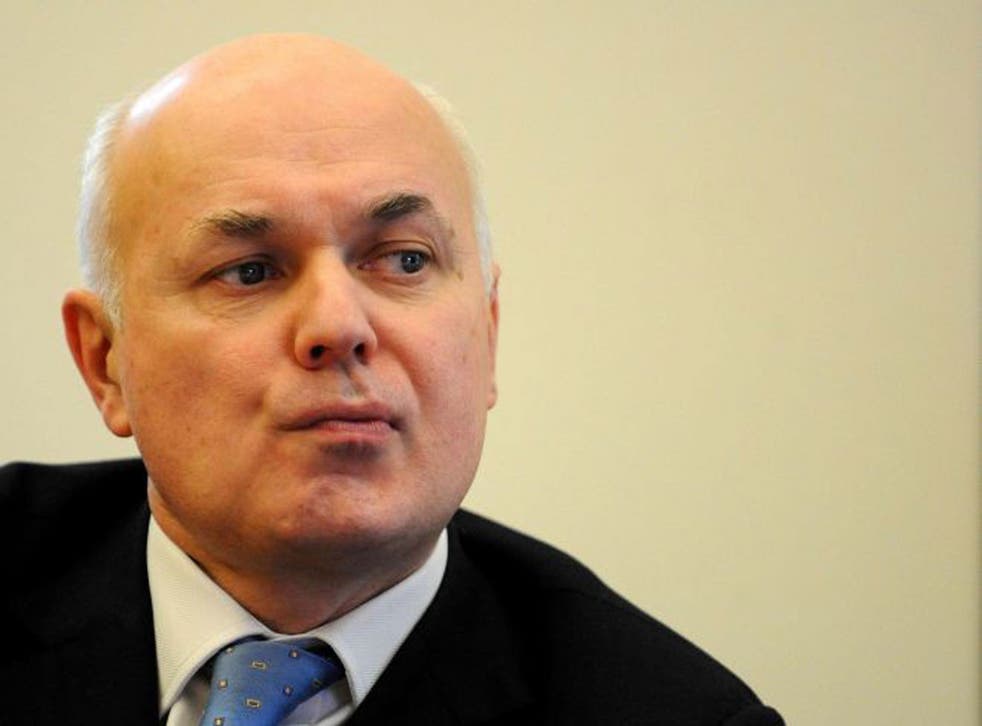 Work and Pensions Secretary Iain Duncan Smith has spoken out to defend the new benefits cap of £500 a week being rolled out across Britain on Monday.
The benefits cuts has already been implemented in the London boroughs of Haringey, Enfield, Croydon and Bromley since April this year.
Sanctions on Job Seekers Allowance and the introduction of the so-called 'bedroom tax' will come into effect immediately.
The new welfare measures, which Mr Duncan Smith argues is based around the income of an average household, will ensure couples and lone parents do not receive more than £500 a week, with single people limited to £350 a week.
Mr Duncan Smith said a "very, very significant number" of people had gone out to work in households within the four London boroughs already affected by the cap.
"In fact, what the Jobcentre staff have told us as we have been going round is that they have seen a genuine increase since they have alerted people to the fact that they are likely to be in the cap," he told BBC Breakfast.
He added: "This is both about saving money and, more particularly, about changing a culture that had left families, particularly large families, finding it easy and a reality for their lives to stay out of work on taxpayers' benefits."
He also rejected suggestions that jobs were not available for claimants who wanted to go back to work.
"The private sector has been providing jobs. Every week something like half a million new jobs are in the jobcentres and out in the universal job match that we have now produced," he told the BBC Radio 4 Today programme.
"I believe that we are already seeing people go back to work who were not going to go back to work until they were informed of the cap. I believe that this will show, as we go forward, that people who were not seeking work are now seeking work because that is the way to avoid the cap."
He hit back at presenter John Humphrys who challenged him over comments by the leader of Haringey Council, who said that 740 families in the borough had been severely financially disadvantaged by the cap but only 34 family members had found work.
He accused Mr Humphrys and the BBC of "seeking out lots of little cases from people who are politically motivated to say that this is wrong," he said, something he argued the BBC "always" does.
"The key principle behind this all over the country is that those who work, those who are trying to do the best in their households, do not see others who are down the road, who are on benefits, on welfare, actually getting more than they do," he said.
Mr Duncan Smith said the "greatest effect" of the benefits cap would occur within London and the South East.
Matthew Reed, Chief Executive of the Children's Society, accused the Government of trying to use a "blunt instrument" to solve a complex problem.
"The debate around this cap has focused solely on workless adults, but the reality is that children are seven times more likely than adults to lose out," he said.
"140,000 children, compared to 60,000 adults, will pay the price as parents have less to spend on food, clothing and rent.
"And almost half the adults affected will have children aged four or younger, and would find it extremely difficult to be in work, even if they could afford childcare which can cost as much as £100 per child per week.
"Families, especially in London where the cap is being launched, will have their lives disrupted as they are forced to find cheaper rents in other parts of the country, resulting in children having to leave behind their schools, friends and breaking vital support networks.
"We fully support efforts to make work pay.
"But it is not right to do this by putting more children on the breadline. Instead, the Government should do more to help families by tackling the sky high rents in some parts of the UK and making childcare affordable."
Disability Living Allowance, the Personal Independence Payment and other benefits such as widower's pensions will not be subjected to the cap.
The Department for Work and Pensions argue that these measures will save £110million a year. The cap is not yet law in Northern Ireland.
Join our new commenting forum
Join thought-provoking conversations, follow other Independent readers and see their replies