Iain Duncan Smith says the EU helps the rich at the expense of the poor
The former DWP secretary said the union helped the 'haves' rather than the 'have-nots'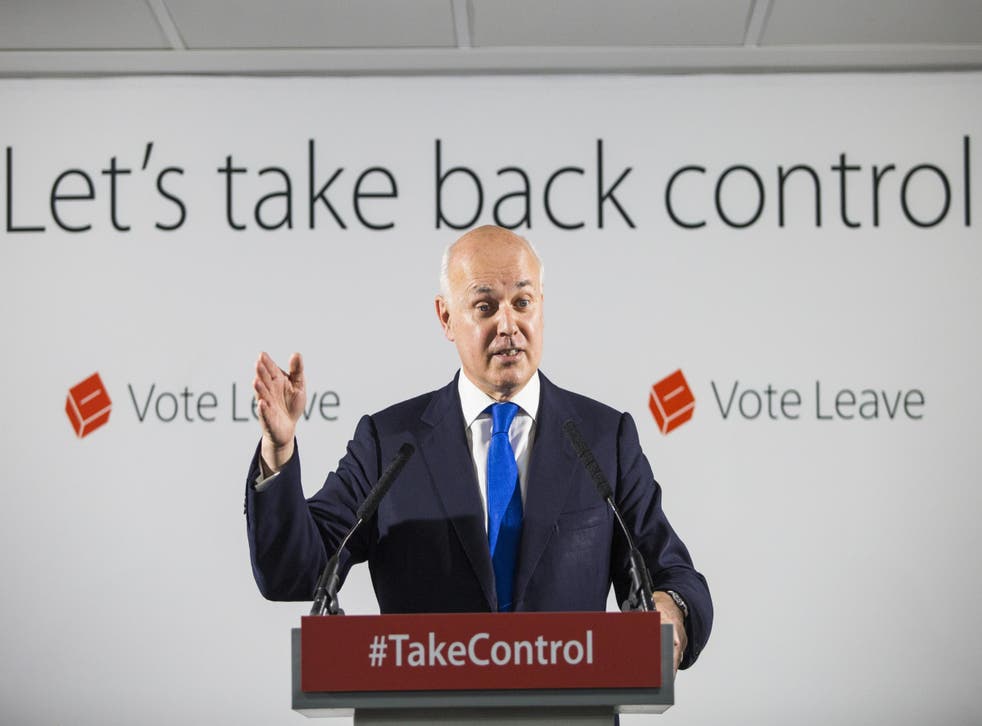 The European Union helps the "haves" at the expense of the "have-nots", Iain Duncan Smith has said.
In a speech on Tuesday the former work and pensions secretary said that the EU's immigration policy drove down wages and increased the cost of living.
He also claimed that immigration was driving a rise in house prices and that young people lost out in particular.
Mr Duncan Smith argued that that EU had benefited the wealthy because it had created "cheap nannies, baristas and labourers".
He was ridiculed for the suggestion by the In campaign, who pointed to social protections and workers' rights enforced at EU level.
"For Iain Duncan Smith to suggest that those rights that actually help workers and stop them being exploited is part of the problem … many of the people in Iain Duncan Smith's camp call that red tape," Alan Johnson, who leads the In campaign, said.
"When they say they want to get rid of red tape they want to get rid of the right for part-timers to be paid the same as full-timers etc."
7 ways the Tories have 'helped' disabled people

Show all 7
Mr Duncan Smith however said: "My plea to better-of Britons who have done well in recent years is to consider their vote in the referendum to vote for a better deal for people who haven't enjoyed the same benefits as maybe they have.
"The EU, despite its grand, early intentions, has become, I believe, a friend of the haves, rather than a friend of the have-nots."
A landmark study from the London Schools of Economics published last year concluded that immigration had not driven down wages or increased unemployment.
Most migrants move from poorer countries in Europe to the richer ones, meaning they tend to benefit from significant wage gains.
David Cameron, which backs continued EU membership, has negotiated restrictions on the in-work benefits EU migrants can claim when they come to the UK which it says will reduce the number of people who want to come to Britain.
Labour has suggested enforcing EU-wide minimum wage standards as a proportion of cost the cost of living to give workers a "level playing field".
Join our new commenting forum
Join thought-provoking conversations, follow other Independent readers and see their replies