IoS exclusive: Cameron in crony row over Brazil factory
Prime Minister faces questions in Commons after cutting ribbon at Sao Paulo plant for Tory donor and friend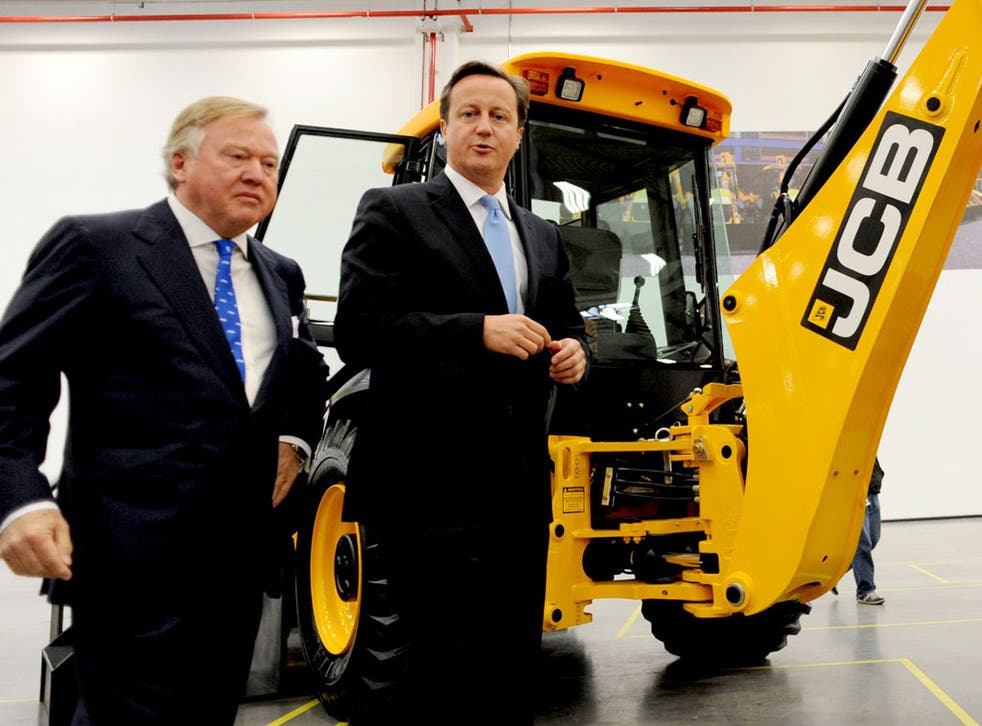 David Cameron was embroiled in a fresh party funding row last night after he opened a factory in Brazil belonging to one of the Conservatives' largest donors.
The Prime Minister is to face questions in Parliament over the decision to put Sir Anthony Bamford's JCB factory in Sao Paulo at the centre of his trip to the South American country.
Mr Cameron took representatives from 58 UK businesses in his delegation for the two-day visit, which followed a trip to New York to address the United Nations General Assembly. But the centrepiece of the Brazil leg was a tour of the factory owned by Sir Anthony's global construction giant.
JCB said it had invited Mr Cameron to open the factory some time ago. The trip was arranged through the British embassy in Brazil and UK Trade and Investment, a government agency. The businessman personally showed the Prime Minister around the £60m plant in Sorocaba, near Sao Paulo, on Thursday. Sir Anthony did not accompany Mr Cameron as part of the official delegation from the UK, instead making his own way out to Brazil.
Mr Cameron faces questions over whether officials were aware that he would be opening a factory by one of the Tory party's biggest donors. Shadow Cabinet Office minister Michael Dugher is to table a series of questions in Parliament after the party conferences.
Mr Dugher said: "David Cameron has learnt nothing from the cash-for-access scandal, when his chief fundraiser was boasting of dinners for wealthy donors. Now it looks like it's government trips to help rich Tory donors. People are losing their jobs and feeling the squeeze back home, yet we have an out-of-touch Prime Minister who only wants to stand up for his cronies."
Sir Anthony, 66, who has donated £2m to the Tories personally or through his firm, is said to be in line for a peerage on the next House of Lords list. Sir Anthony and his wife, Carole, are fellow members of the Chipping Norton set and live near to the Camerons' home in West Oxfordshire. Sir Anthony was one of the top donors who were entertained for dinner at Downing Street following the election. In 2006, as leader of the opposition, Mr Cameron opened a JCB factory in India.
On the trip to the Brazil factory, Mr Cameron said: "This visit is about British jobs, British growth and the British economy, because I want Britain to be tied up to the fastest-growing economies on the planet. This visit is about safeguarding and creating 3,000 jobs back at home."
Last year, JCB won a Brazilian government contract worth £60m to provide 1,000 backhoe loaders for road construction in the country, and the firm hopes to secure some of the forthcoming £20bn worth of infrastructure projects in Brazil. The Sao Paulo factory will produce diggers and backhoe loaders which are expected to generate £100m in orders from JCB's British factories.
During the two-day trip to Brazil, Mr Cameron visited Rio de Janeiro to see plans for the 2016 Olympics and met President Dilma Rousseff in Brasilia. Mr Cameron, the first British premier to visit Brazil since Gordon Brown in 2009, also took executives from six defence companies, including BAE Systems, as part of his delegation, to encourage sales of British military equipment.
Sir Anthony has lobbied Mr Cameron over cuts to business taxes and for restrictions to workers' rights. In his speech to the Tory conference last year, Mr Cameron mentioned just one company by name – JCB.
Downing Street said the trip was arranged through UKTI and the British embassy in Brazil, but it is not clear whether the original invitation from JCB was backed up by a personal offer from Sir Anthony. Yet in 2002, when Tony Blair was mired in controversy over the Lakshmi Mittal affair, senior Conservatives demanded a full inquiry. Mr Blair had supported Mr Mittal's bid to buy the state-owned steel industry, which came a year after Mr Mittal gave £125,000 to Labour.
The then shadow foreign secretary, Michael Ancram, said a full inquiry was needed, saying: "We have seen a series of these allegations over Tony Blair's time in government, that giving large sums of money to the Labour Party ends up with the government either changing its policy or withdrawing a moratorium or, as in this case, trying to help the person involved to do business."
A spokesman for Downing Street said last night: "As he said during his trip, the Prime Minister went to Brazil to bang the drum for British business. JCB is an example of a British company doing well in Brazil, highlighted by the opening of their new factory, so it was appropriate for the Prime Minister to use his visit to showcase this success story."
A JCB spokesman said: "An official request, inviting the Prime Minister to open JCB's new factory in Brazil, was made some time ago. The completion of the factory coincided with a UKTI trade mission to Brazil and, as the Prime Minister was leading this mission in support of British business, he was able to accept the invitation. We are delighted he came to open the factory and show the Government's support for a well-established British success story."
Chipping Norton set: The Bamford family
Sir Anthony Bamford and his family are estimated to be worth anything from £1bn to £3bn. He and his wife, Lady Carole, live just outside Chipping Norton in Oxfordshire on a 1,500-acre Cotswold estate. With an additional 4,500 acres at Wootton in Staffordshire, a town house in London, and homes in Heron Bay in Barbados and Château de Léoube estate in Provence, they have done well out of British manufacturing.
The landowning industrialist is on first name terms with the Prince of Wales, David Cameron and Tony Blair. He and his wife recently held a party in support of Rebekah and Charlie Brooks, whom they introduced. Six months ago it was reported that it was "only a matter of time" before Sir Anthony, 66, received a peerage. He is thought to have been nominated for one two years ago, but the plan was blocked by a parliamentary watchdog. Sir Anthony insisted his affairs were "completely in order".
Lady Bamford runs Daylesford Organic, which includes a farm shop on their Oxfordshire estate where well-heeled locals shop. "Organic was considered a bit hippy. I've taken it to a level that it hadn't reached before," she has said.
Sir Anthony has long supported the Conservative Party, either in person or through his companies, although in the mid-1990s he expressed admiration for Tony Blair and invited him to the family house in Barbados. His brother, with whom he has been fighting in court over ownership of JCB research, has also given money to the Tories.
One local described Sir Anthony yesterday as "basically a good man, but maybe not that worldly-wise".
Join our new commenting forum
Join thought-provoking conversations, follow other Independent readers and see their replies