IoS exclusive: Liberal Democrat members lose faith in their leader
As the party conference begins, a poll shows Nick Clegg's personal rating has fallen below zero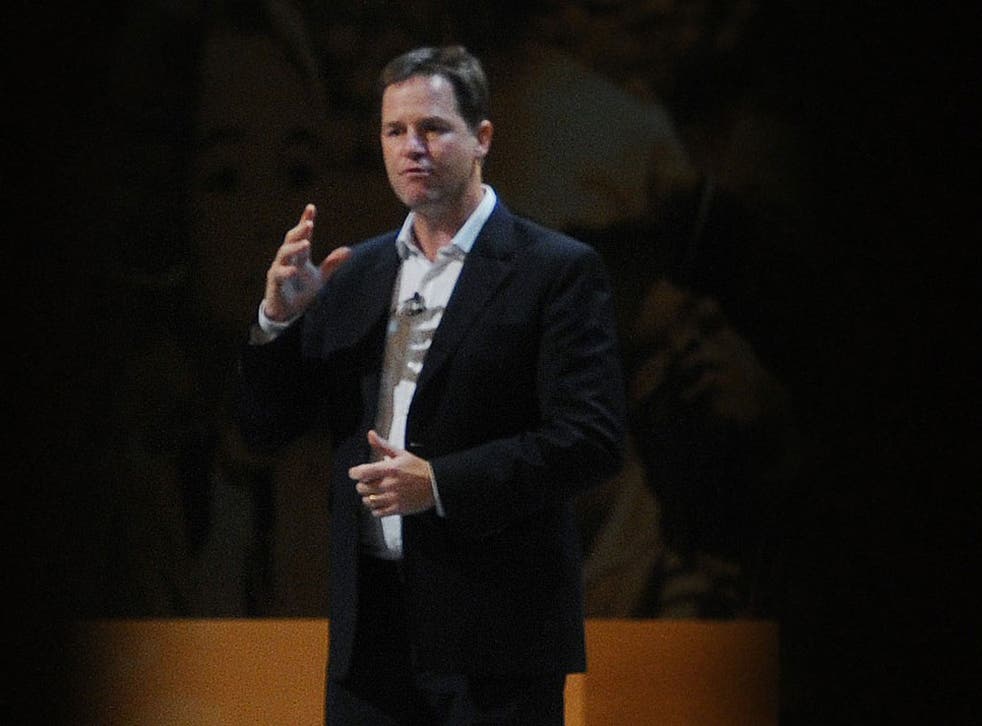 Nick Clegg has lost the confidence of Liberal Democrat members, a poll reveals for the first time today, as the Deputy Prime Minister attempts to persuade his party to stick with him for the "second half" of the coalition government.
A poll for Lib Dem Voice of paid-up party members, seen by The Independent on Sunday, shows that the Lib Dem leader's personal rating has fallen below zero for the first time, to minus 2 per cent.
The same poll put Mr Clegg on plus 13 per cent in August and plus 19 per cent in June. And an overwhelming majority – 79 per cent – of Lib Dem members think being in coalition will be bad for the party's election prospects in 2015.
Mr Clegg's aides were braced for difficult opinion poll results this weekend as the Lib Dem conference opened in Brighton yesterday, yet the Lib Dem Voice poll, the only one to survey the opinions of registered party members, will make particularly uncomfortable reading for the Deputy PM.
The poll also confirmed the huge support among activists for Vince Cable, the Business Secretary. When members were asked to rate the performance of senior Lib Dems, Mr Cable received a net rating of plus 75 per cent, ahead of party president Tim Farron on plus 63 per cent, and way ahead of Mr Clegg on plus 4 per cent.
A separate ComRes poll for The IoS showed less support for Mr Cable in the wider public. Only 27 per cent said he would make a better leader of the party than Mr Clegg, compared with 25 per cent who disagreed. Yet 48 per cent of all voters see Mr Clegg as inexperienced and only 3 per cent think he is good in a crisis, the ComRes survey showed.
Mr Clegg received a further blow last night as his recently-departed director of strategy, Richard Reeves, claimed that the coalition had squeezed spending too tightly and been blind to the benefits of investing in the economy. The critique came as Danny Alexander, the Lib Dem Chief Secretary to the Treasury, announced a fresh attempt to pull in more revenue by putting anybody worth more than £1m under scrutiny from tax inspectors.
The Lib Dem leader used a party rally in Brighton last night to reaffirm his vows to members, who elected him leader five years ago this autumn. With November marking the halfway point in the coalition's five-year term, Mr Clegg told activists: "There were times in the first half when we as a party made errors. And we've learned some hard lessons.
"If there's one lesson we should take from the first half, it is that nothing comes easy. If we want a fairer Britain we have to fight for it. If we want fairer taxes we have to campaign for them. And if we want credit for what we are doing, then we have to go out there with our heads held high and tell people."
In an interview with The IoS, Lynne Featherstone, the international development minister, said Mr Clegg had been "naive" to pledge to block a rise in tuition fees before the election by "not perhaps conceiving of a coalition where we wouldn't be able to do exactly as we wanted".
The Lib Dem Voice poll shows that 53 per cent of members think Mr Clegg and other Lib Dem ministers are failing to achieve influence within the coalition, a huge increase from 31 per cent in June. But 74 per cent of Lib Dems still support the party's decision to work with the Conservatives and 67 per cent actively want it to last until 2015.
The majority of people surveyed by Lib Dem Voice were asked their opinions before Mr Clegg's tuition fees apology. Stephen Tall, co-editor of Lib Dem Voice, said: "We have to demonstrate to the public that Lib Dems are an asset within government, more caring than the Tories, more responsible than Labour. The challenge to Nick Clegg is to find a way to get that across in a way which voters – and his own members – will buy into."
Mr Cable has already won a key victory by getting proposals for a mansion tax placed centre stage. The conference agenda pledged only to introduce a wealth tax, but Lord Oakeshott, a former Lib Dem Treasury spokesman, tabled an amendment to "reaffirm the party's commitment to taxing high-value property as a form of wealth tax", and yesterday Mr Clegg expressed support for a mansion tax.
Join our new commenting forum
Join thought-provoking conversations, follow other Independent readers and see their replies