Jeremy Corbyn announces plans to ban senior executives from receiving vastly higher salaries than junior employees
The Labour leader commits the party to act to 'institutionalise fairness'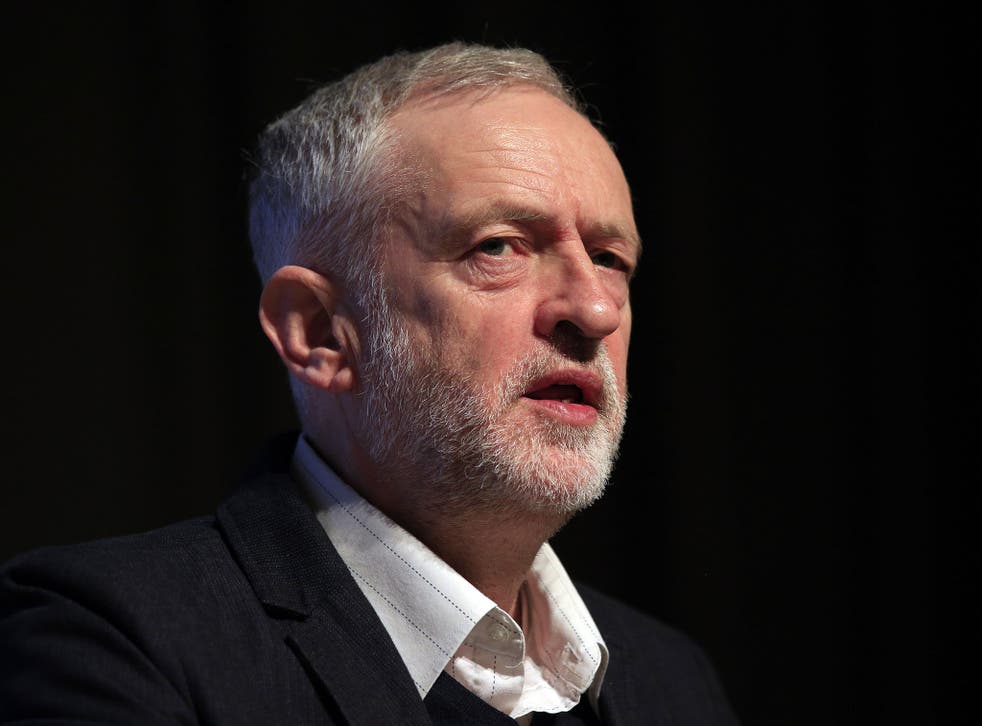 Companies would be banned from paying senior executives vastly higher wages than junior employees, and would not be allowed to hand out dividends until all staff were earning the Living Wage, under plans signalled today by Jeremy Corbyn.
The Labour leader, who is setting out proposals to close the gap between top earners and low-paid staff, will commit the party to act to "institutionalise fairness".
He also repeated his support for bringing the railways back into public ownership and for "democratic control" of the energy giants.
Mr Corbyn's critics, both inside and outside the party, will seize on his plans as evidence that he is trying to drive its platform to the left. Any move to intervene in company pay is also bound to face fierce criticism from business.
But the Labour leader's allies insist his commitment to tackling inequality will strike a chord with the public who are dismayed by the excesses of company bosses.
Mr Corbyn told a Fabian conference in London: "Too much of the proceeds of growth have accumulated to those at the top."
He argued: "Everyone benefits when companies succeed. One proposal is pay ratios between top and bottom, so that the rewards don't just accrue to those at the top.
The most ridiculous claims made about Jeremy Corbyn

Show all 11
"Of the G7 nations, only the US has greater income inequality than the UK. Pay inequality on this scale is neither necessary nor inevitable." The High Pay Centre think-tank has calculated that the average chief executive of a FTSE100 company is paid 183 times more than the average wage. It also found that only one-quarter of those firms were Living-Wage accredited.
Mr Corbyn also floated a plan to ban or restrict firms from distributing dividends to shareholders if they are not paying the Living Wage to all staff. "Only profitable employers will be paying dividends. If they depend on cheap labour for those profits, then I think there is a question over whether that is a business model to which we should be turning a blind eye."
He pointed to research by the OECD which concluded that failure to distribute wealth more evenly hinders economic growth. "A more equal society is not only fairer, it does better in terms of economic stability and wealth creation," he said.
The Labour leader argued that train fares would fall and investment increase if the railways were returned to public ownership. "It would be governed not remotely from Whitehall, but by passengers, rail workers and politicians, local and national," he added.
Bringing gas and electricity companies under "democratic control" would also help to reduce costs and ease the transition to carbon-free energy supplies, he claimed.
"Do you know that half of German energy suppliers are owned by local authorities, communities and small businesses? There are now over 180 German towns and cities taking over their local electricity grids, selling themselves cleaner, and cheaper, electricity they increasingly produce for themselves. That is something we as Labour should want to emulate – and the most innovative Labour councils are starting to do so."
Mr Corbyn said that Labour would reverse cuts to social care, introduce universal childcare, create a lifelong education service and embark on a major house-building programme.
"Fairness isn't just an abstract morality that we claim, it is something we together – as Labour – have delivered over decades in Britain," he will say. "[The Conservatives'] concept of fairness is of a very different order to ours. Fairness for only a few is not fairness, but privilege."
He added that the impact of the flooding was exacerbated by cuts to flood defences, that the Tories' "laissez-faire attitude to the steel industry could let a downturn become a death spiral".
Join our new commenting forum
Join thought-provoking conversations, follow other Independent readers and see their replies