Jeremy Corbyn team authorise scathing Facebook post against internal critics for creating 'atmosphere of chaos'
Facebook post on Labour leader's official page lambasts MPs and 'New Labour grandees' for attempting to destabilise him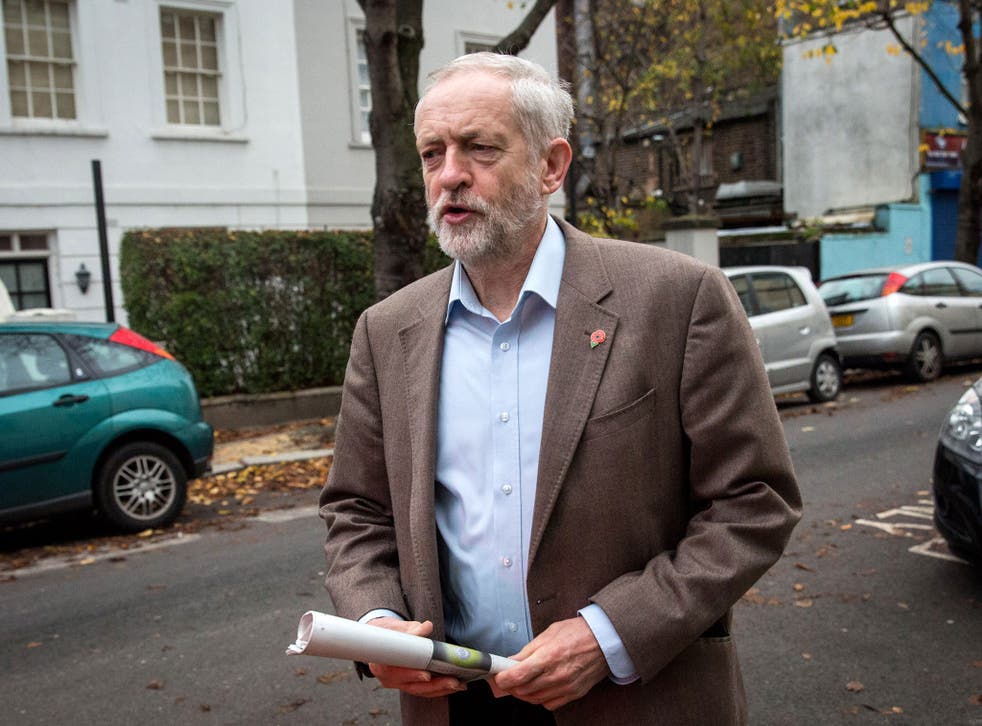 Labour's leadership has authorised a scathing attack on Jeremy Corbyn's internal critics accusing them of creating an "atmosphere of chaos" in the party through "constant sniping" and "bitter attacks".
In the first public response to the criticisms of his leadership, the team beind Mr Corbyn's victory has used their official Facebook page to lambast MPs and "New Labour grandees" for attempting to destabilise the party.
And in what will be perceived as a threat it accuses them of "doing the membership of the party that voted for Jeremy a massive disservice", calling on them to "do your job and represent us".
The post comes after a week in which he has faced public and private criticism for his stance on Trident, Syria and how the British police should respond to a terrorist attack.
The most ridiculous claims made about Jeremy Corbyn

Show all 11
Describing Mr Corbyn's critics as a "vocal" section of the Parliamentary Labour Party, the unnamed author claims their views are not acceptable as part of the debate about Labour's future.
"What we have seen from a small section of the Parliamentary [Labour] Party and some New Labour 'grandees' recently isn't opinion and it's not about debate," the post says.
"It is a constant sniping, undermining and, at times, bitter attack. It's designed to create an atmosphere of chaos. We are here to tell you that we're sick of it. Not only is it now boring, but it is entirely destructive."
The post also accuses some Labour MPs of being in hock to the right-wing media, which is using them to undermine the party.
In a sign of the anger felt by the leadership at the hostile press Mr Corbyn has received, Labour's shadow Chancellor suggested at the weekend that, if elected, the party could "break up" media ownership to thwart the dominance of right-wing newspaper proprietors. In remarks to a conference organised by the Trade Union Co-ordinating Group, and passed to The Independent, John McDonnell branded the press's reaction to Mr Corbyn's massive victory "a disgrace".
"This last seven weeks that we've been in administration, the media assault on us has been, I think, a disgrace to any civilised society," he said.
"I've never been comfortable with the way media ownership is in this country, but it does mean, to be frank, we have to commit ourselves now to media reform… [to] break up the ownership of our media."
He suggested Labour's media image had suffered as a result of its increased willingness to challenge media empires in recent years. Ed Miliband's defiance in taking on Rupert Murdoch was considered the high point of his leadership of the Labour Party.
"To give Ed Miliband his due, he agreed with that [breaking up media ownership] in the last Labour manifesto, that's why they came for him so much. Can I say one way you get round it… is to create our own media?"
He revealed that the Labour leadership was opting for live interviews so that the party was not reliant on "pre-records that can get stitched up" to get its message across.
He said "very few people believe" the "written media" in modern Britain.
The senior Labour politician was responding to a question from a junior doctor over how striking workers could combat media hostility.
Senior Labour MPs, including shadow cabinet ministers, have been noticeably reticent about giving their full backing to Mr Corbyn in media interviews.
The shadow Business Secretary Angela Eagle, who is also shadow First Secretary of State deputising in Parliament for Mr Corbyn, was asked if she would approve of Mr Corbyn and Mr McDonnell holding the "highest offices in the land".
Ms Eagle said that "John McDonnell is our shadow Chancellor" and had been doing "an extremely good job" on economic issues.
She added: "Jeremy Corbyn has been elected as leader of the Labour Party and I, as a member of the Labour Party and member of the Shadow Cabinet ... work with the people that the members elected."
Asked again if the pair were suited to highest office she said: "I work with people the party gives me to work with.
"We all have our strengths and weaknesses and the point of having a party is that you can bring together the collective wisdom and that's what I'm in the middle of doing. It's one of those questions that you want me to answer in a certain way so that you get a headline out of it and I'm not playing that game this morning."
Join our new commenting forum
Join thought-provoking conversations, follow other Independent readers and see their replies