Jeremy Corbyn celebrates election as Labour leader by singing The Red Flag at victory party
The Islington North MP won almost 60 per cent of first-preference votes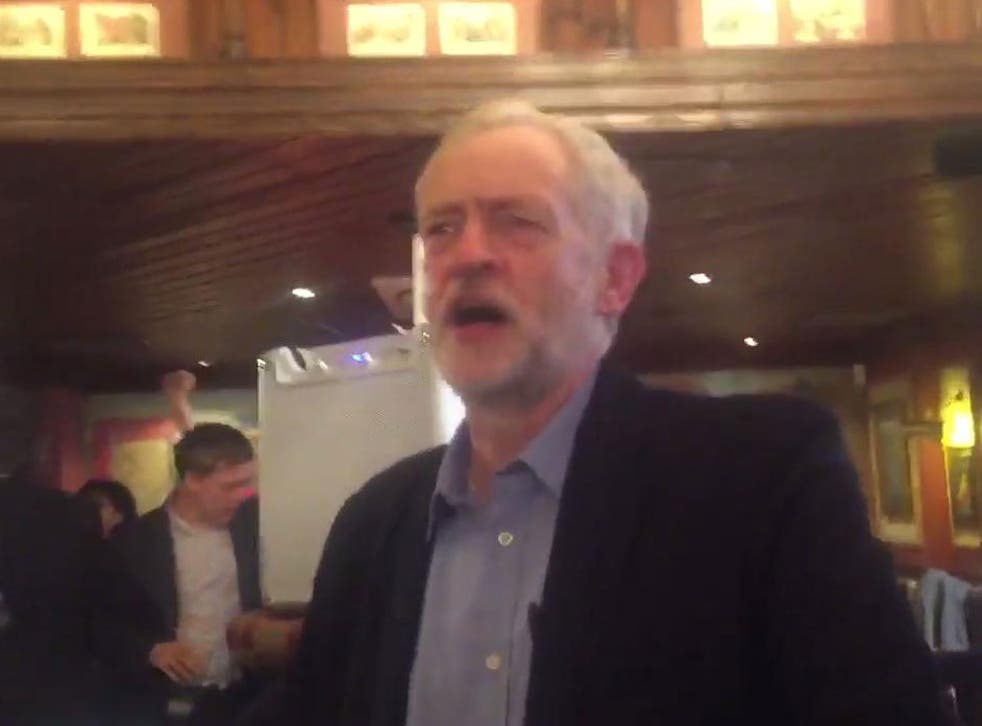 Jeremy Corbyn has celebrated his election as Labour leader by launching into an emotional rendition of socialist anthem The Red Flag at his victory party in Westminster.
His voice could be heard clearly above dozens of jubilant supporters crowded into The Sanctuary as people rose to their feet and punched the air in the background.
In footage taken by The Independent's online political reporter, Matt Dathan, the Islington North MP appeared to be on the brink of tears as more voices joined the song.
"The People's Flag is deepest red," they sang. "It shrouded oft our martyred dead, and ere their limbs grew stiff and cold, their hearts' blood dyed its every fold.
"So raise the scarlet standard high - beneath its folds we'll live and die. Though cowards flinch and traitors sneer, we'll keep the red flag flying here."
The Red Flag, a socialist song written by Irish activist Jim Connell in 1889, is the semi-official anthem of the Labour Party and was traditionally sung at the close of its national conferences, before falling out of favour with the rise of New Labour.
Mr Corbyn had been greeted by chants of "yes we did", echoing Barack Obama's supporters in 2008, when he arrived at the celebration just hours after his victory was announced.
Standing on a chair, he addressed the crowd as chants of "USA! USA! USA!" could be heard in the background – after his celebrations apparently interrupted an American couple's dinner.
"We've been through 100 days of the most amazing experience most of us have had in our lives," thanking everyone who campaigned for him for their support.
Arriving at the party, Mr Corbyn told the Press Association he was "a bit surprised" at the scale of his majority, which he said amounted to a "fantastic mandate for change in British politics, with a fantastic enthusiasm for real democratic politics".
Asked whether he now faces a challenge to construct a shadow cabinet without several senior figures who have said they will not join, the new Labour leader said: "There's going to be an inclusive, open process.
"I hope everyone will recognise the mandate we've received and that party members expect our party to deliver for them in Parliament."
After leaving the pub, Mr Corbyn went on to address thousands of demonstrators at a rally to show solidarity with refugees currently caught up in the global crisis.
Once considered an "outsider candidate" with odds of 200-1 of victory, Mr Corbyn won a bigger landslide than Tony Blair in 1994, taking almost 60 per cent of first-preference votes.
The result was greeted by deafening cheers at the QEII conference centre in Westminster as supporters celebrated at a rally in Hyde Park, but even as he made his victory speech an MP resigned from the front bench.
Several senior MPs have already said they will not serve in their new leader's shadow cabinet, prompting renewed concern that Mr Corbyn will be able to unite MPs while delivering his anti-austerity and anti-war policies.
Join our new commenting forum
Join thought-provoking conversations, follow other Independent readers and see their replies