Jeremy Corbyn accused of breaking a promise he never made on student debt
'What I said was we would deal with it by trying to reduce the burden. We never said we would completely abolish it'
Rachel Roberts
Thursday 27 July 2017 10:50 Comments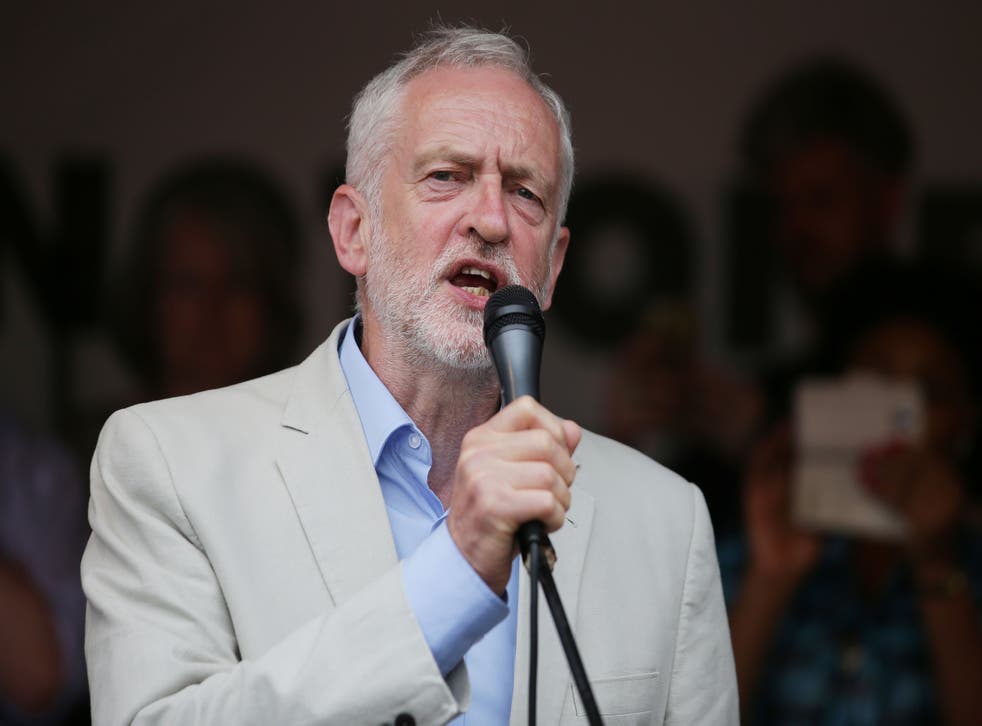 Jeremy Corbyn has been accused of rowing back on a promise he made on cancelling all student debt, despite not having ever made the supposed plege.
The party's manifesto pledged to scrap university tuition fees altogether, making him popular with young people despite criticism from other quarters. But the manifesto made no mention of an amnesty on existing debt to the Student Loans Company, which currently stands at £76bn.
In a pre-election interview with The Independent, Mr Corbyn said he was "looking at ways" to reduce the tuition fee debt of former university students, but did not make a firm commitment.
Asked about the perceived unfairness of his pledge to cancel tuition fees of £9,000 a year from 2018 while leaving those who went to university in the past decade burdened with huge debts, he said: "I appreciate that and we will look into that effect.
"We've not got a policy or proposal on it. There wasn't time between the announcement of the election and the publication of the manifesto but I do understand that point and I'm entirely sympathetic to it."
Asked about the issue in separate interview with NME, the Labour leader elaborated, adding: "There is a block of those that currently have a massive debt, and I'm looking at ways that we could reduce that, ameliorate that, lengthen the period of paying it off, or some other means of reducing that debt burden.
Labour would take Britain out of the EU single market, Corbyn says
"I don't see why those that had the historical misfortune to be at university during the £9,000 period should be burdened excessively compared to those that went before or those that come after. I will deal with it.
"I don't have the simply answer for it at this stage – I don't think anybody would expect me to, because this election was called unexpectedly, we had two week to prepare all of this – but I'm very well aware of that problem."
Mr Corbyn was criticised after an appearance on the Andrew Marr Show where he admitted he was "unaware" of the size of the student loans debt when he said he would "deal with it".
The Labour leader, who is currently ahead of a beleaguered Theresa May in the opinion polls, insisted: "What I said was we would deal with it by trying to reduce the burden of it.
"We never said we would completely abolish it because we were unaware of the size of it at the time."
Universities minister Jo Johnson said in response: "Jeremy Corbyn and his top team made a welter of outlandish promises to young people during the election - including the abolition of student debt - that they are now shamelessly abandoning."
In the past week the Education Secretary, Justine Greening, claimed Labour had "not been honest with young people" and former Tory leader Iain Duncan Smith accused Mr Corbyn of treating students as "election fodder".
UK news in pictures

Show all 50
Mr Corbyn said Labour will make a statement to clarify the matter in the near future following the revelation by Shadow Education Secretary Angela Rayner that cancelling all historic student debt would cost an eye-watering £100bn.
Ms Rayner accused Tory MPs of "wilfully misrepresenting" the party's policy on student debt.
Much of the debt is expected never to be paid off as graduates pay make repayments through the Inland Revenue over many years on a sliding scale according to their income.
Tuition fees were first introduced under the Blair government in 1998, set at £1,000 and with poorer students exempt. Campaigners at the time warned they were bound to increase – which they did, first to £3,000 a year and then to £9,000 a year under the coalition Government, sparking angry protests.
At his party's manifesto launch, Mr Corbyn accused the Tories of holding back students and graduates by "saddling them with debt that blights the start of their working lives".
He said: "Labour will lift this cloud of debt and make education free for all as part of our plan for a richer Britain for the many not the few.
"We will scrap tuition fees and ensure universities have the resources they need to continue to provide a world-class education. Students will benefit from having more money in their pockets, and we will all benefit from the engineers, doctors, teachers and scientists that our universities produce."
The Institute for Fiscal Studies has said the current cohort of students will graduate with an average debt of more than £50,000. Mr Corbyn said before the election that Labour would fund higher education through an increase in corporation tax and national insurance, which he said would cost around £8 billion a year.
Register for free to continue reading
Registration is a free and easy way to support our truly independent journalism
By registering, you will also enjoy limited access to Premium articles, exclusive newsletters, commenting, and virtual events with our leading journalists
Already have an account? sign in
Join our new commenting forum
Join thought-provoking conversations, follow other Independent readers and see their replies