Jeremy Corbyn launches campaign against student tuition fees and labels proposed hike 'a tax on education'
A petition launched by the Labour Party leader accrued almost 60,000 signatures within its first 24 hours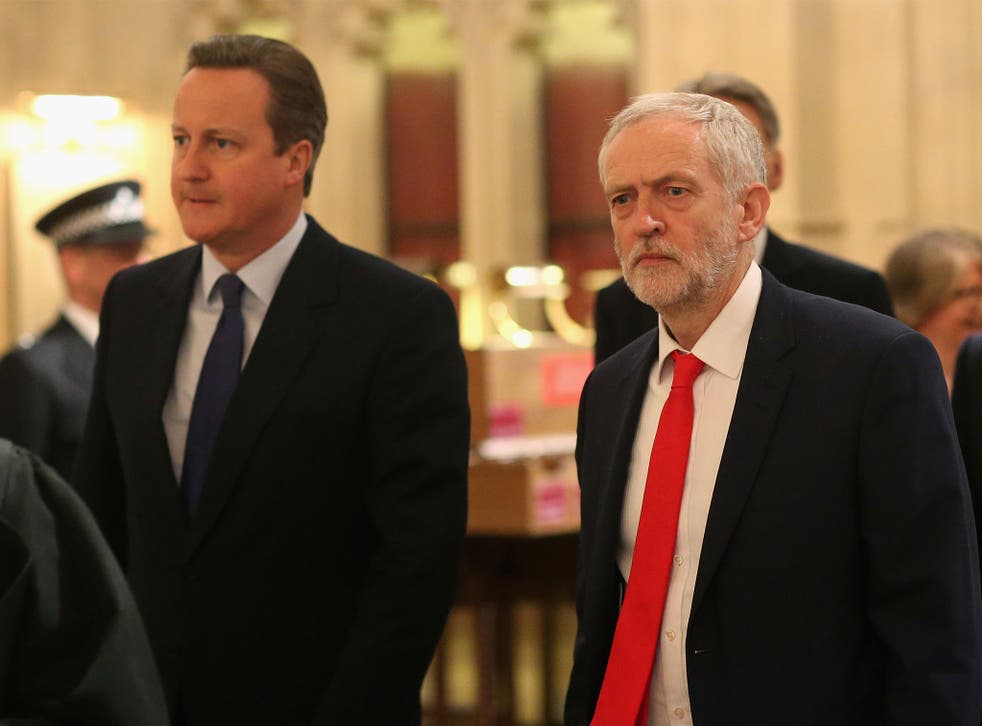 Jeremy Corbyn has launched a campaign to stop David Cameron lifting the cap on university fees.
The Labour leader said the proposals published this week to allow approved universities to increase tuition fees was a clear "tax on learning", and one his party would strongly oppose.
Instead, Mr Corbyn has said he would abolish tuition fees by raising £10bn of taxes from businesses or higher-earners.
The comments follow a number of changes to higher education announced in the Queen's Speech on Wednesday.
So far almost 60,000 people have signed a petition on the Labour party's website opposing the Tory Government's plans, along with a hashtag started by Mr Corbyn on Twitter, #ToryPriceTag.
Speaking in the House of Commons he said: "Students today are more in debt than ever. I want to make it clear to the Prime Minister that he will not get any support from these benches on raising tuition fees."
"This government is penalising students, announcing the abolition of maintenance grants last year and now announcing that fees will be raised even further. This is a tax on learning, as [George Osborne] the Chancellor of the Exchequer called it in 2003, from a government that cut taxes on capital gains."
"What message does that send about the economy they want to create? That wealth generates more wealth with minimal tax. That effort and hard work lands you in a lifetime of debt, with no support. What an insult to the aspirations of young people wanting an education."
Earlier this year Mr Corbyn said England should be "utterly ashamed" for having the highest level of tuition fees in the developed world, regardless of how highly regarded the British education system may be.
In his response to the Queen's speech, the Labour leader likened the government to a "driverless car" with ministers asleep at the wheel.
His comments echo those written by the Chancellor of the Exchequer more than 12 years ago, in a letter which came to light this week.
Then MP for Tatton, Cheshire, Mr Osbourne said university tuition fees were "a tax on learning" and "very unfair", before pledging to scrap them entirely with the next Conservative Government.
On Monday, government ministers sparked outrage by announcing in a new White Paper that higher education institutions which meet national quality standards will be allowed to raise fees above the current maximum of £9,000 accordingly.
The new measures are said to be designed to help tackle a skills shortfall in some employment sectors as well as encourage universities to provide a higher quality of teaching.
The National Union of Students (NUS) said it was "extremely concerned" about the plans and strongly opposed the "marketisation" of the higher education sector.
Megan Dunn, NUS National President said: "Higher education is facing its biggest overhaul in decades and it's crucial the government gets this right. The higher education white paper revealed a number of concerning proposals and NUS will be fighting against the further marketisation of the sector."
"We strongly oppose any further rise to already exorbitant tuition fees, particularly if they are linked to a teaching excellence framework, and we believe new providers must meet strict requirements so students aren't ripped off."
Join our new commenting forum
Join thought-provoking conversations, follow other Independent readers and see their replies