A third of Labour voters less likely to vote for the party with Jeremy Corbyn in charge, with critics already plotting to oust him
Exclusive: Poll says three in four of Britons think he doesn't look like a PM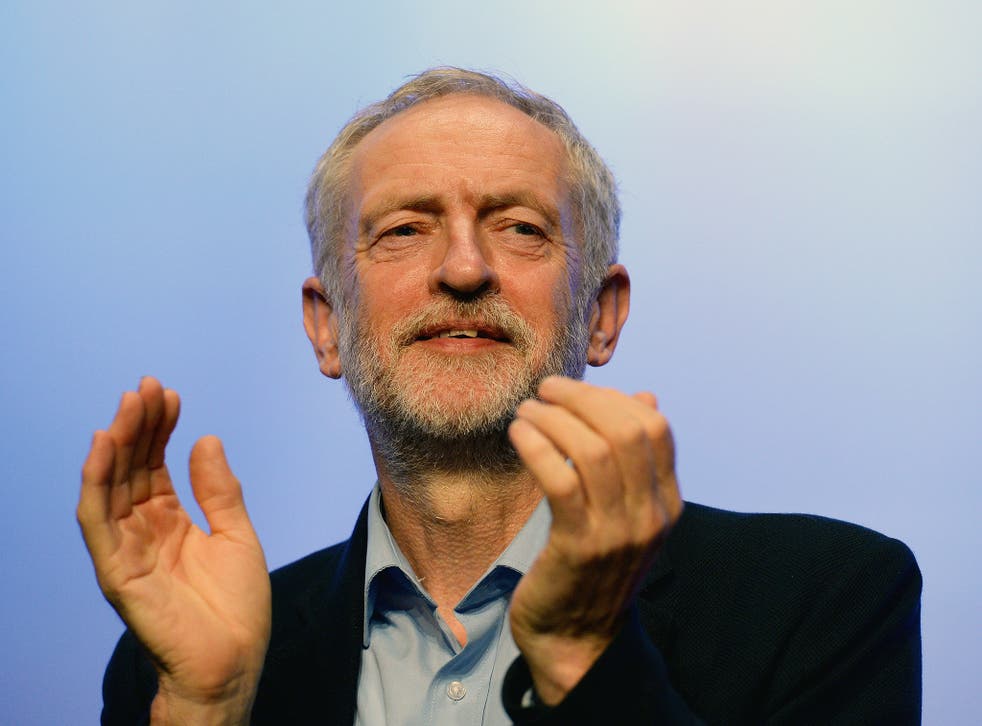 Almost three in four people do not believe that Jeremy Corbyn looks like a prime minister-in-waiting, according to a poll for The Independent.
A survey of 2,000 people found that Mr Corbyn's election as Labour leader has made one in five people who voted for his party at the May general election more likely to vote Conservative next time. Some 37 per cent of Labour voters say they are less likely to back the party at the next election.
The ORB findings will fuel the debate among Labour MPs after what many view as a poor performance by Mr Corbyn in his first week as leader. Critics are already plotting how to remove the veteran left-winger, with some saying they will move against him if Labour fails to win the London mayoral election next May.
The survey, conducted on Wednesday and Thursday, found only 28 per cent of people agree with the statement "Jeremy Corbyn looks like a prime minister-in-waiting", while 72 per cent disagree.
Even those groups Mr Corbyn is championing seem to doubt his credentials as a leader of the country. A majority (67 per cent) of those in the bottom DE social group do not see him as prime ministerial. Nor do 68 per cent of public sector workers. People who voted Labour in May are divided: 53 per cent see him as a prime minister-in-waiting, while 47 per cent do not.
However, there are some rays of hope for Mr Corbyn, whose allies insist he still has time to win over the public. The poll suggests his anti-austerity message could revive Labour's prospects in Scotland, after its rout at the hands of the Scottish National Party in May. Some 36 per cent of people who voted SNP then say they are more likely to vote Labour at the next general election with Mr Corbyn as leader.
People in Scotland, Wales, the North-east of England and London are more likely than voters in other regions to regard Labour as more electable than in May. Overall, 59 per cent of the public believe Labour looks less electable than it did in May, while 41 per cent think it looks more electable. This is an improvement since July when, in the middle of Labour's leadership contest, 76 per cent of people judged the party less electable than in May and 24 per cent saw it as more electable.
As Mr Corbyn completed his frontbench line-up, he handed a job to the peer who devised the leadership election reforms that gave 120,000 supporters a vote if they paid £3. Lord (Ray) Collins of Highbury will serve as a party whip and member of the international development team. Sir Keir Starmer, the former Director of Public Prosecutions who is tipped as a future Labour leader, joined the shadow Home Affairs team.
Lucy Powell, the shadow Education Secretary, said Labour would adopt Mr Corbyn's pledge during the leadership election to bring free schools and academies under the control of local politicians. The shift is another break with the Blair era. She told TES: "The Labour academies programme was never intended to be what it is today; it was a school improvement, school-building, investment programme. It was about a very small number of schools that needed a radical overhaul – and that served that time. What we are seeing today is nothing like what went before."
Ms Powell added: "Academies and free schools will remain. They will still exist as schools, but they will come under a different accountability system that will be local. In some places that will be the local authority; in other places that may be the combined authority; and in other places it might be an elected mayor."
Tim Farron, the new Liberal Democrat leader, will attempt to capitalise on Labour's shift to the left at his party's conference by accusing Mr Corbyn of taking Labour back to the 1980s. "Labour seems to be suffering a collective bout of nostalgia," he is expected to say. "They remember the camaraderie of belonging to a crowd of zealous, committed, energetic people. But I remember that there wasn't a single minute in the whole of the 1980s when the Tories were not in power."
Mr Farron told The Independent that Labour's move to the left had created "a very large potential vacated space in the British political landscape" that the Lib Dems intended to fill. "We are people who are economically competent and economically literate but don't think shrinking the state is aspiration," he said.
Join our new commenting forum
Join thought-provoking conversations, follow other Independent readers and see their replies