Majority of British voters agree with Corbyn's claim UK foreign policy increases risk of terrorism
Interventions in Iraq, Afghanistan and Libya have made atrocities on UK soil more likely, majority of public believe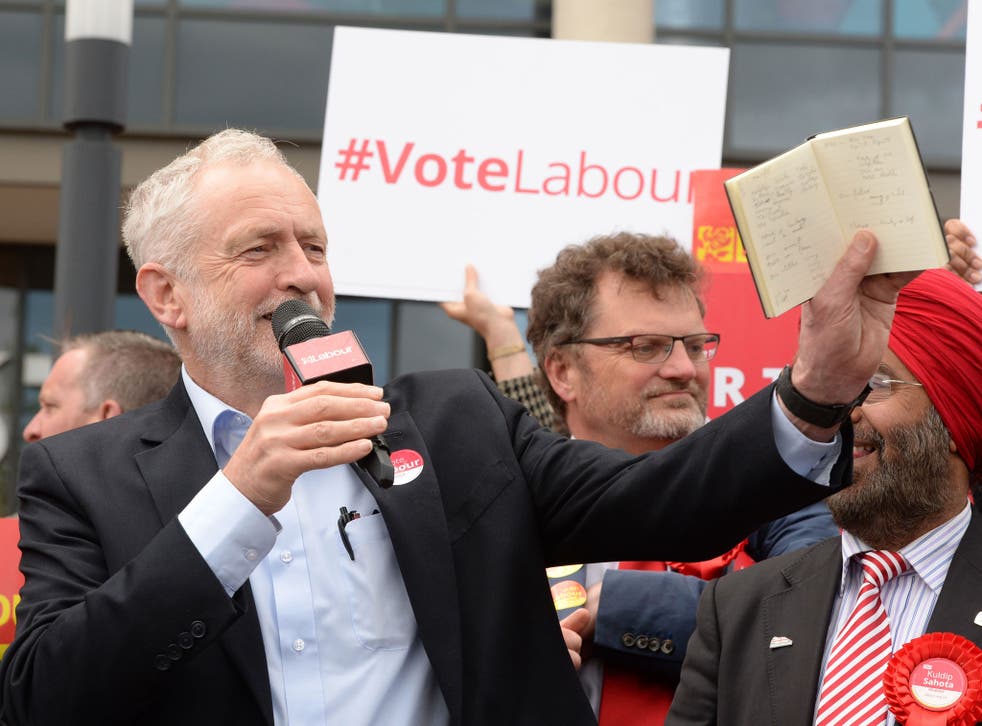 An overwhelming majority of people agree with Jeremy Corbyn that British involvement in foreign wars has put the public at greater risk of terrorism, according to a new poll.
The exclusive ORB survey for The Independent found 75 per cent of people believe interventions in Iraq, Afghanistan and Libya have made atrocities on UK soil more likely.
The poll – conducted before Saturday night's devastating attack – comes after Mr Corbyn was lambasted for suggesting foreign policy decisions were linked to terrorism in the UK and that the "war on terror" had failed.
The deadly strike at London Bridge and Borough Market, the third attack in Britain in as many months, has seen security dominate the final days of the election campaign, with cabinet ministers squabbling over whether it could have been stopped.
Theresa May's record as Home Secretary has been questioned and she has faced a call to resign over the matter from Mr Corbyn, not to mention a former aide to ex-Prime Minister David Cameron.
In the wake of the Manchester attack, which killed 22 people last month, the Labour leader highlighted the potential role foreign military interventions play in increasing the likelihood of atrocities in the UK.
Despite experts like Baroness Eliza Manningham-Bullerformer, a former MI5 chief, and Baroness Pauline Neville-Jones, ex-chair of the Joint Intelligence Committee, expressing similar views, he was accused by Conservatives of making excuses for terrorism.
But the ORB survey for The Independent found three-quarters of people – taking in all age groups, political persuasions and social classes – agreed Britain's military involvement in Iraq, Afghanistan and Libya had increased the risk of terrorist acts.
Within that, some 68 per cent of Tory voters agreed foreign wars have enhanced the risks of terrorism at home. So did 80 per cent of Labour supporters and 79 per cent of people that voted for the Liberal Democrats in 2015.
UK General Election 2017

Show all 47
On the campaign trail on Tuesday, Conservative cabinet ministers Amber Rudd and Boris Johnson – who have a history of antagonism – clashed after it emerged that one of the London Bridge attackers was allowed to "slip through the net".
When Foreign Secretary Mr Johnson made the comment, Home Secretary Ms Rudd, responsible for the security services, hit back: "It's not really for me, or for the Foreign Secretary, to say how that happened or what happened."
The fallout from the London Bridge massacre, which left seven dead, has also seen former police officers attack heavy cuts suffered by forces across the country – with official figures showing a drop of 20,000 since Ms May took charge at the Home Office in 2010.
Jim Gamble, former head of Special Branch in Belfast, said there were now "fewer eyes and ears on the street", former Met senior inspecting officer Peter Kirkham said the police service was "in crisis" due to cuts, while a serving officer writing for The Independent said Saturday's attack was in part a consequence of the reductions.
Questioned over Ms May's responsibility and whether she should resign, Mr Corbyn said earlier this week: "Indeed I would.
"There's been calls made by a lot of very responsible people on this, who are very worried that she was at the Home Office for all this time, presided over these cuts in police numbers and is now saying that we have a problem – yes, we do have a problem, we should never have cut the police numbers."
General Election polls and projections: June 6
It followed a similar call from David Cameron's former policy guru Steve Hilton who accused Ms May of "shifting blame" and said she should resign over "security failures".
The Prime Minister was repeatedly challenged over her record as Home Secretary at an election campaign event in London on Monday in which she told reporters: "Cressida Dick [Met Commissioner] has said that the Metropolitan Police are well resourced – and they are, she has said they have very powerful counter-terrorism capabilities – and they do.
"We have protected counter-terrorism policing budgets, we have funded an uplift in the number of armed police officers."
Despite Labour's promise to recruit an extra 10,000 officers, the ORB poll conducted before Saturday found that twice as many people, some 44 per cent, believe the Conservatives have the best policy on security, including terrorism and defence, compared to Labour's 21 per cent.
With Mr Corbyn hit with constant questions over his approach to the UK's nuclear deterrent, even 19 per cent of Labour's voters from 2015 believe the Tories have the best policy on security, as do 36 per cent of those who voted Liberal Democrat last time.
Seven out of 10 over-65s said the Tories have the best security policies, while only 9 per cent named Labour. The only age group to give Labour a lead on the issue was 25 to 34-year-olds.
Despite the terror deaths in the middle of the election campaign, security does not appear likely to be a major influence when people decide how to vote.
Only 8 per cent said it will be the most important issue – fewer than Brexit, the economy, the NHS and who is the best candidate for prime minister – but more than the number citing social care and education. However, the London Bridge attack, coming so close to polling day, could change that.
ORB interviewed online 2,038 people adults aged 18+ throughout the UK on 31 May and 1 June