Jeremy Corbyn reveals first official policy: To renationalise the railways
'We know there is overwhelming support from the British people for a People's Railway'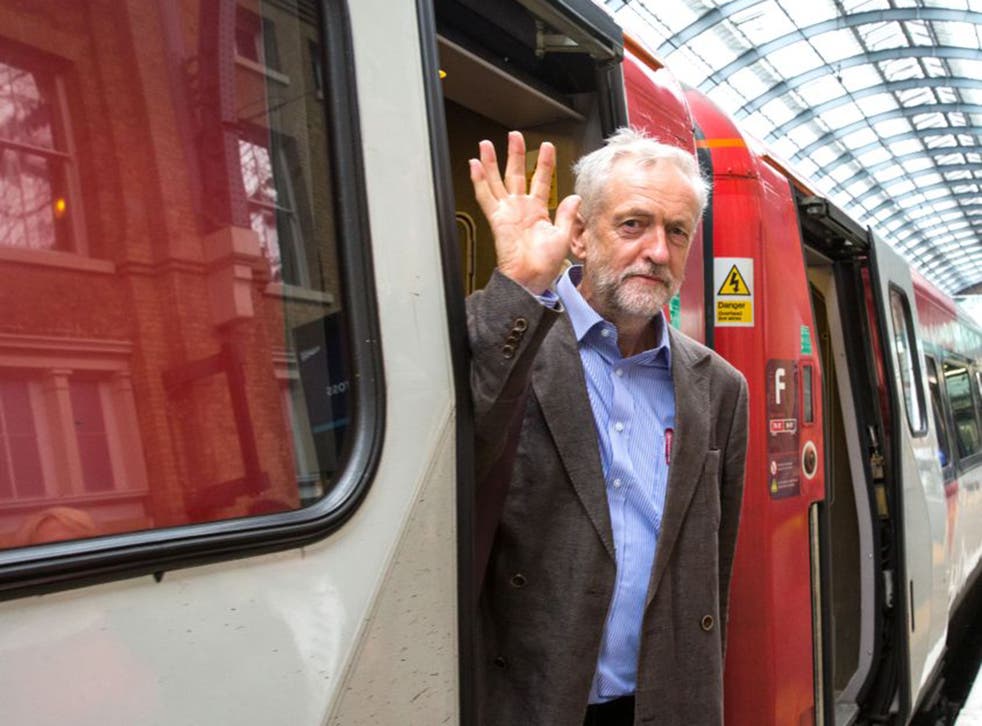 Jeremy Corbyn unveils his first official policy since becoming leader of the Labour Party, with plans for a "People's Railway" under which his government would fast-track a renationalisation of England's rail network.
The plans would lead to a third of franchises being brought under public ownership by 2025 if he became prime minister at the next election. Mr Corbyn will announce that each route would be renationalised when its franchise expired. Some five out of 16 franchises are due to expire between 2020 and 2025, including East Coast, Southern and TransPennine Express.
Mr Corbyn will make rail renationalisation Labour Party policy at his first conference as leader, which starts in Brighton next Sunday. The move will fuel the Conservative Government's claim that the new Labour leader is a threat to the economy. However, a poll two years ago showed that two-thirds of voters support renationalisation.
The Labour leader told The Independent: "We know there is overwhelming support from the British people for a People's Railway, better and more efficient services, proper integration and fairer fares. On this issue, it won't work to have a nearly-but-not-quite position. Labour will commit to a clear plan for a fully integrated railway in public ownership."
The policy is the clearest statement of intent by Mr Corbyn that he plans to push ahead with his agenda, despite backing down on other issues in his first week. The Labour leader performed a U-turn over singing the national anthem at official engagements, ruled out leaving the European Union and also signalled that he would not push ahead with scrapping a renewal of Trident by appointing a team of shadow defence ministers who are all in favour of the nuclear deterrent. Also during his first week, newly appointed shadow Chancellor John McDonnell apologised for comments about the IRA that he made in 2003.
But Mr Corbyn is making clear he intends to progress his central policies on rail, the economy and welfare. Bringing rail franchises into public ownership as they expire had been backed many times at the party's conferences but successive leaders had ignored the policy. A party source said this time it will get approval by the leadership.
The new shadow Transport Secretary, Lilian Greenwood, will head a party taskforce to develop the plans. The move will indicate to the public that "change is overdue", the source said. The taskforce will invite contributions from transport and disability-access campaigners, passenger groups, local authorities, rail-industry representatives and rail employees as part of what Labour called an "inclusive process".
A YouGov poll in 2013 showed 66 per cent of people support public ownership of railways, including 52 per cent of Tory voters.
While the East Coast mainline was temporarily under public ownership between 2009 and 2015 it achieved high passenger satisfaction and punctuality scores.
Best and worst of Britain's railway

Show all 12
Ms Greenwood said: "We are going to put into practice Jeremy's commitment to a new type of politics by using this taskforce to get a very broad range of views about what this new model of public ownership will look like. But we are going to start from the principle that franchises will be brought into public ownership when they expire."
The cost of taking all routes into public ownership immediately would be billions of pounds but supporters of part-renationalisation, where routes are brought into state control when franchises expire, claim there would be minimal cost to the taxpayer because the operator would make money from fares.
Private rail companies are already heavily subsidised by the Government. Other countries operating state-run rail networks include France, Canada, Germany and Italy, although in the latter two local train services are open to private tender.
Rail fares have soared above the rate of inflation since 2004 and from January will have risen by up to 35 per cent since 2010.
The Labour taskforce will examine how public ownership could reduce the cost to the taxpayer of Britain's heavily fragmented rail network, which the party said is up to 40 per cent less efficient than the best-performing European railways, and remove the burden to the taxpayer of administrating bids for franchises, which cost private operators up to £10m to prepare.
It will also draw up plans to reverse declining passenger satisfaction, address overly complex ticketing and compensation arrangements and deliver integration with other modes of transport such as buses and cycling.
Join our new commenting forum
Join thought-provoking conversations, follow other Independent readers and see their replies