Jeremy Corbyn's Momentum activist network runs voter registration drive at student protest
10,000 students took to the streets, organisers say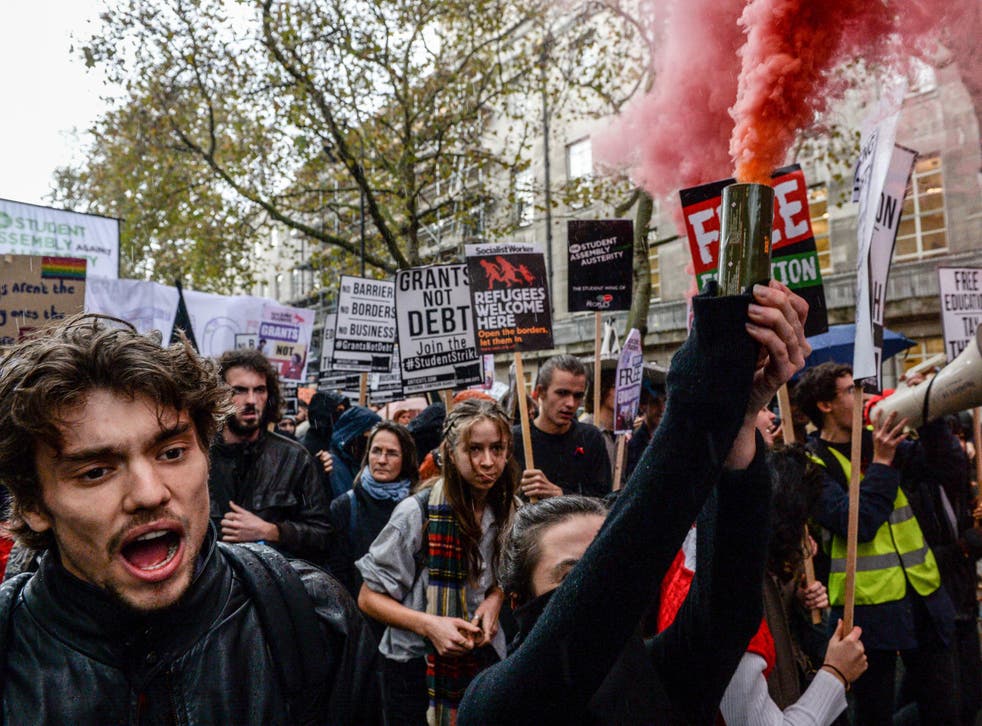 The Labour-supporting campaign network spawned from Jeremy Corbyn's leadership campaign used Wednesday's student demonstration in London to register new voters, it says.
Momentum is trying to register as many of the 1.9 million voter entries expected to drop off the electoral register because of the way the Government is moving towards a new way of registering voters.
The group says the protest, which was against tuition fees and cuts to grants, was a particularly useful opportunity to register voters because students and young people are amongst the groups most at risk of dropping off lists.
Organisers say that more than 10,000 people turned up to the march, which was attended and addressed by shadow chancellor John McDonnell.
Activists handed out leaflets with information on how to register and directed people to register on-the-spot on their smartphones.
The voter registration drive is particularly urgent because the number of people on the register at the end of this month will be used to set constituency boundaries for the next election – meaning constituencies with under-registration could drop off the map.
An analysis reported by the Independent last month found that the UK's poorest areas are set to lose twice as many voters as the country's richest areas outside London.
The Government is proceeding with the transition to electoral registration a year early, against Electoral Commission advice.
Emma Rees, a Momentum organiser, said the group also supported the principle of the protest, which is backed by the Labour leadership.
"Students and young people have been some of the worst hit by austerity over the last five years and now student areas are likely to receive less representation in Parliament. We must stand with students to protect their rights and demand free education, open to all," she said.
"John McDonnell's speech demonstrated how the Labour Party is becoming the natural home for a considerable number in the student movement and we are delighted to see so many joining the Party."
The organisation urged people "in any doubt" about their registration to take five minutes to register from a smartphone.
Information required to register, which can be done at www.gov.uk/register-to-vote, is a name, address, date of birth, and national insurance number.
At least twelve demonstrators at the National Campaign Against Fees and Cuts-organised protest were arrested after scuffles broke out with police along the route.
The Government has defended the early switch to the new individual-focused register and said it believed enough people had signed up for it to be viable.
Officials also point out that some people not covered by the new IER list may be data errors rather than real people still living at that address.
The Cabinet Office said it would work with local authorities to make sure as many people were registered as possible and added that individual voter registration was a vital reform to Britain's political system.
"Individual electoral registration is absolutely key to tackle election fraud. We are working with local authorities to remove ghost voters who don't exist or have moved on, to make sure we have a clean and fair electoral roll," John Penrose, Minister for the Constitution, said.
"This system has been tried and tested in Northern Ireland for over a decade, where there were once serious concerns about electoral fraud.
"The answer to under-registered groups like young people or expatriates is not to stuff the electoral rolls - and potentially the ballot boxes - with the names of people who don't exist, but instead to run a vigorous and energetic voter registration campaign. Which we will do."
The boundary review was due to go ahead before the 2010 general election but was blocked by the Liberal Democrats in response to Conservative MPs blocking House of Lords reform.
Join our new commenting forum
Join thought-provoking conversations, follow other Independent readers and see their replies