Jeremy Corbyn's plan to address anti-Trident rally risks fresh confrontation with Labour MPs
The Campaign for Nuclear Disarmament announced that the Labour leader would be a star speaker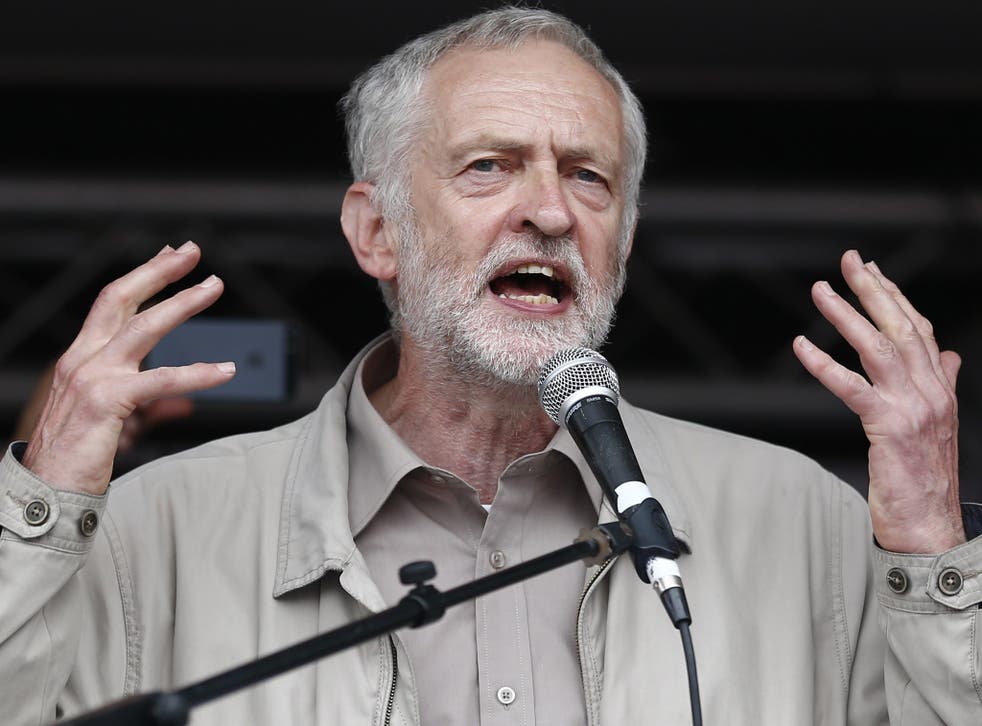 Jeremy Corbyn is to address a major anti-Trident rally, risking a fresh confrontation with Labour MPs bitterly opposed to his unilateralist stance, it has been claimed.
The Campaign for Nuclear Disarmament announced that the Labour leader would be a star speaker at the demonstration taking place in Trafalgar Square on February 27.
A spokesman for Mr Corbyn confirmed he had been asked to address the event, but said he was yet to decide whether to accept the invitation.
The issue of whether Britain should renew the ageing Trident nuclear weapons fleet has split the shadow Cabinet and the Labour Parliamentary Party. Mr Corbyn has also come under fire from internal critics over his close links with CND, which recently appointed him to the post of vice-president.
CND says the rally, which will follow a march from Hyde Park, will be addressed by Mr Corbyn, the Scottish First Minister Nicola Sturgeon, the Green MP Caroline Lucas and Plaid Cymru's leader, Leanne Wood.
A shadow Cabinet minister told the Independent: "Everyone knows there's a division of opinion on Trident, there's no disguising that. But it's a shame if Jeremy chooses to advertise it when we should be focusing on everyday issues and taking an active party in the EU referendum."
The Labour MP John Woodcock said: "At a time when we've already been plunged into unnecessary, inward-looking turmoil on this issue, choosing to speak at this demonstration on an issue which Labour cannot change would seem like a terribly divisive act.
"I just hope, even at this late stage, that Jeremy and those around him recognise what many people are saying – a lot of whom are anti-Trident – that Labour should be concentrating on holding the government to account on all the things hurting families now."
The Government is set to exploit Labour's woes on the subject by staging a Commons vote on Trident renewal. It could be held as early as next month ahead of the Scottish, Welsh, London and local council elections in May.
Labour MPs are pressing the Corbyn leadership to allow a free vote on the issue, while it has also been suggested that they could be allowed to abstain in any vote on Trident's renewal.
The Labour leader sparked uproar at his party conference last year by saying he could never push the nuclear button as Prime Minister, with critics complaining that position would make a mockery of having nuclear weapons.
UK news in pictures

Show all 50
In his shadow Cabinet reshuffle last month he moved Maria Eagle, a supporter of Trident's renewal, from the post of shadow Defence Secretary and replaced her with Emily Thornberry, who is a strong unilateralist.
The MP for Tottenham, David Lammy, who is regarded as being in the party mainstream, said he "could not in all conscience" approve the cost of a like-for-like replacement for Trident.
"For me the renewal of Trident is inextricably linked with the lack of resources and austerity we see across the country," he told the London Evening Standard.
"I could not in all conscience vote for renewal worth £31bn or more when this is happening. For these reasons I support the demo."
Join our new commenting forum
Join thought-provoking conversations, follow other Independent readers and see their replies