Jeremy Corbyn takes down right-wing media reports in Labour conference speech
The Labour leader made light work of reports carried by the Daily Mail, Express, Mail on Sunday and The Times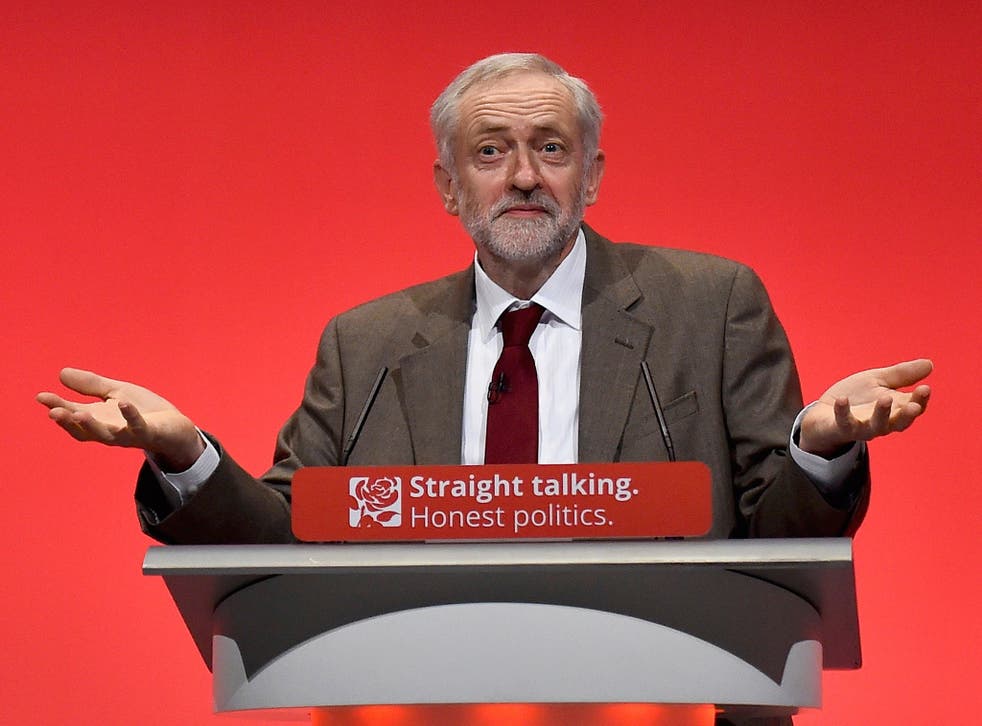 Jeremy Corbyn has opened his first leader's speech at Labour's annual conference with a stinging attack on right-wing newspapers.
He has been criticised for everything from failing to sing the national anthem to not going to the Rugby World Cup, while his reported relationship with Diane Abbott in the 1970s and a 2004 early day motion on "pigeon bombs" have been pored over.
But Mr Corbyn chose today to examine some of the more outlandish reports of his past conduct – starting with the Daily Mail.
"You might have noticed in some of the newspapers that they've taken a bit of an interest in me," he joked.
"I haven't read them all but some of the things I've read are this: According to one headline 'Jeremy Corbyn welcomed the prospect of an asteroid wiping out humanity'.
"Now, asteroids are pretty controversial and it's not the kind of policy I'd want this party to adopt without a full debate in conference, so can we have the debate later in the week?"
Corbyn's party conference speech in 60 seconds
Mr Corbyn went on to highlight the Mail on Sunday's publication of a short story by David Thomas called 'The 1,000 Days that Destroyed Britain', which imagined life with him as Prime Minister.
"It's pretty scary, I have to tell you," Mr Corbyn said.
"It tells us football's Premier League would collapse. Now that makes actually a lot of sense because it's quite difficult to understand how all our brilliant top 20 teams in the Premiership would cope with playing if an asteroid had wiped out humanity."
The Labour leader went on to dismantle the Daily Express's exposé of "the evil monster haunting Jeremy Corbyn's past".
"My great-great-great- grandfather, who I've never heard of before, was a very unpleasant sort of chap who apparently was involved in running a workhouse," he said.
"I want to take this opportunity to apologise for not doing the decent thing and going back in time and having a chat with him about his appalling behaviour."
The next target was a report in The Times referring to Mr Corbyn, known for his cycling, riding a "Chairman Mao-style bicycle".
"Less thorough journalists might have referred to it as just a bicycle, but no, so we have to conclude that whenever we see somebody on a bicycle from now on, there goes another supporter of Chairman Mao," he joked.
Mr Corbyn has not been shy of criticising the media, speaking out against sections of the press within minutes of being elected as Labour leader as he warned journalists to leave his relatives alone.
"There have been through the most appalling levels of abuse from some parts of our media," he said in his victory speech. "It's been intrusive, it's been abuses, it's been simply wrong."
The Islington North MP went on to ruffle feathers by declining to conduct major television interviews on his first morning as Leader of the Opposition.
It later emerged that he turned down an invitation on to the BBC's Andrew Marr Show to attend a fundraising event for a mental health trust in his constituency.
Join our new commenting forum
Join thought-provoking conversations, follow other Independent readers and see their replies