Jeremy Hunt faces backlash over claim that relatives do not do enough to support the elderly
Age UK director says we need 'stronger local support for isolated older people'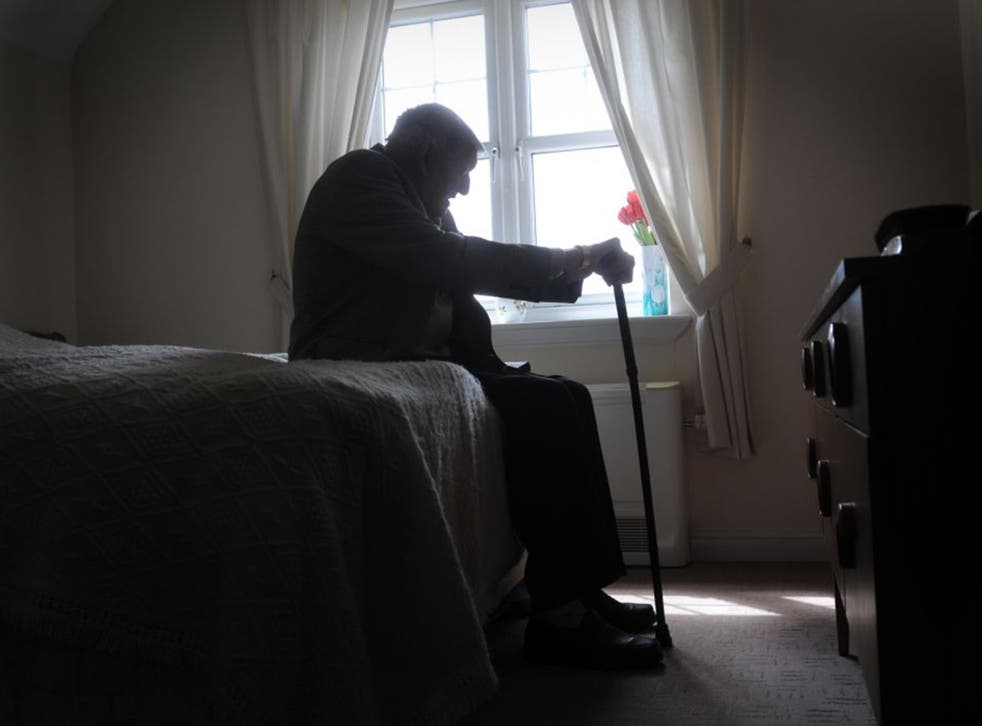 Britain's leading charities supporting the elderly have hit back against Jeremy Hunt's claim that relatives are not doing enough to support family members in old age.
In a speech on personal responsibility to the Local Government Association last week, the Health Secretary said people should consider inviting elderly relatives to live with them to combat the growing problem of social isolation.
He pointed out that every year councils fund and arrange 2,900 "lonely funerals" for people who die alone – a rate of eight a day.
Mr Hunt said: "Are we really saying these people had no living relatives or friends? Or is it something sadder, namely that the busy, atomised lives we increasingly lead mean that too often we have become so distant from blood relatives that we don't even know when they are dying?
"If we are to rise to the challenges we face, taking care of older relatives and friends will need to become part of everyone's life."
Mary Rance, chief executive of Contact the Elderly, said Mr Hunt's call for action simply mirrored what the charity has been doing for 50 years, and said a much more integrated strategy was needed.
"It is very easy to say that the responsibility lies with family, but in truth many of the 4,700 older people that we support are not fortunate enough to have a family, and therefore rely solely upon the family environment created by our committed volunteers," she said. "While it is reassuring to know that government is acknowledging the issue of social isolation among older people, we would urge that loneliness be made a public health priority."
It is estimated that by 2030 there will be two million people aged over 65 without children, so the demand for the services provided by charities such as Contact the Elderly will continue to grow, she added.
Mrs Rance said the charity, which specialises in combating social isolation among those aged 75 and above by hosting weekly tea parties, is always looking for volunteer drivers and hosts to "help us to bring laughter back into their lives".
She said: "We have ambitious targets to double the reach of our service over the next five years, and we know that we can't do this alone. Everybody must play their part; the public, communities, individuals, charities and the Government. We must all work together to eradicate loneliness among the million older people who are off the radar."
Caroline Abrahams, charity director for Age UK, said funding for charities that worked with the elderly had been "severely hit" over the past five years.
She said: "Families can't do it all, and what is needed is stronger local support for isolated older people. Government has a big responsibility too, yet funding for local charities, such as local Age UKs, to support lonely people has been severely hit over the past five years as a consequence of the cuts to council budgets. These cuts have also shredded social care and left many more older people to struggle on alone."
Ms Abrahams said this week's emergency Budget and the Spending Review later this year were "great opportunities for the Government to demonstrate it is as good as its word when it comes to encouraging more local support for isolated and lonely older people".
The calls came as a scheme set up by a group of Warwickshire GPs to reduce dependence on the health service and tackle social isolation appears to have proved successful. Prime 75+, established by the Prime GP group, was set up at four practices across the county and involved an over-75 coordinator contacting patients at risk from social isolation, such as recent widows and widowers. They were given a "wellness check" and anyone deemed to be lonely was put in touch with contemporaries in the same situation, and social events were arranged. One recent tea party attracted 300 people. Early data shows the project, involving hundreds of patients, has resulted in a 20 per cent drop in GP consultations.
"The idea is to identify who might be socially isolated, assess their social and financial needs, as well as check for depression and dementia, to prevent a crisis before it occurs," Dr Karen Clarke, Prime GP founder, explained. "We know that elderly people occupy two-thirds of hospital beds, so if we can offer solutions to problems before they begin, we can break the cycle and reduce the need for medical intervention. It improves the quality of someone's life and is a cost saving."
Dr Clarke said the project could be expanded to other age groups, chronic disease groups, and other parts of the UK.
Join our new commenting forum
Join thought-provoking conversations, follow other Independent readers and see their replies