Jeremy Hunt accused of watering down flagship A&E target to treat all patients within four hours
Health Secretary tells MPs the standard should only be for 'those who actually need it', sparking accusations it will be jettisoned for patients judged to be non-urgent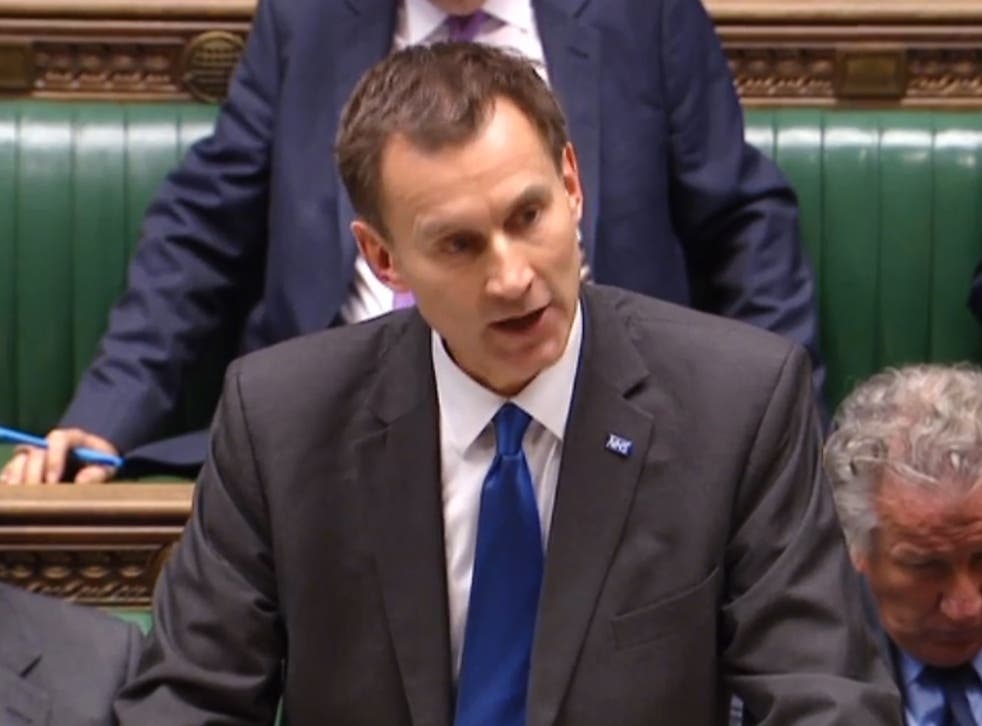 Jeremy Hunt has been accused of watering down the flagship target to treat all A&E patients within four hours, amid growing fears of an NHS crisis.
The Health Secretary told MPs the promise – introduced by Tony Blair's government in 2000 – should only be for "those who actually need it".
Amid jeers in the Commons, Mr Hunt said only four other countries pledged to treat all patients within a similar timeframe and all had "less stringent" rules.
He announced a fresh drive to divert non-urgent cases away from swamped casualty departments in order to "protect services for the most vulnerable".
And he told MPs: "If we are going to protect our four-hour standard, we need to be clear it's a promise to sort out all urgent health problems within four hours – but not all health problems, however minor."
There are nine million more visits to A&E since the four-hour standard was set, Mr Hunt said – and an estimated 30 per cent of visits are not emergencies.
The Department of Health insisted later that there had been "no change in position" over the four-hour A&E waiting time targets in England.
But the statement was strongly criticised by Labour, which demanded to know if the standard was being jettisoned.
Jon Ashworth, shadow Health Secretary, said: "Is [Mr Hunt] now really telling patients that, rather than trying to hit the four-hour target, the Government is now, in fact, rewriting and downgrading it?
"If so, does NHS England support this move – and what guidance has he taken from the Royal College of Emergency Medicine that this is an appropriate change?"
And Norman Lamb, for the Liberal Democrats, said: "Ditching the four-hour target is a slippery slope towards the downgrading of standards of care across the NHS.
"If the Health Secretary thinks it is acceptable for patients to be left waiting indefinitely in A&Es, or that this is a solution to the severe pressures facing the NHS, then he is sorely mistaken."
Last summer, only 86 per cent of patients were being seen within four hours, way short of the 95 per cent required – even before "winter pressures".
Mr Hunt ducked Labour's questions, but also announced new freedoms for NHS hospitals to cancel outpatient appointments, as problems intensify. The move would be part of "a series of further measures which may be taken in particularly distressed systems on a temporary basis", he said.
In a statement, Mr Hunt told MPs: "These may include temporarily releasing time for GPs to support urgent care work, clinically triaging non-urgent calls to the ambulance service for residents of nursing and residential homes before they're taken to hospital, continuing to suspend elective care, including, where appropriate, suspension of non-urgent appointments."
The statement came after the Red Cross – which is shoring up services in 20 A&E departments – claimed there was a "humanitarian crisis" in the health service.
More than a dozen hospitals have 100 per cent of their beds in use – whereas, over the past five years, there has never been a three-month period where more than one hospital was at full capacity.
Join our new commenting forum
Join thought-provoking conversations, follow other Independent readers and see their replies