Jeremy Hunt says people are willing to pay higher taxes amid NHS funding row
Health secretary says the public was open to the idea of tax hikes 'provided they can see that it is not being wasted'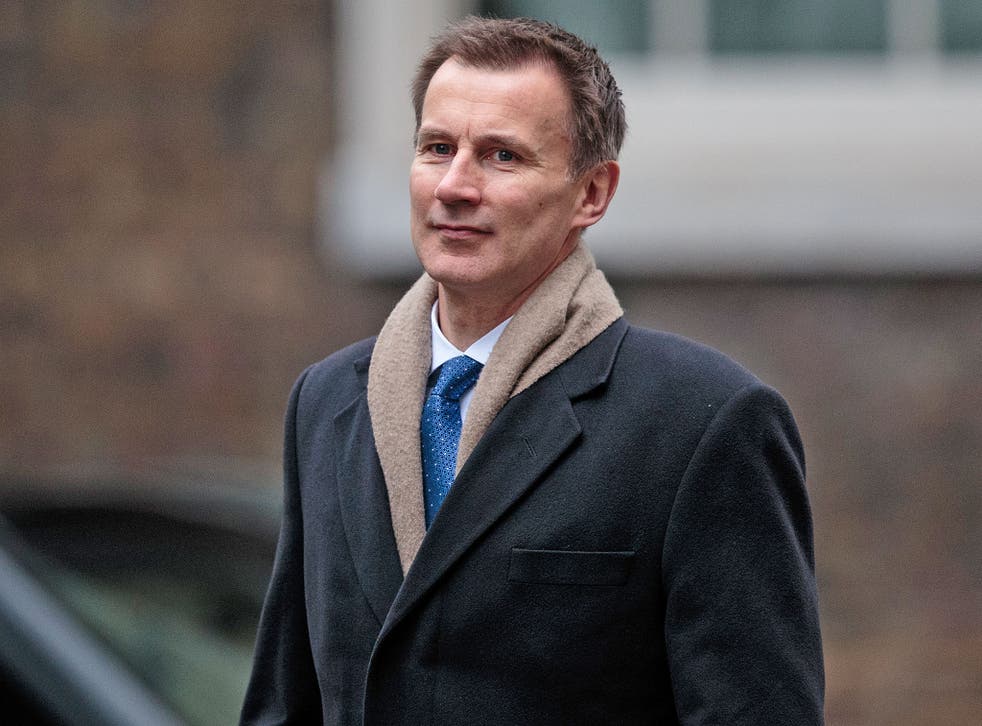 People are willing to pay higher taxes to fund the NHS, Jeremy Hunt has said, amid an ongoing row among senior ministers over how to secure the future of the health service.
The health secretary said the public was open to the idea of tax hikes to pay for healthcare "provided they can see that it is not being wasted", after a major report said the NHS would need £2,000 from every household to stay afloat.
The comments will stoke the ongoing row with the Treasury, which has reportedly pushed back on Mr Hunt's calls to increase the NHS's annual budget.
Theresa May has promised to put up a long-term plan for funding the NHS and suggested that fresh cash could be made earmarked for the cash-strapped service later this year.
Speaking at a thinktank event in London, Mr Hunt said: "Poll after poll shows that they do recognise that through the tax system we will end up having to contribute more and there is a willingness to do that, providing they can see the money going to the NHS and providing they can see that it is not being wasted.
"From the chancellor's point of view, he well understands that. He has a responsibility to make sure that the funding for all public services is within what the country can afford and of course that is important because the NHS depends on a strong economy more than other health systems because the vast majority of our funding comes directly from tax coffers."
Philip Hammond is reportedly reluctant to hike taxes to pay for the NHS and his colleague Liz Truss, the Chief Secretary to the Treasury, recently told The Telegraph that a ring-fenced tax would be a "bad thing".
However as the NHS approaches its 70th birthday in July, Mr Hunt and NHS bosses are keen to secure more cash to ensure its long-term future.
It comes as new analysis showed that healthcare spending needs to rise by an average 3.3 per cent a year over the next 15 years simply to deliver the same levels of care to an influx of sick and ageing patients.
Respected thinktanks, the Institute for Fiscal Studies and the Health Foundation, said funding these increases would mean taxes need to rise by between 1.6 and 2.6 per cent of GDP - the equivalent of between £1,200 and £2,000 per household.
"We are finally coming face to face with one of the biggest choices in a generation," said IFS director Paul Johnson.
"If we are to have a health and social care system which meets our needs and aspirations, we will have to pay a lot more for it over the next 15 years.
UK news in pictures

Show all 50
"This time we won't be able to rely on cutting spending elsewhere - we will have to pay more in tax.
"But it is a choice: higher taxes and a health and social care system which meets our expectations and improves over time, or taxes at current levels and a more constrained health service delivering less than we have become accustomed to."
It also follows new analysis by the Royal College of Surgeons, which found that government cuts in the face of rising patient demand contributed to NHS beds being fuller than ever this winter.
Register for free to continue reading
Registration is a free and easy way to support our truly independent journalism
By registering, you will also enjoy limited access to Premium articles, exclusive newsletters, commenting, and virtual events with our leading journalists
Already have an account? sign in
Register for free to continue reading
Registration is a free and easy way to support our truly independent journalism
By registering, you will also enjoy limited access to Premium articles, exclusive newsletters, commenting, and virtual events with our leading journalists
Already have an account? sign in
Join our new commenting forum
Join thought-provoking conversations, follow other Independent readers and see their replies